Arsene Wenger says Jack Wilshere will need to fight his way back into the Arsenal starting XI
2.14K //
21 Feb 2015, 17:47 IST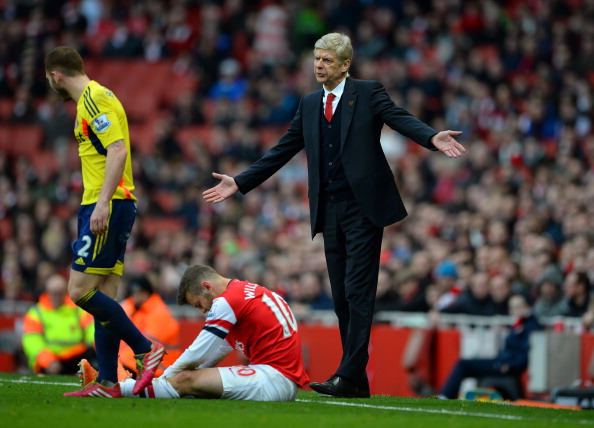 Arsene Wenger feels Jack Wilshere needs to improve his play to be featured in the Starting XI on a regular basis. Arsenal who have had a sudden jolt in form will need the like of Jack Wilshere to step up to the current level. Wilshere who is returning from an ankle injury after three months, has started training with the team.
The Arsenal midfielder who sustained a ligament damage on his left ankle at the home defeat against Manchester United last November, underwent a surgery to rectify the problem. The 23-year-old was not expected to return to the team as soon as he has, but Wenger has claimed it to be a boon, as Arsenal will be entering a tough set of fixtures with the FA cup, Champions League, and Premier League top 4 on the line. Although the young Englishman is part of the Arsenal team travelling to Selhurst Park, he can only hope to sit and watch the game from the bench, and take no part of it.
In the pre-match interview ahead of the Saturday clash against Crystal Palace, Wenger said "Jack Wilshere is available again, a bit ahead of schedule but he has worked hard and had no big problems," and went on to say "It's good to have him back. This injury was on his left ankle, whereas he had had all those previous problems on the right one. So it has been a straightforward injury and it has healed. Even so, it's difficult to come back straight away [into the side] always but it's good he's already back in contention."
While Wilshere was out, majority of the pressure to handle the midfield fell on Santi Cazorla's shoulders, as stars like Mesut Ozil, Aaron Ramsey, and Mikel Arteta were out. Ozil who is back now will most likely be in the starting XI against Palace, but players like Ramsey and Arteta are yet to come back from their injury. While Aaron Ramsey is said to be only 10 days away from returning, Arteta is pegged to be back around April with an ankle problem.
Arsenal currently a well-oiled machine
The current Arsenal system seems to be well-oiled machine and the manager knows this, and is not keen to disrupt it. But with the upcoming tight fixtures, availability of an extra player with fresh legs would do the team a lot of good.
"No matter who plays, you always worry about the balance of the team," Wenger said. "If you look at Santi, for example, until now he has maybe been our most consistent player and, since he moved centrally, he has increased his influence as well."
"In Cazorla and Özil, Welbeck and Sánchez, it is a very offensive team and that means if you take one out and put Jack in it is exactly the same. Jack is an offensive player, someone who can turn the game forward and win the ball. And that's his game. He can play wide so that means he can play on the right, on the left and in the middle, and with those positions there is fierce competition as well. But when you look at our scheduling over the next month I'm happy with that as he will get games. He is exactly the same player as he was before he was injured."
Wilshere who was recently seen in a club in London holding a shisha was spoken to by Wenger. Wenger confirmed he had made the 23-year-old understand the mistake of his ways, and he himself had admitted that he made a mistake. He added "I don't know well how everybody lives, but every professional player has to control his life and dedicate it to his game."