Arsene Wenger's transfer dealings (Part-3)
2.33K //
02 Aug 2012, 13:14 IST
The third and final part of the analysis of Arsene Wenger's transfers since the 2006-07 season will deal with forwards. While Part 1  analyzed defensive signings, Part 2 took a look at  Arsene's midfield signings. With his emphasis on attacking football, how good are the forwards that Wenger has brought into the club?
1. Vincent van den Berg – 0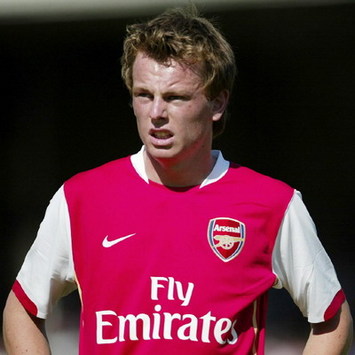 Vincent van den Berg joined Arsenal in 2006 with fellow defender Joe O'Cearuill. Never progressing beyond the reserves, he had a couple of loan spells at Go Ahead Eagles and FC Zwolle before being released in 2009.
2. Nacer Barazite – 1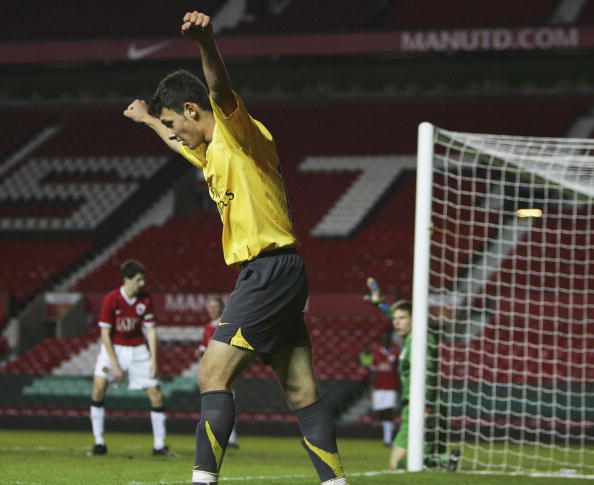 Nacer Barazite did impress when he played for the youth and reserve teams. Appearing sporadically in the Carling Cup, Nacer featured heavily during Arsenal's pre-season games scoring for three consecutive years against Barnet. However, despite a loan spell at Derby County, Nacer failed to convince Wenger that he could make a step up to the first team and was released.
3. Luke Freeman – 0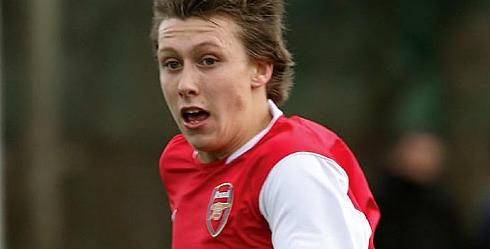 Another dud from Wenger. Freeman was signed from Gillingham, where he was the club's youngest ever player and remains the youngest player ever to feature in the FA Cup. After a successful season with the U18s, Gillingham also impressed for the reserves and was sent on loan to Yeovil Town and Stevenage for his development. However, despite sigining a new contract, Freeman was sold to Stevenage during the winter transfer window last season.
4. Eduardo – 7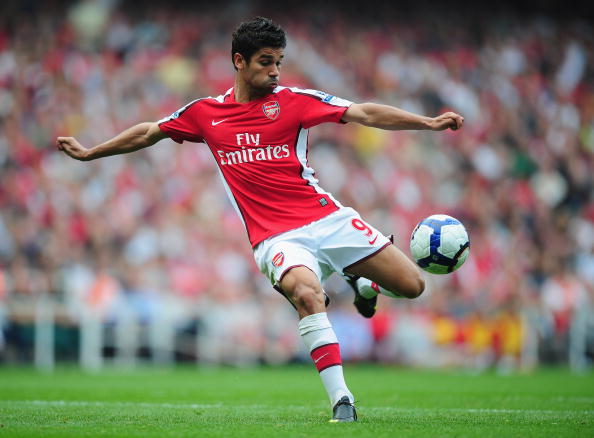 Eduardo was the typical 'fox in the box' signing that Wenger had been looking for. After impressing Wenger while playing for Dinamo Zagreb against Arsenal, Eduardo was bought in 2007. Establishing his reputation as a supreme goal poacher through the Carling Cup, Eduardo quickly established himself into the first team in his first season, firing Arsenal to the top of the standings. However a horrific leg injury at Birmingham, which unravelled Arsenal's title challenge, resulted in Eduardo missing out for an year. Despite a goalscoring return to the team, he continued to suffer from niggles which hampered his confidence. After a disappointing 2009-10 season, he was sold to Shakhtar Donetsk.
5. Carlos Vela – 6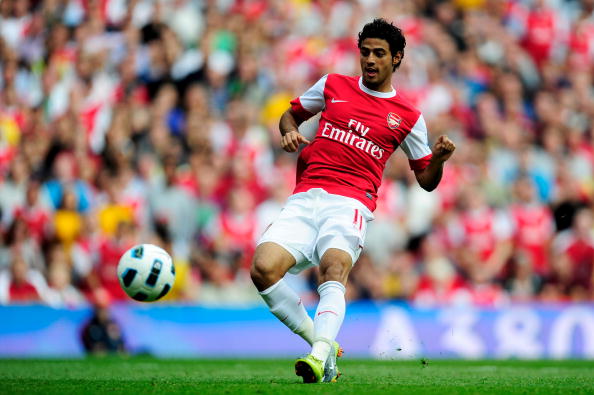 Carlos Vela's chipped finishes were something of a trademark. Vela was officially signed in 2005, but only joined the team in 2008 after being granted a work permit. Vela was one of Wenger's prize signings having been the Golden Boot winner in Mexico's title winning campaign in the U-17 World Cup in 2005. After impressing in loan spells at Salamanca and Osasuna, big things were expected of Vela when he joined Arsenal. And he looked capable of  fulfilling that promise, when he scored a hat-trick on his full debut against Sheffield United in the Carling Cup. Further appearances enhanced his reputation as a classy finisher, but the absence of a right foot and a lack of physicality hampered further development. Being short of playing time, Vela was loaned out to West Brom for the second half of the 2010-11 season and failed to make a great impact. He was loaned to Real Sociedad the following season and with his style of play suiting the less phyiscal La Liga, Vela's form flourished again. The loan deal was made permanent in the beginning of the transfer window.
6. Marouane Chamakh – 7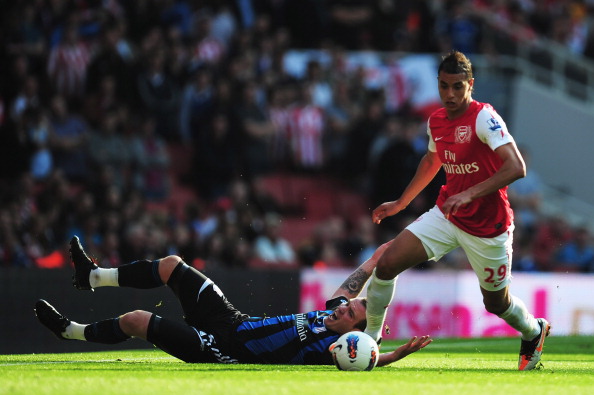 Marouane Chamakh's capture on a free from Bordeaux was considered a decent piece of business by Wenger. A striker extremely good in the air, he was brought in to provide a different dimension to Arsenal's attacking threat. With injuries to main strikers Robin van Persie and Nicklas Bendtner, Chamakh was immediately thrust into action and played nearly every game for the Gunners in the first few months. He quickly adapted to the faster pace of the Premier League and scored several times, including after 37 seconds against Wolves, which remains the Arsenal record for the fastest goal scored in a Premier League game. Being played without a rest, Chamakh, by his own admission, was burnt out by January. With a fit again Van Persie in the form of his life, Chamakh's opportunities were few and far between. Being on the bench for majority of last season badly affected his confidence and he failed to perform in the few opportunities afforded to him. If Chamakh can rediscover the form which he showed at the beginning of the 2010-11 season, when his single handedly kept Arsenal in touch at the top of the table, he can provide some real ammunition to Arsenal's firepower.
7. Park Chu Young – 1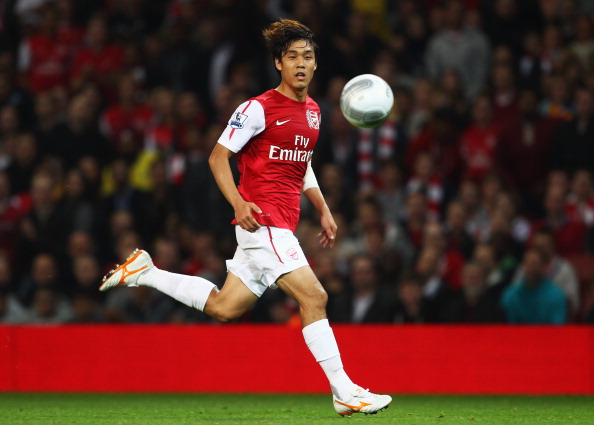 Why exactly was Park Chu Young signed? He had a decent season for AS Monaco which had just been relegated in Ligue 1. He was due for military service in two years.  And there was that little thing, where he was stolen from under Lille's noses in a most intriguing cloak and dagger game. Some opine that he was bought to boost shirt sales in South Korea. Well after only playing him for 7 minutes in an entire Premier League campaign, that plan spectacularly backfired. South Korean fans were miffed at the treatment of their captain and star player. Park did make 3 appearances in the Carling Cup and scored quite a beauty against Bolton, so it was a surprise that he wasn't played more often, especially after the effort that was made to get him. And now that he has a 10 year deferment on his military service, Wenger confirmed that he was looking to move him on. Which begs the question as to why he was bought in the first place. Whatever the outcome of his future, Park will remain as one of the most curious signings of the Wenger era.
Signings not evaluated are Joel Campbell, who was on loan at Lorient last season and is on another loan to Real Betis this season. Though he is considered a decent talent, he is yet to make an appearance in an Arsenal shirt at any level. Another signing left out is Rui Fonte, who was signed on a 3 year deal from Sporting Lisbon in 2006 with an option to go back to Lisbon if Arsenal did not extend the deal beyond the 3 seasons. In 2009, Fonte returned to Lisbon.
This leaves Wenger's forward signings at an average rating of 3.14. With Arsenal's attacking prowess being well documented, it is a surprise that Wenger's signings have been the worst in the striking department. It can probably be explained by the fact that in all these years, Wenger has always been looking for a striker who would cover for the main striker. While first the cover was for Emmanuel Adebayor, later it was for Robin van Persie. Chamakh was arguably the only striker who wasn't signed as a cover striker, and as long as he was the main striker he did a pretty good job. And with Adebayor and van Persie enjoying the form of their lives for 2 and a half out of 6 seasons, rendering them virtually undroppable, there was hardly room to accommodate another striker in Wenger's single striker system.
Overall though, if you take every department of the team taken together, it is pretty clear the Arsene has done a phenomenal job in the transfer market. And the fact that he has done it all without breaking the bank, is even more impressive. It just shows that Arsene has an eye for not only spotting the best talent, but also to pick out the best deal for the club. So has he been losing his touch since moving to the Emirates? The stats definitely show otherwise. With big things expected of new signings Olivier Giroud and Lukas Podolski, one hopes that Wenger's knack of spotting the best talent can continue to lead this club upwards and bring some silverware into the club. After all, 'In Arsene we trust'.