It's Day 5 of football action, and all the teams are in their second-round matches hoping for victories to top the group at Jakarta, Indonesia.
The teams who have been impressive thus far, have been South Korea, Hong Kong, Uzbekistan, Vietnam, China, Malaysia and Palestine.
The first match saw Thailand (122) taking on Bangladesh (194). Thailand played well against Qatar in holding them to a 1-1 draw in their previous encounter. Bangladesh however, lost their match against the fancied Uzbeks 3-0.
Bangladesh put in a spirited performance as they held the fancied Thai to a 1-1 draw. Bangladesh opened the scoring through Mahbubur Rahman in the 52' minute. Substitute Chaided Supachai equalized for Thailand in the 80th minute. Even though the Thai's enjoyed 76% of ball possession and having 6 shots on target, the Bangladesh defence stood firm till the final whistle.
The second match sees UAE (77) playing Timor Leste (190). Both teams suffered defeats in their opening encounters. UAE lost narrowly to Syria by a solitary goal and would be cashing on Timor Leste who lost to China by a margin of 6 goals.
UAE, as expected, won the game 4-1. UAE enjoyed 64% ball possession and had 24 shots, of which 16 found the target. Midfielder Shaheen Aldarmki opened the scoring for the UAE in the 2nd minute, and defender Salem Alsharji doubled the lead in the 10th minute. Forward Zayed Alameri scored a brace in the 19th and 61st minute to make it 4 goals. Forward Rufino Gama Walter scored in the 87' for Timor Leste.
Japan (61) plays Pakistan (201) in Group D and Japan would be looking to score more goals against Pakistan after their lacklustre opening encounter against Nepal which they won by a solitary goal. Pakistan had earlier lost to Vietnam 0-3.
Japan crushed Pakistan 4-0 with all their goals coming in the first half. Midfielder Iwasaki Yuto scored 2 goals in the 2nd and the 35th minute. The other goal scorers for Japan were forward Reo Hatate 9' and midfielder Daizen Maeda 10'. Japan enjoyed 8 corner kicks and 67% ball possession and had a total of 12 shots with 6 finding the target.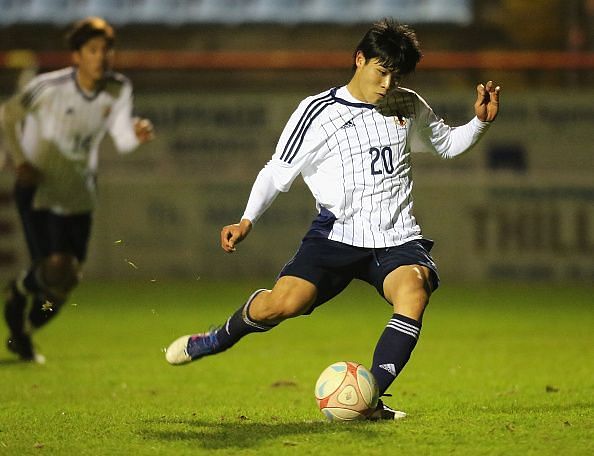 One of the matches to watch out for was in Group B between Qatar (98) and Uzbekistan (95). Qatar was held to a 1-1 draw by Thailand, whereas Uzbekistan had a comfortable outing against Bangladesh winning 3-0.
The Uzbeks proved that they are the team to watch as they thrashed Qatar 6-0. Uzbek forward and captain Zabikhillo Urinboev started the scoring in the 37', followed by goals from Ikromjon Alibaev 43', Dostonbek Khamdamov 47', Javokhir Sidikov 49', Jaloliddin Masharipov 54' and Bobir Abdixolikov 74'. Uzbeks enjoyed 58% ball possession and had 15 shots, of which 10 were on target. Uzbek coach Ravshan Khaydarov would be proud of the way the boys have started the tournament.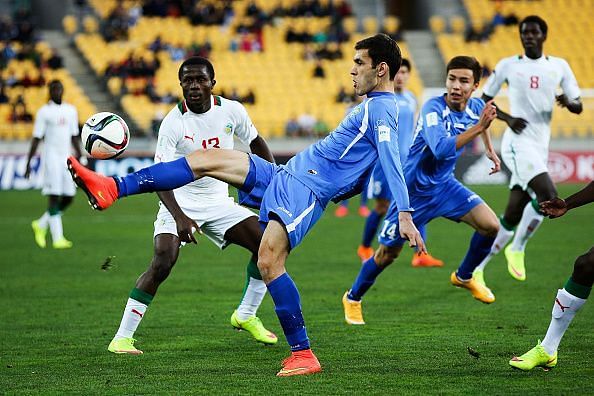 Another mouth-watering encounter awaits us when Syria (73) takes on China (75), in Group C action. As mentioned, both teams are riding high on confidence in winning their opening group matches. The result of the game may, in fact, prove to be the group leaders.
China asserted their superiority and had a comfortable game winning it 3-0. Their tactics of playing a 4-3-3 formation countered the 3-5-2 formation of Syria as even though Syria enjoyed a better ball possession of 56%. What mattered, in the end, was the strikes from all three forwards from the Chinese team which clinched the tie in their favour. Goal scorers for China were Shihao Wei 40', Yuning Zhang 45'+2 and Binbin Chen 66'.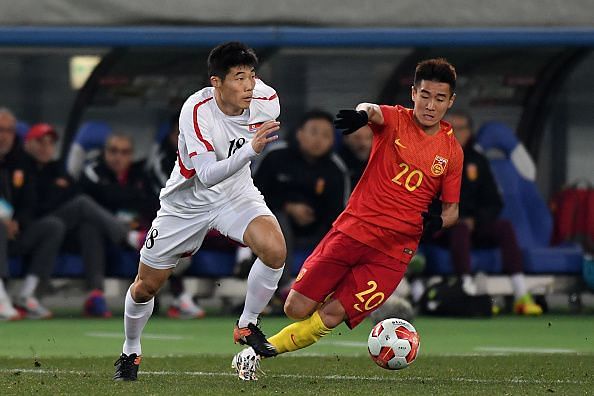 Football action winds up on day 5 with Vietnam (102) playing Nepal (161). Vietnam were dominant in their opening encounter whereas Nepal played well above their league against Japan before going down.
As expected Vietnam defeated Nepal 2-0. Vietnam played aggressively enjoying 54% ball possession and had 7 corner kicks and 20 shots, of which 6 were on target. Both their forwards Anh Duc Nguyen 31' Duc van Phan 63' found the opponent's net.
Points Table at the end of Day 5
Group A: Palestine 7 points, Hong Kong 6, Indonesia 3, Chinese Taipei 1, Laos 0.
Group B: Uzbekistan 6, Thailand 2, Bangladesh 1, Qatar, 1.
Group C: China 6, Syria 3, UAE 3, Timor Leste 0.
Group D: Vietnam 6, Japan 6, Nepal 0, Pakistan 0.
Group E: South Korea 3, Malaysia 3, Kyrgyzstan 0, Bahrain 0.
Group F: Myanmar 1, North Korea 1, Saudi Arabia 1, Iran 1.