Uzbekistan, Palestine, and Malaysia have confirmed their entry into the Pre-Quarter-final stage of the 2018 Asian Games Football event on Saturday.
The first action of the day saw Palestine (99) playing Hong Kong (142). Palestine opened the scoring through their forward Mahmoud Yousef in the 37th minute. Midfielder Ka Wai Lam of Hong Kong equalized in the 57th minute. The match ended with the score being 1-1 at the end of full time, as both teams played equally well throughout the game.
Palestine had 4 opportunities on target compared to 6 from Hong Kong. Palestine, though, had better ball possession of 53%.
The second match of the day was also evenly matched between Kyrgyzstan (92) and Bahrain (113), which ended in a 2-2 draw. Bahrain enjoyed a slightly better possession of 54% compared to Kyrgyzstan. Bahrain opened the scoring in the 20th minute through midfielder Mohamed Mahroon.
Kyrgyzstan's midfielder Odilzhon Abdurakhmanov equalized in the 59th minute and midfielder Ernist Batyrkanov put them ahead in the 82nd minute. Midfielder Ahmed Sanad of Bahrain equalized late in injury time 90'+4, to tie the game.
The third match saw Iran (37) dominating North Korea (108) with a 3-0 scoreline. It was a much-needed win after their first-round draw. Iran had a total of 11 shots with 6 finding the target. They also had a high 61% ball possession. Iran's 4-4-2 formation got the better off North Korea's 5-3-2 formation. Iran's goalscorers were Amir Roustaei 27', Mehdi Ghayedi 68' and Aref Aghasi Kolahsorkhi.
Hosts Indonesia (164) pleased the home crowd with a thumping 3-0 victory over Laos (178). The 4-3-3 formation adopted by the Indonesian coach, Luis Milla has given an option for them to score heavily.
Indonesia had a remarkable 32 shots on goal with 17 finding the target. They also enjoyed 63% of ball possession. The Indonesian goalscorers were Alberto Gonclaves da Costa (14', 47') and Ricky Fajrin Saputra (75').
Malaysia (171) moved into the Pre-Quarters with an upset victory over South Korea (57) 2-1. The Malaysian forward Muhammad Safawi Rasid scored a couple of goals (5', 45'+1) and South Korean Jo Hwang Ui pulled one back at the 87th minute.
The Malaysian coach, Kim Swee Ong's 3-4-3 formation proved attacking and countered the 5-3-2 formation adopted by the Koreans. The latter did enjoy a 68% possession of the ball but were only able to find the target twice.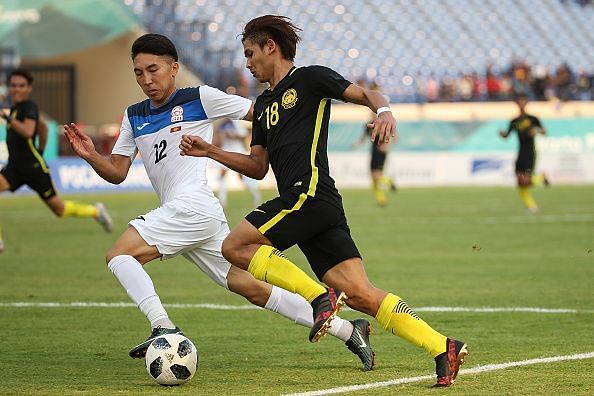 The final match of the day saw Saudi Arabia (67) comfortably overcoming Myanmar (138) 3-0. The Saudi team had 57% of ball possession, 22 shots on goal with 11 finding the target. To add to that, they were given 2 penalties by Myanmar. The goalscorers of Saudi Arabia were Abdulrahman Abdullah Ghareeb (15', 59') and Mutib Hammad Albanaqi (89').
Group Standings
Group A: Palestine 8, Hong Kong 7, Indonesia 6, Chinese Taipei 1 and Laos 0.
Group B: Uzbekistan 6, Thailand 2, Bangladesh 1 and Qatar 1.
Group C: China 6, Syria 3, UAE 3 and Timor Leste 0.
Group D: Vietnam 6, Japan 6, Nepal 0 and Pakistan 0.
Group E: Malaysia 6, South Korea 3, Kyrgyzstan 1, Bahrain 1.
Group F: Saudi Arabia 4, Iran 4, Myanmar 1 and North Korea 1.
Edited by Sudeshna Banerjee