Astonished Arsene: What's going on?
840 //
07 Dec 2012, 10:00 IST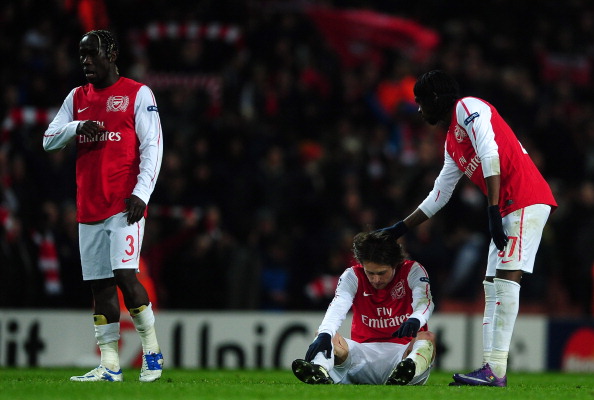 A shocking defeat against Swansea and a stumbling show against Olympiakos, just after a sublime performance against their arch rivals, Spurs. No one would have expected that the Gunners would be demolished like a sand castle.
Currently lying at the last spot of the top-half, Arsene Wenger is far from having a comfortable season. The question is – 'In spite of consistent Cazorla leading Arsenal, what's going wrong?' Let's find out.
Inconsistent  Mertesacker and Koscielny
One of the major reasons why the Gunners are not at their best. The German giant has been committing mistakes every now and then, while the Frenchman has failed to get anything right. It has became a usual sight that Per fails to have an influence in the game and Laurent loses his marker. The duo's failure also makes Arteta and Santi to pull themselves back and do some defending.
Its "Left Blank"
To add more headache for their manager, this position seems to be  haunted ever since Clichy left it. Whether it is Gibbs, Santos or the captain himself, this area is always an open gate for wingers to tear inside and drive the cross inside the box.
Back-stabbing Bacary
That's not all. Sagna was expected to act in a far more mature and responsible way. But the 29-year old was too soaked in his own world to carry out his boss's instructions. Yes, he was destructive when had the ball. Defenders always sense trouble with his runs through the channel and he never fails to feed the forward with his crosses. But he almost forgets that he has defending to do too.

Dropping Walcott
Theo Walcott has been impressive this season. But, to a massive surprise, the Englishman has rather became a super-sub, shuffling in and out. Arsenal has never lost a game in which Theo has made his mark. In spite of such a good record, the coach has under estimated his abilities, making their wings even more dreadful.
Unstable Gervinho
Bought from Lille, the Ivorian gave his rivals problems with his runs and trickery, but it looks like the winger has lost his rhythm and awareness at the Emirates. In spite of his awe-inspiring step-overs and superb finishes, he is failing to find his form. He seems to be losing his ability to pass the the accurate ball forward or track the run of the player. His consistency and awareness is definitely a matter of concern for AW.
Transfer talks and injuries
Recently linked with Liverpool's goalkeeper Pepe Reina, rumours have come out of the demotion of  Szczesny to pave way for the Spanish international. Wilfried Zaha and Huntelaar have been linked with the North Londoners. These speculations are severely hurting the morale and form of players as they find their place in the team insecure. To make it worse, their key players resting on the injury table is another problem for Arsene Wenger as he has to make some risky changes in the squad.
So, the season is not going Arsenal's way and Arsene knows better than anyone else what's lacking in the team and how things can come back on track. But the question is, can he help the team out of its rut?