Bacary Sagna: Rock of the right side
1.61K //
30 Mar 2012, 18:20 IST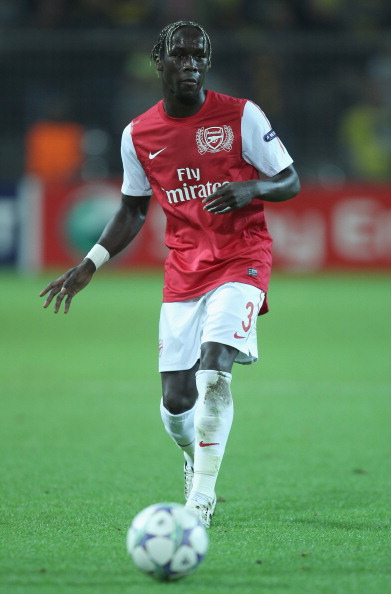 Bacary Sagna, now nearing 200 appearances for Arsenal, has been Arsenal's Mr Reliable; their most solid and consistent defender for the past 5 years. Those who have been Gooners since 2007 will fondly remember how Bacary Sagna, after his move to Arsenal from Auxerre in 2007, took to the strenuous premier league like a duck to water and has been generating consistent performances ever since.
Despite lacking the trickery and showmanship of many other top right backs in the league 'The BAC' is a man who knows how to get a job done in the most simple and straightforward of manners, and he almost always gets the job done. A series of impressive performances in his first season made him a crowd favourite at the Emirates.
A successful first season saw an extension of his contract and he was even better in his second season, developing his offensive capabilities to go with his defensive prowess.
2009-2010 season is critically regarded as his worst season for the club till date as he struggled to find the sort of form he had become known for in the premier league. Still he managed to notch up an impressive 5 assists from the right back position. As a result of his indifferent form many of Europe's top clubs tried to lure him away from London. The professor though knew Sagna's form till then was only a sign of things to come.
The 2010-2011 season was the season I became a football and an Arsenal fan. Sagna's impressiveness that season rooted him to my heart and many other Gooners' hearts as one of the top performers in Arsenal's defence. The season saw him rack up two goals and three assists. It was the season where he realised his true potential, although it also saw him pick up three red cards. It was when his speed, strength, aerial ability, positioning in defence and his exceptional crossing ability in attack made it hard for most wingers to advance down his flanks and for the attack to get much needed support. His ability to overlap the winger and widen the scope of play make him a potent player.
He came into the season as also one of Arsenal's consistently injury-free players. but it seemed the law of averages had finally caught up with him as he landed awkwardly after an Assou Ekotto challenge at White Hart lane, side-lining him for three months. These three months saw Arsenal have a roller-coaster of a season as they recovered from a disastrous start and once again slipped into the routine of getting eliminated from all competitions in a month. Sagna returned from injury at the end of January to take back his position from the inconsistent Jenkinson and the inefficient Djorou.
Since then, Arsenal have staged a phoenix like rise beating Spurs 5-2, Milan 3-0, Liverpool 2-1 and going on a streak of 7 wins to get to third position in the table wrestling it from Spurs and now three points ahead of them. This comeback, has along with Rosicky and Walcott's return to form, has been because of Sagna's exploits. His goal against Spurs, after being 2-0 down, inspired the rout and his crucial cross to RVP at Anfield helped Arsenal to beat Liverpool. He has also helped Theo Walcott find his form by being a rock at his position and giving scope for Walcott to use his speed. His partnership with Theo has really paid off for Arsenal in  the last two months.
Sagna is a permanent member in Arsenal's defence which has been criticized for having good individuals, but not being an effective team. If the defence can work around this issue it would re-instate Arsenal as one of the teams to beat in the premier league .