Barca look to maintain feelgood factor against below-strength Rayo
1.07K //
16 Mar 2013, 18:09 IST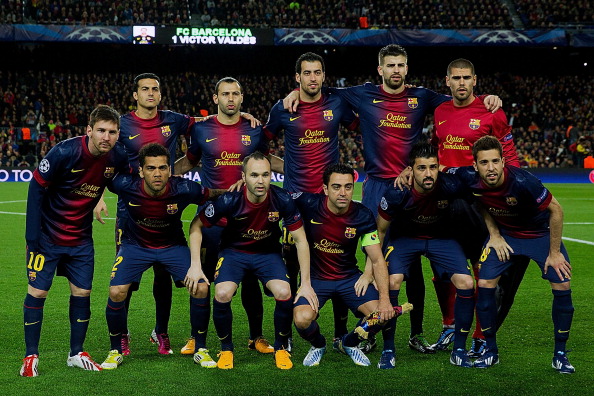 Madrid - Will the true Barcelona stand up to be counted again on Sunday in the Camp Nou Stadium when the leaders of the Primera Liga football entertain Rayo Vallecano?
Barca's 4-0 thrashing of AC Milan on Tuesday night restored the self-confidence of a side that had been looking as if their season could evaporate in a three week period which had previously seen them knocked out of the Copa del Rey by bitter rivals Real Madrid, reports Xinhua.
Defeat in Europe would have left Barca with "just" the league to play for and although most sides would be delighted to find themselves in such a position, it would have seemed very much like a disappointment after the early part of the season had promised so much.
Last Tuesday saw the Barca rediscover the virtues that saw them remain unbeaten for over half a season: pressure high up the field, swift passing and lethal finishing produced a cocktail that was simply too much for Milan and Barca were rewarded with a Champions League tie against Paris Saint Germain.
The club suffered a slight reality check on Friday with the news that captain, Carles Puyol underwent a surprise knee operation which will cause him to miss the next round of the Champions League, while some are disappointed Spain coach Vicente del Bosque decided to call on veteran midfielder, Xavi Hernandez for the forthcoming World Cup qualifying matches, when it seems that more than anything Xavi needs rest to try and ensure his ageing hamstrings hold out until the end of the campaign.
He's likely to get a well-deserved rest against Rayo Vallecano in the Camp Nou this Sunday with Thiago Alcantara stepping into the side.
Rayo travel to Barcelona with a reputation of being a brave side that likes to play open attacking football, but the fact is that after losing 5-0 at home to Barca earlier in the season, the players and coach Paco Jemez don't appear to harbour much hope of springing a surprise.
That's the only reason to explain why three players picked up bookings to end a cycle of yellow cards in last weekend's 2-0 win at home to Espanyol and thus ensure they are suspended on Sunday.
While left back Javier Casado can be excused given his booking came early in the game, both key midfielder, Javi Fuego and star striker Leo Baptistao deliberately and clearly provoked their bookings late in the game to ensure they didn't travel, leaving Rayo with a weakened side.
Jordi Roura, still in charge while Tito Vilanova is in New York with his cancer treatment, will ring the changes for Barca. As well as Thiago, Cesc Fabrigas, who didn't play on Tuesday could come into the side, while Adriano Coreira should also be in the starting 11 along with Alexis Sanchez, who has been showing some signs of form in recent weeks.
On paper Barca should have an easy night in front of their fans who will be expecting their side to again show the virtues that have made them favourites in Europe, should that happen they it can be said Barca's dip in form is well and truly over.