Barcelona - The need to adapt and evolve
4.10K //
18 May 2014, 11:31 IST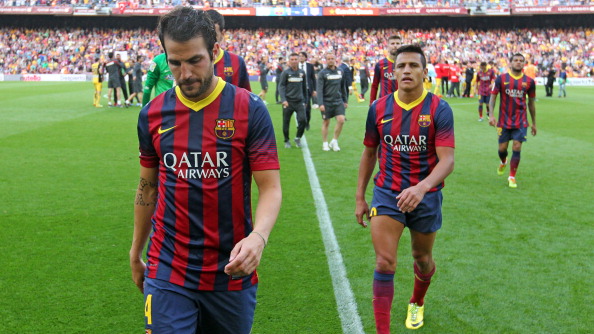 16 trophies in 6 years. What a journey it has been for Barcelona. Just a few weeks ago, everyone thought with Barcelona drawing at home 2-2 vs Getafe, their title challenge was effectively over. But for two consecutive match-days, with all of the top 3 losing points, the title was bound to be decided on the final matchday between the top two at Camp Nou.
Barcelona needed a win while for Atletico Madrid a draw would have sufficed. And as it has been for 4 occasions previously this season, the match ended in a draw, despite Barcelona taking a lead with a brilliant Alexis Sanchez strike. The Chilean's heroics were cancelled out by a Diego Godin header and Atletico hung on to secure a draw and win the title. For a team consisting of Messi, Iniesta, Xavi, Neymar etc., a trophy-less season is hardly acceptable.
But that being said, this has truly been one of the closest La Liga finales you'll see. However, that doesn't take away the fact how relatively poor Barca has been this season. Let us analyse what truly went wrong for Barcelona, in general and how they can fix this.
Identity Crisis
Barcelona are facing an identity crisis, more than anything. The reason Barca was so successful under Pep Guardiola from the 08-09 to 10-11 and even upto 11-12 season was because they had a certain philosophy, that of tiki-taka! It was characterised by sharp one-touch football, short, pin-point passing, mesmerising runs (on and off ball) followed by incisive through balls and extremely high, never-ending pressing! Their simple motto was that they wouldn't let you have the ball: if you don't have the ball, you can't attack them! Barça's 5-0 demolition of an undefeated Madrid side or their UCL final triumph over United showcased that to its full brilliance!
But now, what Barçelona follow is a skewed, warped version of that philosophy: they just play short passes with no intent! Gone are the clever runs of Pedro and Villa which drew defenders away for Messi to work his magic; gone are the high pressing in midfield led by the ever-present Busquets. And this is truly hurting Barça's gameplay. Teams are just parking the bus or simply pressing Barcelona high up so that they can't pass in the opposition's final third.
Barcelona are a team of technically gifted, but short-statured players. They can't charge at opponents and dispossess them by strength or win headers at will. Instead, they use their incisive passing skills and movement to their advantage and try to cause havoc! But, when players like Dani Alves keep lofting high crosses into the box hoping that someone will head it, it completely ruins their momentum.
Lack of Plan B
Cules worldwide have been demanding for over 2-3 seasons for different tactics when tiki-taka fails; when Barca come against teams that park the bus, like Chelsea or Inter (Jose Mourinho showed the underlying problem with this philosophy with Inter Milan). So, what can be a option B? Most say that Barca needs a tall centre-forward to hustle and bustle his way in the penalty box. Well, that might hamper with Barcelona's entire way of playing. So, instead, what if they got a proper centre-forward (like Aguero, who is recently being linked to Barca) and then make Messi play on the right-wing (like he used to) so that he can cut in and shoot? I present a few formations I made that could demonstrate Barcelona's plan B:
Freedom of managers
It is generally accepted that Pep's Barca was possibly one of the best squads ever. They won everything in their sight, including the sextuple (only club to do so) which consists of La Liga, Spanish Cup, Spanish Super Cup, Champions League, UEFA Super Cup and Club World Cup!
But Barcelona now is not comparable to Barca of then. Key players like Puyol and Xavi are getting old and players are leaving. So the responsibility lies with the manager to make use of the transfer market, the squad and tactics to get the best possible results. However, the last two seasons, that hasn't been so!
This season, under Argentine Gerardo Martino, Barcelona fans had hopes of change. But alas, the initial promise soon turned to dust; Martino's initial squad rotation, willing to take risk with players, implementing a more vertical and direct style of play soon vanished and got replaced by the stagnated passing, lethargic game-play we see today. Managers need to be more assertive and independent; boards do have a say in the club, but that shouldn't, in any way, hamper with the way the manager wants to run the club.
That being said, right after the match vs Atletico, Martino announced that he will leave the managerial position, based on mutual consent. Right now, former Barcelona player and Barcelona B, Roma and Celta de Vigo manager Luis Enrique seems the forerunner for the post. However, despite his moderate success at Celta, Enrique was deemed to be a failure at a big club like Roma. One has to question the board's reluctance in going for settled managers with European experience, instead of giving the job to relatively inexperienced ones, like Tito(may his soul rest in peace), Tata Martino and now, possibly, Enrique.