Barcelona: The Blaugrana weather a storm to emerge as champions, but history now awaits them
1.43K //
20 May 2015, 14:49 IST
Just over 12 months on, Barcelona delivered payback. Last May, Atletico Madrid won the La Liga title at the Nou Camp but this time Barcelona won it at the Vicente Calderon. A dispute over television rights meant it was doubtful the campaign would finish as strike action loomed, but even that couldn't stop Barcelona sealing a first part of a possible victory with a 0-1 win.
It was the Catalan's 18th win in 20 games, a run that stretches back to the 1-0 loss to Real Sociedad when Luis Enrique's benching of Lionel Messi and the pair's subsequent falling-out threatened to dismantle Barcelona's season. "Self-destruction", "Suicide" and "Points thrown away" were the Spanish newspaper headlines the morning after that January night at the Anoeta as Barca were plunged into meltdown.
Enrique was claimed to be one game away from losing his job, but 4 months later euphoria has taken hold with a with a seventh championship in 11 seasons. During that period they have won 29 and suffered defeat just twice, to Malaga at home and the away leg to Bayern Munich in the Champions League semi-final when the tie had already been won.
Manchester City and PSG had already been swept away by the machine but the decimation of Munich and their former manager Pep Guardiola certified it was on a rampage. Now it looks impossible to stop.
The slump and the revival
They still sat in second after the pivotal fall in Sociedad, but the following day sporting director Andoni Zubizarreta would be sacked and Carles Puyol, the club legend who was serving as his assistant, would follow with a resignation. It would significantly weaken Enrique's position with a board who had already begun to look at possible replacements.
A transfer ban, Messi courting interest from Chelsea and desperate uncertainty at boardroom level- summer elections were called that week- all added up to an institutional crisis that looked too much for even Barcelona to overcome.
They would respond six days later with a 3-1 win over holding champions Atletico at the Nou Camp with goals from Neymar, Luis Suarez and Messi, the first time the trio had each scored in the same game. Those 3 goals were a splash in the ocean of the 116 they have shared between them this season, but they were up there with the most important. In the face of adversity, Enrique's Barca had displayed their irrepressible force against a side they could not overcome the year before.
"We'll take today's game as a reflection of what we can be – that we can truly be competitive" said Javier Mascherano on the night and in the coming weeks there were signs that the team was beginning to sign up to Enrique's methods.
Xavi, club captain in the wake of Puyol's retirement, was instrumental in the compromise between the squad and the manager who had never really seen eye to eye on things since Enrique stepped up from Celta Vigo to succeed Gerardo Martino last summer.
The pressing was more aggressive and the possession was also quicker and more effective, the over-reliance on long, diagonal balls under Martino now eradicated. The signings of Rakitic and Suarez have allowed for a more rabidly energetic pressing style where there is as much running as passing, without losing any of the technical quality that is imprinted into the club. This has been based on a tenfold improvement in fitness as a result of Enrique's staff focussing on GPS vests fitted to the players in training.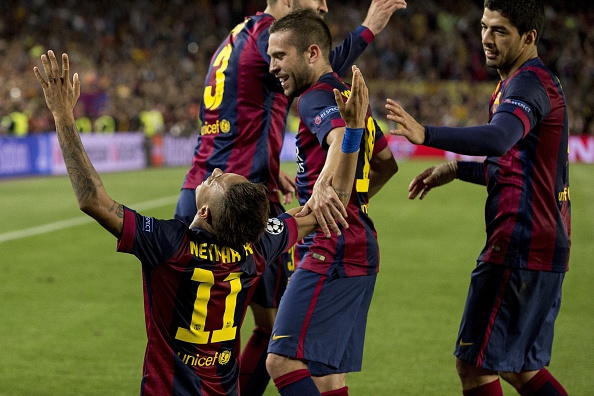 The individual contributions
Messi, perhaps buoyed by Josep Maria Bartomeu's potential exit in the close season during the presidential elections, now looks a different beast from the one that struggled with injuries and doubts over his motivation. With 27 assists in all competitions he is now the chief creator as well as possessing the supernatural eye for goal that continues to smash all sorts of records.
His finely taken winner in the Calderon took him up to 54 in a campaign that saw him moved to a wider role, a shift Enrique deserves great credit for as he looked to accommodate Suarez, with 25 goals since he was allowed to return from his ban in late-October has had a good debut season in Spain, after his £65 million move from Liverpool.
The left-sided Neymar meanwhile has chipped in with 37 as Barca have set up a Champions League final with Juventus in Berlin as well as a Copa Del Rey final with Athletic Bilbao in the comforts of the Nou Camp. Together, they have accounted for 69% of the club's total goal haul for this season.
The fearsome attacking triumvirate will take the headlines but the turnaround has also been owing to a startling defensive improvement. Only three goals, one to Real Madrid and two away to Sevilla, have been leaked since that defeat to Sociedad and they have shipped just 19 goals in total, 14 goals less than they did last season. Gerard Pique has returned to his best form alongside the ever-brilliant Mascherano while Sergio Busquets patrols the area in front of them with accustomed intelligence and guile.
Victor Valdes's exit last summer has also been finely managed, both Claudio Bravo, the favoured league keeper who with 22 clean sheets has kept the most in the division, and Andre Ter-Stegen both proving able deputies whenever called upon in Enrique's policy of rotating between the sticks.
The experience of the likes of Busquets, together with Pedro, Messi and Dani Alves, and Xavi and Andres Iniesta, the imperious midfield duo who between them have 55 titles to their name since emerging from La Masia, has been vital to helping the new faces of Rakitic, Jeremy Mathieu and Suarez integrate into an environment where the pressure not only to win, but to do it in style, is constantly ramped up to huge levels. That pressure nearly did for them and Enrique back in January but they managed to turn it around when all seemed lost, clinching back the title in the process.
"This is important to me" said Rakitic, reflecting on his first league medal after an impressive first season at the club since switching from Sevilla. "I don't know about the others" said the Croatian. One would guess that the whole squad, and also the manager most notably, would also find it massively important considering where this team has come from.
Now they have to go a little further, for a treble, to follow Guardiola's class of 2009 into the history books.