Beauty of Football: Two Colors Inside, Millions Outside!
4.01K //
25 Jul 2011, 14:07 IST
Football! What comes to your mind after hearing this word?
Yeah, the feeling is mutual. This is a game which brings millions and billions of people together.  For many, it is as good as a religion.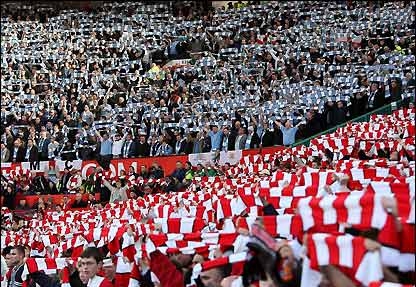 Football is rapidly becoming the most followed sport across the Globe. Some people call it Soccer, some call it Football, but the name hardly matters, its about the game. A game which is a matter of life and death for some and for some it's even more than that. Introduction of Club football has led to a rapid increase in the fan following of different teams, players as well as coaches and managers.
Now coming straight to the title of this article, Football : Two Colors inside, millions outside!
As we know Football is globally followed and at a large level, whenever a football season begins, for the players begins a new challenge, a new hope, a new dream that they will emerge as a glorious team when the season will end. Whenever a player pulls on the jersey and enters the pitch, there is only one thing on his mind and that is victory and let me remind you, he is not alone, the team is not alone, there are millions of fans out there waiting for that one word, GOOOOOOAL.
In a stadium there are two sets of Colors, one for each team. The stadium is divided into two halfs, the two colors divides it. But the people present at the stadium forget that among that two colors, there are millions of other colors. Colors in the form of different religions, different castes, different races.
There are fans like me, or you, or others who never got a chance to see their team play live in the stadium, but that does not make us less passionate about our team, about our favorite players. At every kick off, THOUSANDS of eyes are glued on their favorite team, inside the stadium, but MILLIONS of eyes are glued on their TV sets waiting for their team to grab the glory.
Chants are there in the stadium, chants are also there in the hearts of TV viewers. Prayers are there inside the stadium, prayers are also there worldwide. Then why this racism on the base of our origin, on the base of our color?
I have seen the locals of the respective clubs abusing those who never saw a match live in a stadium, they call us Glory Hunters. Is it really so? Or are they possessive that majority of the fan following of their favorite team is coming from other countries. No one can answer this except them.
So many religions, so many castes, so many races come together for the sake of football. The love, the passion, the belief is equal and mutual. Let's take an oath that every true football fan would contribute to remove this Cancer of Racism from Football. This game is suffering from a disease of racism, the medicine is, Respect and Love for the fans around the Globe. No fan is inferior, each one of them carries  a passion for their respective team, to divide them on the base of Region/Religion is against this Beautiful game.
Football made this world a Global Village, let's behave like local villagers rather than using 'Mine' and 'Yours' and creating boundaries among us.
Football will take you closer to Heaven, Racism would take you closer to hell, the choice is yours. Whether you belong to those two colors or the millions.
DIVIDED BY REGIONS,
UNITED BY FOOTBALL.
My Life, My Love.
- Football