Before, between and after: Manchester United Vs. Real Madrid
1.72K //
21 Dec 2012, 09:24 IST
So here we are on a day when people are supposed to talk about apocalypse, but it seems that God has something else in his mind. The world has already gone into the deep discussion of the highly anticipated UEFA Champions League tie between Manchester United and Real Madrid. Before you read this article, thousands of fans would have already played Real Madrid- United matches on their PlayStations and many would have started betting on the possibility of whether Ronaldo would score or not. The football world has already described this mouth-watering tie as the 'dream tie' though many would have liked to see these two teams battling in the semifinals or finals than this early.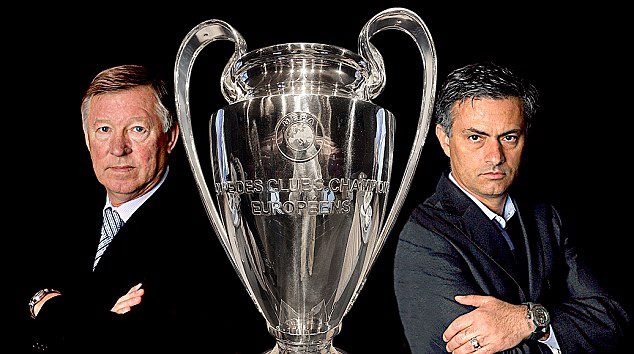 This tie is surely going to have a greater impact on both teams; actions, reactions and responses will be something that will be watched closely before and after the match and many things will be at stake for both the clubs. Here are some of the situations that can be a make-or-break.
The most important point will be the future of Jose Mourinho. There's no doubt that the result will have an immediate impact. The question that runs around in the mind of Real Madrid supporters is 'What if Real Madrid loses and crashes out of the Champions League?' Will he be sacked or not? The question itself presents an answer. The reason why Jose is still in charge of Real Madrid is because of his quest of being the best in Europe. The League title is almost out of reach for Real Madrid and it doesn't make sense for Jose to cling on till the end of the season just for Copa Del Rey. So elimination from the UCL could see him saying goodbye to Real Madrid.
The very next situation that can have an impact on this match is Ballon d'Or, which is likely to be announced in January before this tie.  The question is, what if Cristiano Ronaldo doesn't win Ballon d'Or? This means Real Madrid has to win Champions League this year in order to keep Ronaldo at the club and to have him a chance of winning Ballon d'Or in 2014 or else Messi is going to bag it fifth time in a row in the next edition with his striking form this season. Now what if Real Madrid doesn't progress to next round? Then, Ronaldo will be sailing in the same boat as Jose Mourhino. The reason would simply be the motivation factor, as what he has to offer to the team will not be matched by what the team has to offer him. Cristiano Ronaldo would like to play in a competitive team like Manchester United for achieving those personal goals which he has failed to achieve at Real Madrid so far. On a complete different note, if Ronaldo wins Ballon d'Or this time, then things will turn out to be smoother for Ronaldo and that would be really bad news for Manchester United as they'll have to face a complete different rejuvenated Cristiano Ronaldo who would have his confidence touching the sky. The Manchester United faithful would be aware of his form in the year 2008 just after he finished Euro 2008 strongly.
Sir Alex Ferguson will be in a dilemma over certain things; one of them being whether to utilize the January transfer window to strengthen the squad. This draw has already proved to be a vantage point for Sir Alex Ferguson who will have to assess different possibilities and will have to try permutations and combinations. It is generally observed that Sir Alex doesn't like to add human resources in between the season. But this fixture might change his mind, particularly when the opposition has a lethal attack and his team is not defending well. Again, if they are to buy a player then they'll have to look for a player who can adapt to the game quickly and also be eligible to participate in further rounds of UEFA Champions League.
The first leg is scheduled to be played on the 13th of February, 2013, and the second leg on 5th March, 2013. In between, United has to play QPR, Norwich and the 5th round of the FA cup. QPR won't be an issue for United. Concerns are over the FA Cup 5th round and Norwich. It will be interesting to see how Sir Alex rotates the squad and keeps the players fresh in these 20-odd days. Players will get tired; the fatigue factor will come into the picture and if that's not much, injury may creep in at the juncture. For Real Madrid, with the La Liga out of the question, this won't be a concern as they have 2 competent players for each position. As for Manchester United, the league title is the priority, so they really have to balance things in the tenure.
Head-to-head statistics are slightly in favour of Real Madrid who has won 3 games out of 8, while United has won only 2 of them. Jose Mourhino as a coach has only lost 2 games against Manchester United out of 14. Out of these two, one came recently in the Champions League 2008-09 season when United defeated Inter 2-0 at Old Trafford. The last time Manchester United and Real Madrid met at the Champions League back in 2003, it produced seven goals with Manchester United winning the match 4-3 at Old Trafford, but losing 5-6 on aggregate result. The high-profile match had stars like Beckham, Van Nistelrooy, Ronaldo, Figo, Carlos and Raul. Ten years later the galaxy will be buzzing again with stars like Ronaldo, Kaka, Rooney, van Persie , Ozil, Benzema. Let's hope this turns out to be as prominent as the previous one.