Being average, being Arsenal
906 //
20 Mar 2013, 13:55 IST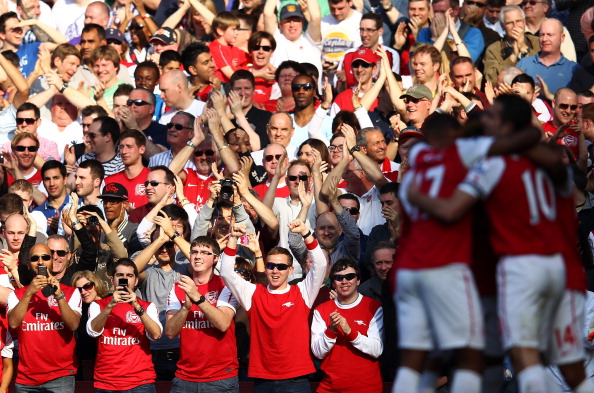 I just know that if you're reading this, you're a gooner. At least, there is a greater chance of you being a gooner than being another club's fan. Because it wouldn't matter to you that I just called Arsenal an average team. You read "average" and "Arsenal" in the same sentence and here you are. But before I begin, I would like to clarify, I am a die hard Arsenal fan. And even though I just called Arsenal an average team, I just cannot ever even think of not supporting them.
So, let me begin with pure, blatant facts. An 8 year trophy drought. Players leaving every year for City, United and Barcelona. And the closest team to a potential champion Arsenal had last time was when they had Fabregas, Nasri, Van persie, Song all in their ranks during the 2010-2011 season. In fact, if I remember correctly, at Christmas that year, Arsenal were at the top of the table, challenging United for the championship; and looked like they may just win the league. They also reached the Carling Cup final that year, in which they were to face Birmingham. Fans all over the globe thought that this was the year of resurrection, that this will be the team that would take the first step towards matching the invincibles or the team which reached the champions league final in 2006. They showed that they were capable of doing so, when they dazzled at the Emirates, beating Barcelona at their own game in the champions league. The hopes were high, the fans were happy, and Arsenal had so many heroes at that time: Fabregas, van Persie, Arshavin who scored that brilliant second goal against Barcelona, and even Nasri, who was in scintillating form.
Then came the inevitable slump. It all began with a game against Newcastle, where Arsenal killed them initially at the Emirates, going 4-0 up inside 30 minutes. Then, unbelievably, the game ended at 4-4, and Arsenal went back to their usual ways. They crashed out of the Champions League in an unfortunate way, with Van Persie being red carded unfairly. They lost the Carling Cup to Birmingham. And Arsenal, who were gunning for the title that year, finished a relatively sorry 4th. That was the beginning of it all. That was when Arsenal really became average. And that was when they really started to lose the core of the team to other clubs. Year after year after year.
Since then, it has been more or less the same. Arsenal show a glimmer of their potential once in a while, and then lose to teams they should easily beat; and that too in ways nobody would expect them to.
But never have I thought them not to be capable of winning. Inconsistent yes. Frustrating yes. But incapable? Nope. Not in 8 years, to be precise. Even a team as average as this one managed to beat Bayern 0-2 on their home ground! And therein lies the beauty of the Arsenal. Every week, Arsenal fans switch on their television sets, and hope that Arsenal deliver what they are capable of. And when they do, they bring a smile to a million faces. I doubt any club in the world has a fan following as loyal as Arsenal have. Just imagine. A college student, taking constant flak during his entire college life every time Arsenal go down. A man working as hard as possible, coming home only to watch Arsenal trailing. But trust me, if Arsenal produce what they are capable of, fans forget every care in the world. At that moment, nothing else seems to matter. Arsenal, on their day, can achieve anything. And every fan believes so every time he or she watches them play.
That is the beauty of it. Constant unwavering faith. And someday, it will pay off.  Arsenal will start winning again someday like they used to. Till then, just sit back, relax, and enjoy one of the best yet unpredictable most teams  in action. COYG.