Best formation for Liverpool 2013-14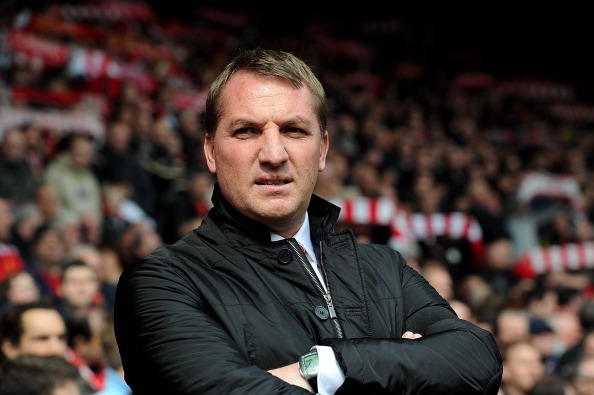 When Brendan Rodgers came to Liverpool he talked about his tactical philosophy 'tika taka' just like Barcelona and just like most of fans even I was impressed, then we saw his implementation in his favored 4-3-3 which team took time to adjust and play in manner Rodgers wanted them to play while keeping most of possession we didn't start league greatly but there were signs of progress.
Later in season after January window Liverpool had scrapped the tika taka completely and were more of counter attack team largely due to pace of Sturridge and also the arrival of no.10 Coutinho meant Liverpool were pleasing on eye most of times.
The second season Rodgers strengthened defense and also bought Aspas, Luis Alberto, Moses to supplement attack but letting Borini go on loan to Sunderland doesn't seem to make sense to me.
So Rodgers started this season with 4-2-3-1 with Sturridge at top due to Suarez 10 match ban and Aspas on left Coutinho middle and Henderson on right which was doing well for Liverpool, later when Suarez returned he tried 3-5-2 at Old Trafford with success although it didn't get the result but SAS(term) was born.
This 3-5-2 formation is good against team playing 2 strikers or long ball but in league where most teams play lone striker with packed midfield 3 at back isn't as success since team has an extra defender and wingbacks exposed if opposition team overload with their fullbacks.
3-5-2 is no doubt a fluid formation while attacking but last year Mancini failed to implement it and then reverted back to 4-2-3-1. So which formation will best suit Liverpool with current players at club most will say 4-2-3-1 but it makes SAS little less potent also many players will play out of position, also the risk of gap between midfield 2 and the front 2 which opposition can fill up with their 3 man midfield and cutoff service to our strikers.
So the best formation will be where we have 2 strikers a no 10 just behind and one holding player or two depending we play at home or away, this formation is 4-4-2 Diamond and it complements most of our current team except wingers like Sterling, Ibe and to some extend Moses.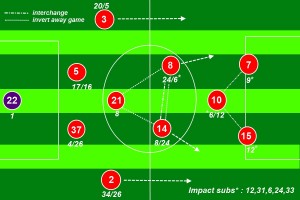 The above diagram shows the best 11 Liverpool can field in respective positions along with the 2nd and 3rd best option at that particular position. The fullbacks will provide the width the front three can interchange positions during games also the midfield triangle can be inverted as per situation demands.
The diagram is self explanatory I have also shown the forward runs which the fullbacks and midfield can do, I have also listed substitutions which can be made according to their impact these players can make from bench in ascending order. This is one of the formations Liverpool can use with the available squad.