Paul Scholes is undoubtedly one of the greatest midfielders of his generation. A gem of the 'Class of 92', the Manchester United Icon first stepped on the field for the Red Devils in 1993 before he locked down his spot in the first team the following season.
Technically sound and an excellent passer of the ball, Scholes went on to make 707 appearances for United in a career that spanned nearly two decades. The former England International also possessed a great knack of scoring vital goals with a deadly right foot that was capable of netting long rangers and moreover, racked up over 100 goals for his boyhood club.
Scholes announced his retirement in 2011 but made his return one year later to help out an injury struck Manchester United squad. A fairytale comeback story, the midfield maestro helped the Red Devils clinch their 13th Premier League title in Sir Alex Ferguson's final season and bid adieu for the second time with another trophy.
On his 44th birthday, here are some of the best quotes about Paul Scholes from the footballing world:
---
Pele: "If he was playing with me, I would have scored so many more."
Lionel Messi: "At La Masia his name was mentioned a lot. He's a teacher."
Cristiano Ronaldo: "When we were in training, I used to do a lot of tricks which hardly any players at the club could do. Once I was showing my skills to Scholes. After I finished, Scholes took the ball and pointed to a tree which was about 50m from where we were standing. He said, I'm going to hit it in one shot. He kicked and hit the tree. He asked me to do the same; I kicked about 10 times, but still couldn't hit it, with that accuracy. He smiled and left."
Zinedine Zidane: "My toughest opponent? Scholes of Manchester. He is the complete midfielder."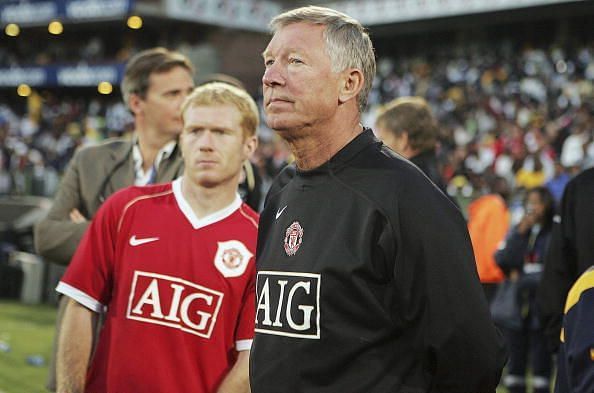 Sir Alex Ferguson: "I think Paul Scholes is the best player in England. He's got the best skills, the best brain. No one can match him. There isn't a player of his mould anywhere in the world. Paul is irreplaceable."
Luis Figo: "I'm star-struck when I see Paul Scholes because you never see him. On the pitch, you can't catch him. Off the pitch, he disappears."
Gary Neville: "I wouldn't swap Paul Scholes for anybody. He is quite simply the most complete footballer I have ever played with. He is the best."
Sir Bobby Charlton: "I have no hesitation in putting a name to the embodiment of all that I think is best about football. It's Paul Scholes. In so many ways Scholes is my favourite."
Rio Ferdinand: "For me, it's Paul Scholes. He'll do ridiculous things in training like say, "You see that tree over there?" – It'll be 40 yards away – "I'm going to hit it". And he'll do it!. Everyone at the club considers him the best."
Patrick Vieira: "The player in the Premiership I admire most? Easy – Scholes."
Edgar Davids: "I'm not the best, Paul Scholes is."
Roy Keane: "An amazingly gifted player who remained an unaffected human being."
Pep Guardiola: "Out of everyone at Manchester United, I would pick out Scholes – he is the best midfielder of his generation. I would have loved to have played alongside him."
Cesc Fabregas: "He is the one whose level I aspire to. He is the best player in the Premier League."
Thierry Henry: "I can't understand why Scholes has never won the player of the year award. He should have won it long ago. Maybe it's because he doesn't seek the limelight like some of the other 'stars'."
Laurent Blanc: "I tell anyone who asks me – Scholes is the best English player."
Dimitar Berbatov: "Nobody else can play the way Paul Scholes does."
Marcello Lippi: "Paul Scholes would have been one of my first choices for putting together a great team."
Brian Kidd: "Paul Scholes had the best football brain I'd ever seen in a kid. Let's face it. Paul Scholes is in a class of his own."
Paul Merson predicts the result of Man City vs Inter UEFA Champions League final! Click here