Blackburn: All Rhodes lead to Jordan for the Rovers' future
622 //
20 Nov 2012, 09:00 IST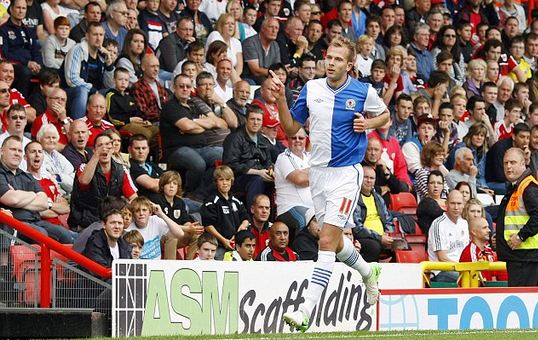 After Blackburn's hapless owners Venky's finally lost patience with Steve Kean seven matches into this season, the decision was made to turn to Hennig Berg, former centre-half at Rovers and fans' favourite, charged with the unenviable task of guiding the Lancashire club back to the Premier League at the first time of asking by the club's Global Advisor Shebby Singh.
The ever-diminishing reputation of Rovers' distant owners spawned little interest in a job that promises to balance a need for immediate success against a backdrop of financial risk, so Berg, a manager of limited experience in his native Norway, was the man left to carry out Singh's challenging remit.
After six years in management with relative success with Lyn Oslo and Lillestrom, Blackburn would be Berg's first coaching job in the high-pressure demands of domestic English football. Factor in the fact the employees are a processed foods-group that has endeavoured to alienate the fan, it becomes a very imposing challenge for the 43-year-old. Yet, the Norwegian took it, perhaps a decision facilitated by the identity of his main striker, one Jordan Rhodes.
Things are made considerably easier for a manager when he has at his disposal a player of Rhodes's ilk, a fine goal-scorer operating at a near-unbelievable strike rate. His hat-trick on Saturday afternoon away at Peterborough, brings him to a tally of 14 so far this season, building on his 40 goal haul for Huddersfield last season, which saw him make the £8 million move to Ewood Park this summer. Just 8 goals short of a league century at the age of 22 is an incredible record, one that stands the Scotsman as perhaps the best centre-forward outside of the Premier League.
Rhodes seems destined for the top tier, and if it wasn't for a degree of hesitancy from the top clubs towards his 79 goals for Huddersfield being confined to League One, then he may have already made the jump. Blackburn, necessitating the need to return to the top table at the first attempt, saw fit to gamble a club record £8 million on the striker, and he has immediately set about repaying such a grandiose fee; 9 goals have been notched for his new club, including vital winners at Bristol City and at home to Watford, a strike to earn a point at Derby and of course Saturday's hat-trick, ensuring Berg's maiden Blackburn win at the fourth attempt.
His treble showcased his poaching talent, two headers were supplemented by a coolly taken finish past Robert Olejnik in the Peterborough goal, a performance to remind everyone that he can convert chances regardless of how they are provided, just as long as he is fed in his spiritual home of the 18 yard box. It capped off a superb week for Rhodes, in which he struck twice for Scotland in Luxembourg on Wednesday night, only denied a hat-trick there by the presence of a linesman's raised flag as he headed past the keeper. It was the perfect riposte in the aftermath of Craig Levein's passing as Scotland coach for whom, bizarrely, Rhodes was not a regular, a refusal to recognise such a potent goal-threat perhaps hastening Levein's sacking.
The red-hot striker bemoaned his failure to net a third in Luxembourg, but he represents a hopeful future for the Tartan Army should one expect he would be given a permanent place in the squad. His presence for Scotland will be inevitable should he continue in the same clinical vein for Blackburn, who have returned to the play-off places in the wake of Rhodes's salvo at London Road.
A hefty reliance on him to keep scoring will be vital for Rovers as well as Berg's own hopes to fulfil his remit of promotion. Even if that fails, Rhodes's goals would still be of interest to a Premier League club, rendering the perhaps over-inflated £8 million signing a safe investment for the future as well as a calculated gamble.
So far, under the stewardship of his new Scandinavian coach, the Scottish striker has hit four goals in four games, and it is maybe not a coincidence that a surge in form has arisen under a fresh influence.
Rhodes was operating as a lone front man under Steve Kean, a role he admitted he struggled with:
"I play a lot with my back to goal here, there were other players to do that at Huddersfield. It is something I definitely need to improve upon but I'm enjoying myself here and I'm hoping to spend years with the club if they'll have me."
His response possibly giving a window into the humility and desire that stands ingested in such good stead for the future.
Berg may alter Rhodes's role in order to maximise his goal threat and allow other players to support the goal-scoring burden. Mauro Formica netted his first goal since April to provide the colour to Rhodes' hat-trick on Saturday.
Whatever Berg does to bring the best out of Rhodes in front of goal, he needs it to work, both for his future, and the future of Blackburn Rovers.