Bob Paisley: Mr. Liverpool
1.17K //
21 Dec 2012, 19:41 IST
People often credit Bill Shankly as the greatest Liverpool FC manager in the club's history, and that is true, for Shankly laid the groundwork for Liverpool to reach the heights they did. However, it was Paisley who took them to a level they had never reached before at Merseyside, and built them into a bastion of invincibility.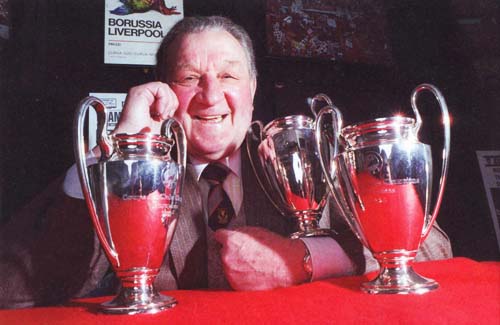 Bob Paisley joined Liverpool in 1939 and played in defence, and like many others during his time, had his career disrupted by World War II. He made his debut for the club in 1946, instantly becoming a regular and helping Liverpool win the league title in the 1946-47 season. He remained a regular for Liverpool, but the turning point of his career came in 1950. Liverpool defeated Merseyside rivals Everton in the semi-finals of the FA Cup, with Paisley scoring the winner, but to his utter shock he found himself omitted from the squad to face Arsenal in the final by manager George Kay. That incident had a profound effect on him, and he realised that nothing could be taken for granted. It did not matter if you beat Manchester United 5-0 on Saturday; come Monday you had to work hard, and then the most important thing was the match on the coming Saturday. Such beliefs were to prove instrumental for his managerial success ahead. Paisley was made the club captain the following season, and retired at Liverpool in 1954 as a 'one-club-man'.
After his retirement, Paisley, who always had a keen interest in physiotherapy, became a part of the backroom staff at the club and soon gained fame for his excellent prognosis of injuries, for which many famous sports personalities often came to him. Paisley continued working for the club and became an integral part of Bill Shankly's famous "Bootroom staff". With time he became the assistant manager under Bill Shankly, and after Shankly's shock retirement following the triumph in the 1974 FA Cup final against Newcastle, he took over the reins on a permanent basis.
"Bill always accepted criticism from people he respected. He was good at his job and he expected other people to be the same. So we both decided in the early days that Liverpool were going places under us. And Bill would tell the board this, and his ambition would frighten them."

– Paisley on Bill Shankly
Liverpool FC went trophy-less in his first full season in charge, finishing second in the league and not doing well in the cups either, and doubts were cast over his credentials as a manager and whether he would be able to fill the boots of Bill Shankly.
"I'll admit, right away, that I am disappointed that we did not have a major trophy to show for our efforts. We were in four and we had a good side, but when you count second place as failure, then standards are becoming fantastically high. We never celebrate second place here."

– Paisley, after his first season as manager
They responded strongly the next season by winning the league and the UEFA Cup, beating the likes of Real Sociedad and FC Barcelona on the road to the finals before beating Club Brugge in the finals. The 'Paisley-Era' was up and running, and hereby began one of the most successful periods for Liverpool in their history.
The European Cup was still the one elusive trophy on which Liverpool were yet to lay their hands. It had been Shankly's dream from the beginning, one which he could not fulfill, but with Paisley at the helm the dream was made into reality in Rome against German side Borussia Monchengladbach.
After having won the league already, four days prior to the final, Liverpool had lost the FA Cup final to Manchester United 2-1 at Wembley, but that had to be quickly put aside because of the enormity of the match ahead. It was without doubt the biggest match in the club's history to date, and a massive twenty-six thousand fans had made their way to the Stadio Olimpico on a bright sunny afternoon. They were not disappointed, as Liverpool put in a commanding performance to dispose of their opposition 3-1 and bring home the coveted European Trophy.
"This is the second time I've beaten the Germans here… the first time was in 1944. I drove into Rome on a tank when the city was liberated. If anyone had told me I'd be back here to see us win the European Cup 33 years later I'd have told them they were mad! But I want to savour every minute of it… which is why I'm not having a drink tonight. I'm just drinking in the occasion."

– Paisley, after Liverpool's '77 European triumph.
Paisley was known for his eye for talent when it came to football, and this was tested in the summer of 1977 when iconic player Kevin Keegan moved to Germany for pastures new, and Paisley was faced with a massive task at his hand. He responded to it by signing Scot Kenny Dalglish, a player who went on to be known as "King Kenny" by the Reds faithful and scored the only winner in the 1978 European Cup final against Club Brugge, in the process making the Reds the first British club to win back-to-back European titles. Paisley had learnt an important lesson from his omission in the FA Cup final during his playing days, and he stripped Captain Phil Thompson of his captaincy six months after Liverpool's third European triumph under him in the 1981 finals, and gave it to Graeme Souness. This, he said, would help him focus on his game and his defending. Liverpool only lost one game in the league that season following the move, and ran away with the title, and Thompson lauded the manager on his decision.
The years rolled by and the trophies kept piling up at the Red half of Merseyside, but all good things must come to an end, and Bob Paisley's connection with Liverpool also came to an end after nine years at the helm in the 1982-83 season. He retired after almost forty four years with the club, but came back a couple of years later to work as an advisor for the then player-manager Kenny Dalglish, and again helped the club to a league and FA Cup triumph in 1985-86. He was then made the Club Director and stayed on until 1992, when he resigned, citing poor health.
To date, Paisley remains the only manager to have won three European Cups, and in total he won twenty trophies with the club in his nine years.
"I said that when I took over that I would settle for a drop of Bell's once a month, a big bottle at the end of the season and a ride round the city in an open top bus!

"A lot of teams beat us, do a lap of honour and don't stop running. They live too long on one good result. I remember Jimmy Adamson crowing after Burnley had beaten us once, that his players were in a different league. At the end of the season they were.

"The whole of my life, what they wanted was honesty. They were not concerned with cultured football, but with triers who gave one hundred percent."

– Paisley, on the Kop
Managerial Honours:
League Titles (6): 1975-76, 1976-77, 1978-79,1979-80, 1981-82, 1982-83
League Cups (3): 1980-81, 1981-82, 1982-83
FA Charity Shield (6): 1974, 1976, 1977, 1979, 1980, 1982
European Cups (3): 1977-78, 1978-79, 1981-82
UEFA Cup(1):  1975-76