Bolton goalkeeper, Adam Bogdan, prevents Liverpool from scoring at Anfield in the FA Cup
1.70K //
26 Jan 2015, 01:46 IST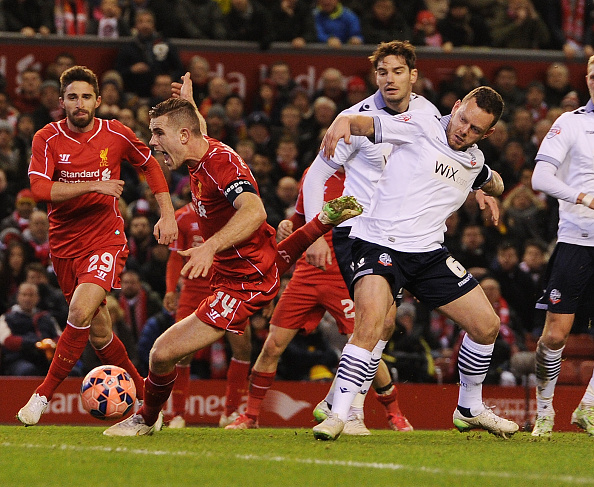 Liverpool were in action against Bolton Wanderers on Saturday night as Brendan Rodgers aimed to get his side through to the next round of the FA Cup. With some huge upsets earlier in the day as Chelsea and Manchester City crashed out, it was a real opportunity for the Reds, who unfortunately, were unable to seal their place.
However, we are still in the competition and with an away tie against Bolton you have to feel we still have a good chance, if we can solve our finishing issues!
Brendan Rodgers fielded a slightly changed XI as the likes of Steven Gerrard and Martin Skrtel were dropped. Raheem Sterling however was placed up front again despite the very important Chelsea game on Tuesday evening.
With Emile Heskey and Eidur Gudjohnsen up front for Bolton, it seemed like destiny would write their names on the walls of history in the FA Cup, but in reality Bolton offered little in front of goal.
Liverpool, as they have done so often of late, were creating pacey attacks with Raheem Sterling as the linchpin, but they just couldn't find that final product.
Adam Bogdan was partly the reason the Reds were unable to find the back of the net. On numerous occasions the goalkeeper successfully denied Liverpool an opening goal, he had an absolute stormer particularly when saving efforts from Coutinho and Borini. Undeterred, the Reds continued to put the pressure on the Bolton net, but the tactic of trying to walk it into the goal just wasn't working. It became very clear that it would have to be something special to beat the Bolton keeper if we wanted to progress in this year's FA Cup.
For Bolton, their best chance of the game probably came from a stinging long range effort via Moxey. I felt sorry for whoever was on the end of that shot in the Kop end.
As mentioned Fabio Borini managed to create himself some chances when he entered play late in the second half. The introduction of Lazar Markovic early in this half also added some movement for the Reds and there was also an incident that left the Anfield faithful questioning the referee's decision.
Markovic had broke on one of his blazing runs reaching the edge of the box, only to be taken down. For me, he was through on goal and was brought down by the last man. I felt we were extremely unlucky to not even get a free kick for this incident, however, it probably wouldn't have changed the game.
Heskey left the field just before the hour mark to a well-deserved standing ovation. He may not have caused any real problems for Simon Mignolet, but you could tell our defence thought he was a right pain, he's still got some real presence in set piece situations that's for sure.
As the second half trickled on the Reds, unfortunately, despite the mounting pressure at the Kop end, couldn't find a goal. The positive for the Reds of course is that they are still in this competition but with the second leg of the Capital One Cup against Chelsea and the beginning of their Europa League campaign coming soon, the last thing Liverpool need is a fixture pile up.
This though is now a real opportunity for Liverpool, as mentioned in the start to this post, big guns like Chelsea and City have already been knocked out and without meaning to disregard some teams, really, who is left that are a major threat? Arsenal and United?
I asked you for your thoughts on the game and here are a few of the tweets I received:
@LFCKirstyLFC Sad how we had a lot of chances that were wasted. Certain players shouldn't have started as well.
— //Coutinho is bæ// (@Dee_LFC_x) January 25, 2015
@LFCKirstyLFC we were like a knife with a blunt edge. Played well, but poor finishing and some bad luck cost us the win
— Saransh Gehlot (@saransh2703) January 25, 2015
@LFCKirstyLFC finishing needs to improve. Also, refs allow championship sides to get away with blatant fouls against epl teams. Kills me!!
— Rajpaul Gill (@RajpaulG) January 25, 2015
Next up for Liverpool is Chelsea at Stamford Bridge on Tuesday night, I cannot bloody wait for this one!