Bojan and Barcelona: The Love Affair nears a Sad End
864 //
22 Jul 2011, 00:10 IST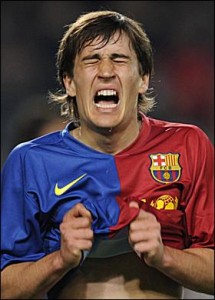 "This is a bittersweet feeling, reaching this point is not easy, but someday it would have to happen" – Bojan
Bojan Krkic joined Barça's youth system when he was 9 years old. A quick striker with quite notable dribbling skills, it was reported that he scored more than 900 goals for the youth teams in five and a half years.His debut against Osasuna saw him become the youngest player to represent Barca (at 17 years and 19 days) since another prodigy broke onto the scene three years previously, one Leo Messi. His debut season saw him score 12 goals, not bad for a 17-year-old fighting for a spot in a front three consisting of Thierry Henry, Messi , Samuel Eto'o and an inadequate Ronaldinho.
To date his best period of form occurred at the tail end of the 2009/10 campaign, where he scored 7 goals in his last 8 league games, including a brace against Athletic Bilbao. His goals were pretty important for Barça to secure another La Liga title. The player was expected to be the future star of the Spanish giants but never made the starting place his own. As Samuel Eto'o left the dressing room, Zlatan Ibrahimovic made his way in. Bojan was given his fair share of chances to impress, yet sadly he failed to deliver for his beloved club.
The 2010/11 season did not see a reversal in fortunes for the twenty year old. The player was competing against the likes of Pedro and David Villa in the starting line up, and gave up on the pursuit of first team football, happy with the peripheral role he had at the club. Breaking into an attack containing the likes of David Villa, Lionel Messi and Pedro was always a mammoth task, but Bojan was nowhere near the standards he had set for himself in 2007.
So after winning the UEFA Champions League twice and La Liga thrice, the player has had the world at his feet as he received medals one after the other. However, his time in Barcelona nears its end as he braces himself for a move abroad. So what actually went wrong for this wonder kid?
Here we have a classic case of a confidence player. Without confidence he is not half the player he could be, and at the moment we are seeing this. Although it is not ideal for him being played on the left by Pep Guardiola, the manager is reluctant to play Bojan through the centre when his finishing, an attribute consistently used to success for him as a junior, is questionable at this moment in time. Slotting the player in a variety of positions did his growth little benefit. Bojan has played in every position in the attacking trident of the Catalan giants; left forward, right forward and behind the striker, but rarely in his favoured centre-forward role.
The enterprising youngster was seen as the future of Barcelona but now he is looking to ply his trade somewhere else. In Rome, Bojan will be given the opportunity to show his true potential. Manager Luis Enrique is well aware of Bojan's abilities and would like to harness them further; carrying on from the work he started as the head of Barcelona B. Bojan should pack his bags and mount the Roman train. He might not get an opportunity better than this one
"It would be negative news to see him go away. He is a friend of mine, a genial guy and a great player for Barcelona. I don't think he has played enough to show himself and he has been out, but he is still a good player for this club," Valdes said, according to Forzaroma.info."