Brasilia's World Cup stadium set for April 21 opening
653 //
22 Mar 2013, 14:37 IST
Rio de Janeiro, March 22 (IANS)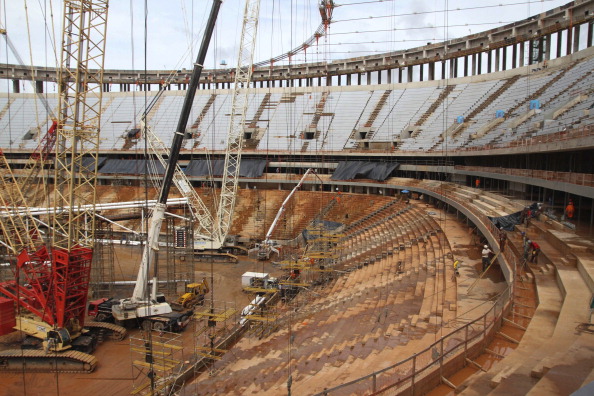 Brasilia's Mane Garrincha stadium is on track to officially open April 21, less than eight weeks before hosting the opening match of the FIFA Confederations Cup, government officials confirmed.
The 71,000-capacity stadium will host two test events before the June 15-30 tournament, considered an organisational warm-up for the World Cup a year later.
The venue's opening will coincide with Brasilia's 53-year anniversary as the country's capital.
According to a statement released Thursday by the Federal District government, the stadium's first match will be the final of the Campeonato Brasiliense May 18. It will be followed a week later by Santos' clash with Flamengo in the opening round of the Brazilian Serie A championship.
Xinhua reported that the stadium's $500,000 refurbishment is currently over 90 percent complete.
According to the Federal District's World Cup secretary Claudio Monteiro, the final phase of work has been delayed by heavy rain.
"To say the rain hasn't affected our progress is a lie," Monteiro said.
"The strong winds risk damaging the roof, which we've had to hold off on installing, and delayed the implementation of the drainage system."
"But we've intensified work in other areas and by April 21 the stadium is going to be looking great," he said.
Earlier, it was revealed the local government had been forced to seek assistance from the United Nations Development Program (UNDP) to fast-track work.
So far only two stadiums – Mineirao in Belo Horizonte and Castelao in Fortaleza – are ready.