Brendan Rodgers says he wanted Steven Gerrard to stay at Anfield
2.16K //
03 Jan 2015, 18:52 IST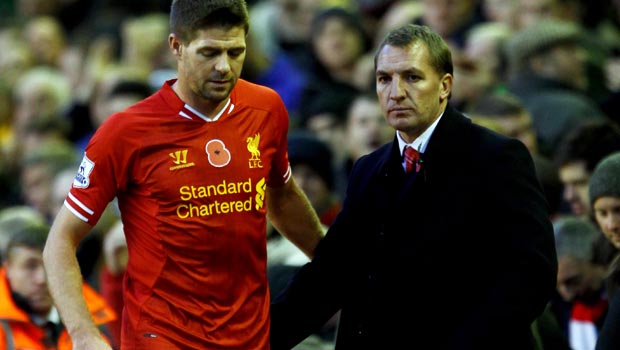 Liverpool, Jan 3 (IANS) Manager Brendan Rodgers earlier on Saturday insisted that Liverpool FC did all they could to keep captain Steven Gerrard at Anfield.
Gerrard's glittering 16-year Anfield career will come to an end in May when he leaves to join an undisclosed team in Major League Soccer (MLS) in the United States, having said that he would not move to one of Liverpool's direct rivals out of respect for his boyhood club, report the Daily Mail.
In his column, Gerrard's former teammate Jamie Carragher argues that Liverpool should have done more to keep the former England international in Merseyside and is "dismayed" that his experience is being allowed to walk out of the door.
But Rodgers, who made no secret of his ambition to keep Gerrard, said: "If you look at Steven's statement then that makes it clear. He certainly knew my feelings on me wanting him to be here.
"He has been a brilliant captain for me in my time here. I naturally wanted him to stay here. His role is slightly different now, he still sees himself wanting to go on and play for a couple of years. Naturally at this level it was going to taper over the next couple years," he said.
"He wasn't ready to go into coaching or anything like that yet. He sees himself very much as a player. When he finishes as a player then we can look at coaching as he is someone who would be brilliant to come back as part of the staff. But his concentration at the moment is on his football."
The 34-year-old in October raised the possibility that he could move away from Anfield after revealing that talks over a new contract had not opened. Liverpool belatedly made him an offer in November but, after much deliberation, Gerrard wanted to pursue another challenge and Rodgers can understand why he wants to broaden his horizon.
"He said it himself he left here on great terms, both with myself and the owners. Anything else that is said beyond that would be wide of the mark," the manager said.
"In fairness to him we had a chat a few days before the announcement was made. I have been fully aware of things all the way along. He is someone who fully deserves that respect. What the guy has done in the game he deserves that time to make the decision."