Can Manchester United's top-4 finish in the Premier League be called a success?
3.54K //
20 May 2015, 12:35 IST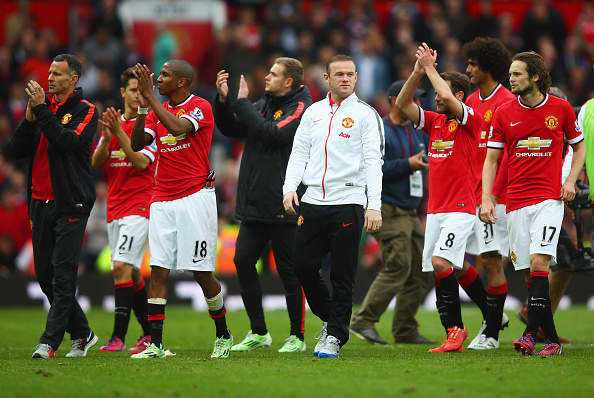 At long last, it was confirmed this weekend that Manchester United would indeed be returning to the UEFA Champions League next year after a one-year exile in the wake of their forgettable 2013/14 season. Louis van Gaal's men needed just a point from their Sunday fixture against Arsenal at Old Trafford to confirm their top-four status, but thanks to Liverpool slipping up, they had their place cemented even before they could kick a ball.
The Red Devils paid the price for a shoddy season under David Moyes last term as they suffered the ignominy of finishing seventh in the table, a place they hadn't been accustomed to in a long while. When Van Gaal took over the reins as manager of United following his impressive World Cup run with the Netherlands, the Dutchman outlined a three-year plan that would, by its completion, restore United to their previous glory.
The first year of that plan involved a top-four finish and qualification for the Champions League. After a slow start, that bordered on the dreadful, with an opening day home loss to Swansea City (United's first opening day home loss since 1972) and a 4-0 humbling in the League Cup away at League One opposition MK Dons, United slowly made the climb up and embarked on a lengthy mid-season stretch where they won six on the bounce and went 19 games undefeated.
And towards the end, in what was a tricky stretch, they bagged big wins over Tottenham Hotspur and Liverpool back-to-back before a comprehensive victory over neighbours and the champions of last year Manchester City. However, despite the obvious climb up the table, United's season has had many wondering if it really is worth celebration.
Does this fourth-place finish represent a significant achievement?
The obvious
Looking at the table, fourth obviously represents a better performance than seventh. They have had more wins against the top teams this year as compared to last. However, United have only scored seven points more than last year with a game to go (away at Hull City on the final day). They have also scored two goals lesser (surprising, right?), though the goal difference is better thanks to the fewer goals conceded this term.
Before the 1-1 draw against Arsenal at home, United had scrapped out a nervy 2-1 win against Crystal Palace, which was a much needed win after having suffered three losses on the bounce. Before those three losses, United had been cruising in the race for Champions League places and could have wrapped things up much earlier. Once they got those wins against Liverpool and Spurs in March, they had a comfortable cushion established.
Manager Van Gaal may have done a little self-pat on the back at his end-of-season presser, but United did enjoy a fair share of assists through the year in ending up where they are at the moment.
Assist 1 – The regression of the Premier League
It may have gone unnoticed, but the league as a whole took a step down from last year. Chelsea finished comfortable champions despite a mid-season wobble that no team managed to take advantage of. Manchester City failed to add adequately to their side in the summer and hardly put up a fight in the defence of their championship, enduring a torrid early 2015. At one point, their season threatened to derail completely with them in danger of dropping out of the top-four.
Arsenal have performed much the same as last season but have looked better mainly due to their position in the table. They finished fourth last year with 79 points; this year they are third with 71 with two more games to go, meaning they will not match last year's performance. United are currently a full 10 points off Arsenal's mark from last season.
Assist 2 – Liverpool's demise
One player left Liverpool in the summer. One player named Luis Suarez left Liverpool in the summer. The two statements render very different meanings and that exactly was Liverpool's plight. Brendan Rodgers just couldn't replace what the Uruguayan brought to the table, and he was not helped by the fact that Liverpool bought so poorly. They have regressed this year simply because their squad is inferior to that which challenged for the title last term.
Despite United's stuttering form at times, especially in the final stretch, Liverpool's own mis-steps prevented them from ever sustaining a serious challenge for the top four.
Assist 3 – No involvement in European competitions
Unlike the three sides ahead of them at the moment and Liverpool and Spurs behind them, United had only domestic competition to participate in. Three tournaments quickly became two after their implosion at MK Dons that saw them get dumped out of the League Cup. Battling on just the FA Cup and Premier League fronts, it would be fair to say that United had an easier schedule on their way to fourth place.
With no distractions and commensurately more rest for their players than some of their competitors, United had a sizable advantage, much like Liverpool did last year. With the kind of injury-riddled season that United have had, that certainly played its part in the grand scheme of things.