Carles Puyol appointed as Barcelona's assistant sports manager
2.59K //
30 May 2014, 20:16 IST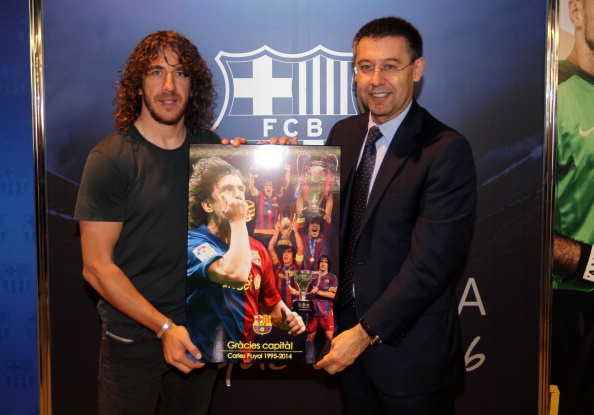 Barcelona have announced the appointment of Carles Puyol as an assistant to the sports management team who will assume his new role starting next September.
The statement read: "FC Barcelona has announced that Carles Puyol will from next September be joining the Football Department, currently run by Andoni Zubizarreta, as an assistant to the sports management team."
"The appointment of Puyol means that one of the most emblematic captains in club history will be remaining at the club, a desire that was already expressed by the president, directors, coaches and players during his farewell event last May 15."
Speaking to reporters, Puyol said, "I want to thank FC Barcelona for all that it has given me before and for this chance that has arisen now" he said. "I will try to the very best I can, and especially to learn a lot."
He added, "I have always played football and tried to do so as well as possible, and I'll be doing the same with this. Now I need some time to rest and continue treatment on my knee, but I am really looking forward to it. I am very excited about this new stage of my life."
Andoni Zubizarreta, who will lead the club's Football Department was delighted with the latest addition to his team.
"Puyol is joining the Football Department and we will be seeking to exploit and learn from all of his experiences. We also want people to realise how much he knows," he said.
"He will be an assistant to the sports management, so he'll be working with me on club projects, both internally and externally. We'll be working in more external areas like marketing and finance, and in the technical secretary area. I am sure I'll learn a lot from him. We'll have him close to all the teams, it's a unique opportunity," he concluded.
The 36-year-old served as the club's long-time captain, and has almost appeared in 600 official matches for the team, including Barca B and Barca C.