The nickname Kaiser, he said, was given because of the similarities in style between him and legendary German defender Franz Beckenbauer. In a career that spanned 20 years, he travelled far and wide, plying his trade for clubs in Brazil, Mexico, the US, and even France.
Yet, Carlos Henrique 'Kaiser' was hardly as popular as his German namesake when he decided to hang up his boots, and unsurprisingly so. After all, very rarely did Kaiser make it to the field to live up to his title.
Many credit Ali Dia as the greatest liar in the history of football. But even he would agree that he was eclipsed by the Brazilian 'Kaiser', who had it all, despite putting in very little.
Carlos Henrique, like most other kids in Brazil, wanted to be a football player. He was actually quite good in his early years as well, and was picked up by Mexican outfit Puebla. However, despite having realised that he lacked the talent required to make it big in the game, he did not give up. Instead, he decided to take destiny into his own hands, and two decades later, ended with a storied career as a striker who never scored a goal.
In a time when there was no internet and only relatively low access to live television, he understood that a chance to enjoy a career in football was still possible, despite having seen his talent diminish over his teens. His camaraderie with Brazilian footballers like Romario, Renato Gaucho and Edmundo played a pivotal role in his success as part-conman, part-footballer, as Kaiser earned himself three-month trials as a makeweight in deals upon the insistence of his peers.
Once at the club, Kaiser would execute the next phase of his master plan. He would ask the club to give him time to regain fitness, thereby buying himself some time before he actually had to make the field. And when he did join the training sessions, he would drop to the ground at the first opportunity, clutching his hamstring.
With none of today's medical equipment available during those times, the club had no option but to believe his story, allowing him to spend more time on the treatment table while getting paid by the club.
Thus began his journey as a footballer who travelled from club to club, conning sides into buying him and keeping him on their books while he used his status as a footballer to score off the field with women.
However, Kaiser did have his share of hiccups along the way. At Botafogo, he carried a huge phone with him during training sessions – at a time when owning a phone used to indicate a high status – and used it to make fake phone calls in English with what he said were interested clubs from European countries.
His teammates, not natural English speakers, were easily hoodwinked into buying his stories, but the club's English-educated doctor Ronaldo Torres was baffled to hear one of Kaiser's phone conversations, which did not make any sense at all. Looking to investigate further, the doctor found that Kaiser's phone was in fact a toy.
Kaiser however wouldn't be slowed down by his predicament, and jumped ship whenever he thought his time at a certain club was up.
Kaiser showed another moment of brilliant dexterity at Brazilian side Bangu, where he had arrived with the reputation of being a top goalscorer. However, unlike his tenures at previous clubs, Kaiser found it hard to bide his time on the bench, as club president Castor de Angrade wanted his 'star striker' on the pitch.
While he was recovering from one of his innumerable injuries, Kaiser was surprised to learn that he had been selected in Bangu's squad for one of their matches. The side's first team coach had, however, assured Kaiser that he had been added only as a precautionary measure, and would not be made to take the field.
Nevertheless, with the side losing and desperate for a goal, Kaiser was told to warm up. Knowing that entering the field would mean curtains for his time at the club, the player hit up another stroke of brilliance.
"I noticed that the fans were insulting their own team's players. So I climbed into the fence and launched verbal assaults at the fans," said Kaiser in an interview. His plan worked, as the referee brandished a red card even before Kaiser entered the field, thereby saving him the embarrassment that could have ensued had he been brought on.
An incensed de Angrade demanded an explanation for the striker's actions. But Kaiser was not to be phased. He had already thought the situation through.
"Before you say anything, listen," he said. "God gave me a father, who passed away. But he gave me another (de Angrade), and I'll never allow anyone to say my father is a thief. But the fans were saying exactly that. That's why I intervened."
So pleased was the club's president by his reply, that Kaiser received a six-month contract extension immediately, instead of the termination that many thought he was in line for.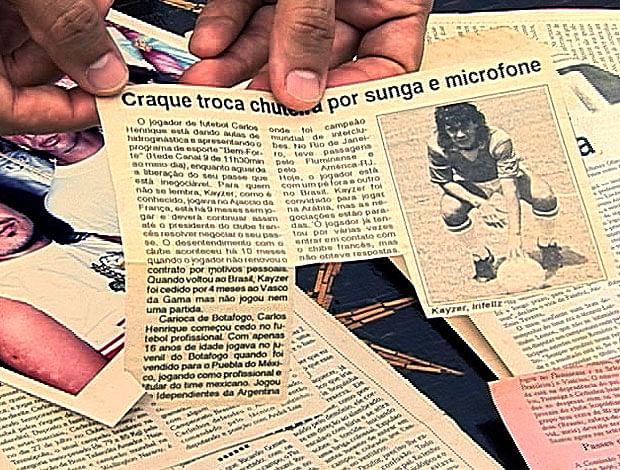 As his appetite for success grew, he decided to take his skills (or the lack of it) to French shores, and joined Ajaccio, a team from the island of Corsica.
Brazilian football was in vogue at the time, and the arrival of a new foreign import had the locals waiting with bated breath. Expectedly then, the club's fans flocked to their home stadium to catch a glimpse of Kaiser during his first training session.
Realising that his ruse would have been uncovered had he faked another of his injuries at that moment, Kaiser picked up every single ball that was available on the pitch and kicked them into the stands as souvenirs to the adulating fans, while kissing the club's badge to get the fans on his side.
His surprised teammates didn't have a ball to practice with thereafter, resulting in the side doing only physical drills, which Kaiser didn't have any qualms towards.
Despite feigning injury on multiple occasions with Ajaccio, Kaiser stayed with the club for a number of years, and eventually ended his career with 30 appearances in a career that spanned over 20 years.
Carlos Henrique Kaiser might not be the most decorated footballer in the game's history. Yet, his story is one worth telling, his tale worth remembering.
He had neither the skill nor the perseverance to become a footballer. However, such shortcomings were no match for football's greatest liar.
Quotes and details courtesy Globo Esporte.