Cesc Fabregas to Manchester United - A dream come true
4.35K //
28 Jul 2013, 00:07 IST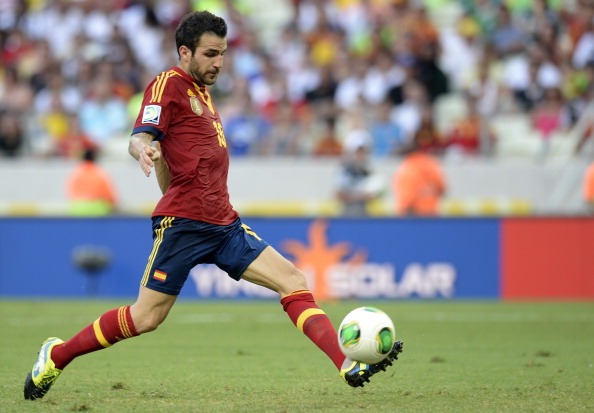 Imagination is a powerful weapon we humans have. So I ask you to engage with my parlour game for a moment. Imagine you are a world famous midfielder. You are playing at the club you love and life sounds perfect.
But look deeper and you find that all that glitters is not gold. You hardly play crucial matches, and you are used more as a stop-gap then a regular starter. You get games as a squad player, yet at your older club you were the king of the team, and by default the kingpin at the club.
Yes, the man in question is Francesc Fabregas. United's main transfer target for the summer is recognised as one of the best midfielders in the world. At any other club in the world, he would be the main man. But at a club with Xavi, Iniesta, Busquests and Song, he is merely a fill in.
Coming to Manchester United would be a marriage of convenience both for the player and the club. United need someone with quality to play alongside Carrick, and like any player, Fabregas would enjoy pulling the strings at a club like Manchester United.
All through last season, barring a handful of matches, United were either grinding out a 1-0 win or making comebacks from hopeless situations. United were lacking cohesion in midfield and most wins either came due to De Gea's heroics or Van Persie's wonders.
Carrick was a lone warrior most times, Cleverly failed to impress alongside him and Phil Jones, for all his abilities, does slow the game down. Now imagine Carrick and Fabregas alongside each other. Carrick is the tough man who can sit in front of the back four and keep distributing the ball. Fabregas' excellent passing range and technique can enable him to control the tempo of a game.
Like Paul Scholes, he seems to have all the time in the world with the ball at his feet, and more often than not, makes the correct pass. He has a tough, never say die mentality which is an imperative for any Manchester United player. Potent with both feet, Fabregas' style of play is easy on the eye. Having played his football at Arsenal and Barcelona, Fabregas is a complete team man.
The move makes sense for the former Arsenal number 4 too. At Barcelona, the best he can be is second fiddle. Thiago Alacantara's departure just means that he would be a more important second fiddle.
Fabregas does not have the defensive qualities to cover for or replace Busquets. Also Neymar's arrival would mean that Iniesta would drop back into midfield far more often. At 33, Xavi still has a couple of good seasons left in him, and if injury does not strike him, the Spanish veteran would continue to be a regular starter.
The false '9' role Fabregas plays so well will also be taken up by Neymar who has more dynamism for the role. For all his passing and crossing abilities, Fabregas has no real pace and therefore cannot be a winger.
Like any sane man, Fabregas should opt for Manchester United. He would be the king of Old Trafford, and the love heroes receive in the Theatre of Dreams is unparalleled. Fabregas could be the missing piece, which completes a good squad and makes it the best.
Like Cantona, he could be the man who makes it all click together, like Scholes he could be the man pulling strings at the best club in the world. This is Fabregas' chance to decide whether he wants to be an also-ran or be the main man.