UCL Flashback: When Lionel Messi tore Arsenal apart
1.38K //
05 Mar 2011, 19:07 IST
On April 6, 2010 Arsenal arrived in Catalunya hoping to knock over defending champions Barcelona from the Champions League quarter finals in their own backyard. Hopes were high in the English side's camp, particularly after the strong fightback the Gunners made at the Emirates stadium a couple of weeks earlier to draw 2-2 against Pep Guardiola's men.
Barcelona were firm favourites to go through even though Theo Walcott inspired the North Londoners to come back from a two goal deficit to rekindle hopes of an upset at the Nou Camp. That upset looked a reality when Arsenal's Danish striker Nicklas Bendtner gave the away side a shock lead in the 18th minute, thanks Walcott's lightning quick counter attack. With the all important away goal, Arsenal looked like they could achieve the impossible.  But that was to be the last bit of joy the Premier League side enjoyed in a match that Lionel Messi proved why he is regarded as the best player on the planet. Arsenal's challenge came unstuck in the face of a stunning Messi show.
The Argentine wizard was well dealt with by the Arsenal defence in the first Leg in London but it was different story in Catalunya as Messi showcased his full repertoire of talents against a hapless Gunners defence. The reply to Arsenal's shock lead was so magical that Lionel Messi completed his hat-trick in the first half itself to leave the Gunners shell shocked. Barcelona booked a semi-final place courtesy of a 4-1 win over an Arsenal side missing Cesc Fabregas, Robin Van Persie, Andrey Arshavin, William Gallas and Alexander Song. One had to feel for Arsene Wenger. His boys showed enough resilience at the Emirates and also the first twenty minutes at the Nou Camp but missing those five stalwarts proved to be too much for the side from London's N5. Getting a result is tough enough at Catalunya but without top players like Van Persie, Gallas and Fabregas, a win was a monumental task.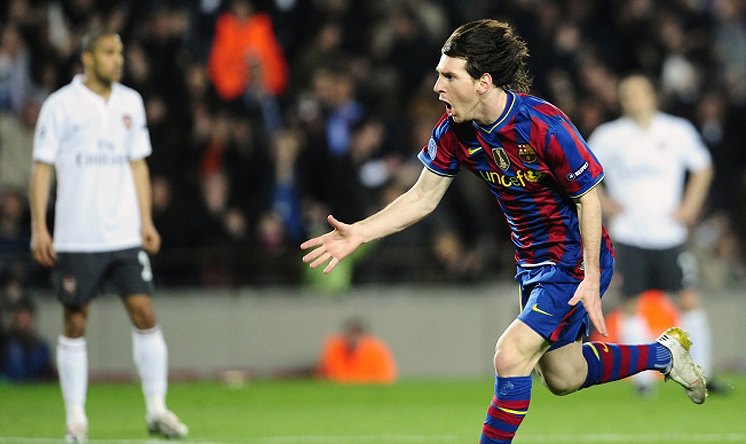 Lionel Messi's four goals were not due to Arsenal committing errors at the back but they were of pure class and magic that only the diminutive Argentine could produce. Each goal was class apart. The first one, immediately after Bendtner's opening strike, was a long drive belter, the second a poacher's finish, third a glorious chip over Manuel Almunia and the fourth turned out to be a late solo strike despite a crowd of Arsenal defenders trying to stop the little magician.
At the Emirates, Arsenal proved Barcelona could be put under pressure although the Spanish champions would inevitably enjoy a hell lot of possession yet pace is one weapon that could be used effectively to breach the Catalan back four.
Although the Gunners missed five top players from their ranks, Arsene Wenger's 4-1-4-1 tactics proved a bit flawed in the face of the Messi heroics. With Denilson stranded in front of the defence and Lionel Messi operating centrally with a license to move to the flanks, the Brazilian was getting drawn out from his position to track the Argentine, thus leaving the back four vulnerable to attacks from Barca's Seidou Keita, Xavi, Pedro and Bojan Krkic. Yet one could assume that on that day no tactics would have worked the way Messi single handedly destroyed the Gunners. Arsenal missed Barcelona boy Cesc Fabregas badly. His penalty late in the first leg brought the Gunners levelled but it would be unfair to Barcelona's class that Arsenal fans give Fabregas' suspension from the game as an excuse. The 4-1 scoreline and the aggregate score of 6-3 was fully deserved for Barcelona and it was a shameful exit for Arsenal.
Champions League 2011-Barcelona v Arsenal- 2nd Leg
Well, here we are in 2011 and Arsenal and Barcelona meet again, this time in the pre-quarter finals. There are lots of similarities in this term's re-match as the second leg is being played at the Nou Camp and the injury curse is back for Arsenal who would be missing key players in the form of Robin Van Persie and Theo Walcott while captain Cesc Fabregas is 50-50 with his hamstring injury. The only difference is the Gunners hold a slender 2-1 lead over the Catalan giants going into the return leg on March 8, having again come from behind to stun Lionel Messi and company.
Last Sunday's Carling Cup defeat to Birmingham City was a huge shock and Arsene Wenger has admitted that the loss could have an impact on the club's assault on other trophies yet one could never say that the Gunners are all but out given how mighty Barca are at home. In a year when strange things have happened in football, Arsenal could end their six year trophy wait with a Champions League glory at Wembley, of all places.  But they have a date at the Camp Nou before that, the place that holds haunting memories of last season's debacle, the frontier that Arsenal must conquer in order to stake their place as a genuine title contender.  In short, we're in for a cracker of a game.  Let's hope the big game lives up to the big build-up.