Champions League Round Of 16 Preview: Bayern v Basel
638 //
12 Mar 2012, 16:17 IST
This Tuesday Bayern Munich return to Allianz Arena to turn around a 1-goal deficit, or risk becoming the national embarrassment of Germany. That's because losing on aggregate to FC Barcelona 10-2 is what Twitter Experts consider an "honor." And because failing to get out of the group stages is "ok" despite being the "only team that can beat Barcelona" because they all needed the "learning experience." Once again, the future of the German coefficient rankings (the real thing you should be rooting for when it comes to international football, forget your clubs) rests on the shoulders of the men in red. No pressure, we got this.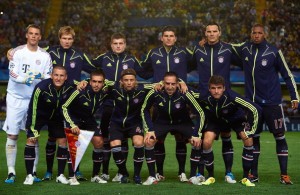 The match last month against Basel did not go as planned (does anything ever?). There were missed chances on both sides, and finally in the second half, Valetin Stocker got one past Neuer and Bayern's annual crisis almost reached its peak (as did every Bayern hater's orgasm, let's be real here). While the twitter world dreamed of Mourinho replacing Shifty Eyes, the team started working on turning their rut around and sent press releases flying.
The good thing here is that the team is coming off of a 7-1 win at the weekend, the match is at home, and Mother Theresa—I mean, Schweinsteiger, has returned. In fact, since Saturday a grant total of 0 catastrophic, life-altering events have occurred in the world! Danke Schweinsteiger! Another positive thing is that Tuesday is Holger Badstuber's birthday! Our blonde, lanky, virginal defender is turning 23 and is looking to score on such a monumental occasion. On the pitch, of course. Ball in net.  Bayern are also undefeated at home to Basel (3 matches) and have won 11 of their last 12 home matches in the CL, but with their music (that has been stuck in my head for years), the Champions League also brings a tricky away goal rule.
The 'other' FCB are also coming off a win this weekend. They won (away) against Grasshopper (giving you two seconds to giggle) 2-0 with goals from future-Bayern man Shaqiri (his sixth of the season) and Degen. Basel are now sitting at the top of the Swiss Super League with 49 points in 23 matches. If you want details on their away record, here it is: they've won 5, drawn 5, lost 1 and have scored 19 goals on the road. They may have squashed a bug this weekend, but it will take more to topple this Bayern. We hope, anyways. (Bayern have recovered from a first-leg defeat on eight occasions).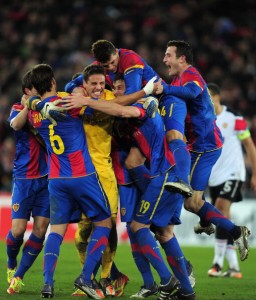 There were a few injuries following the destruction of Hoffenheim on Saturday. Jerome Boateng had to be subbed out after half time due to muscle stiffness. Former Bayern man, Edson Braafheid, went in hard on Arjen Robben close to full-time, and our Dutchman left the battlefield mostly unscathed. Mario Gomez ended up with something that looked like a bullet wound on his shin, but no muscles are torn and no bones are broken and he should be okay to start. Though his head might need examining after he was heard comparing his flesh wound to making Christmas cookies. Toni Kroos will probably be in the starting line up. Don't make eye contact with his weapon, whatever you do, or YOU might be the one swaddled in a blanket by Dr. Hans-Wilhelm Müller-Wohlfahrt and bottle-fed a concoction of goat blood and Oliver Kahn's spit. Okay, I'll take one for the team here.
As for who we will see on the pitch, there are a few ways Jupp could go. If you are like me, you're hoping Rafinha's flu bout hasn't gone away just yet, so we can see Mr. Manager at right back, and Alaba on the left. Then we appear to be spoilt for choice in midfield. Messiah back in the starting 11 or will he come off the bench?
I was correct in my line-up prediction for last week, but that happens only once in a blue moon; in any case, here's what I would like to see:
Neuer; Lahm – Boateng – Badstuber – Alaba; Gustavo – Kroos (Schweinsteiger); Robben – Müller – Ribery; Gomez
For Basel, here is their line-up from the weekend:
Sommer; Degen – Abraham – Dragovic – Steinhöfer; Shaqiri – Huggel – Xhaka – Zoua; Streller – A. Frei
That's about all you need to know from here. The match is Tuesday, 20:45 local time and if you find me over in Twitterland I can provide you with a stream or two. Let's hope that by Tuesday evening, we are feasting on a meal of mozzarella, tomato, and Basel and are on our way to becoming THE CHOMPYONS.