Christmas 3-Game Stretch: A Failure
595 //
30 Dec 2012, 20:03 IST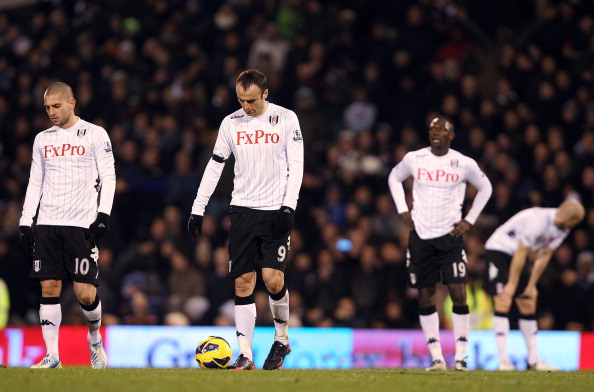 This is the no-fun part of my job here. The part where we have to look back at a point in time when the fans needed the club the most, when they were supposed to right the ship and they sank, when they were supposed to come through and they fell on their faces.
The last 3 games was just that.  With fans worried at a 13th place table position, this was the moment they'd sieze the day and at least build up some wiggle room.  Instead, they dropped a place and mustered only a point. In 8 days, Fulham managed 2 goals and conceded 7.  Out of 2 home fixtures featuring 9th and 18th placed clubs, they picked up a draw and a loss.  There's no statistical analysis required to see what happened.
Why am I rehashing all this negative material? Because it's noteworthy.
Fans can play the blame game.  We can say it's the defense's fault for being porous.  We can say it's the offense's fault for allowing the early season goalapalooza to dry up.  We can say it's the manager's fault for not selecting the proper line-up or making the right substitutions or playing the correct tactics.  We can say it's the owner's fault for not buying players to help the team succeed.
But in reality, it's all of those things.
HOWEVER.
We also need to be rational. No, no matter what Martin Jol does in January, this club probably isn't going to complete the aspirations of top-7 that we had after the fantastic start to the year.  But thankfully, there are also a handful of clubs who happen to be much worse than Fulham as well.  Are we in panic mode yet? No.
Nor should anyone be discussing sacking Martin Jol.  As much as bright sides don't matter when you're in the bottom of the table, fighting to stay up, the loss to Swansea clearly showed a much better Fulham performance than we've seen in recent weeks, thanks in large part to the youthful squad Jol sent out.
If not for a defensive brain fart (which have eerily become more common this season) and an unfortunate gaffe by a goalkeeper just trying to make an impression, it'd have been a complete tactical domination.  No matter what Jol does, he can't jump on the pitch and play.  I'm sure he's aware this January is instrumental to his job security.  Let's see what the front office comes up with in the market, and then go from there.
It's a difficult position as a fan.  You want to hold someone responsible for the miserable holiday showing when the season was there for the taking.  However, it's also a time when the club needs to move on and turn a new leaf (again) in the transfer window.
The last week was a failure, and needs to be addressed.  The next month could determine the fate of the club for this year, and beyond.  Time to look ahead.