Gary Neville - A Manchester United legend
1.12K //
02 Mar 2013, 17:46 IST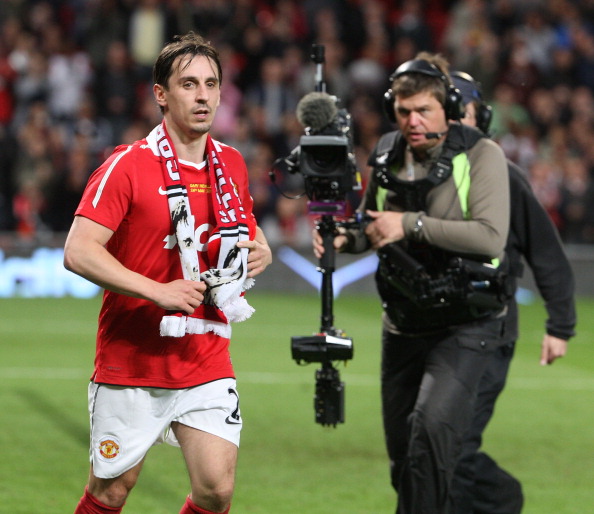 As football gets more globalised, it's probably more important than ever to have one or two players in your team who have grown up in the same streets or been to the same schools as the hard-core fans.

-Gary Neville
With Ryan Giggs reaching his 1000th senior appearance, not many outside the United faithful and old watchers of the league will remember the man I am trying to talk about, Gary Neville. The man made his debut in the same season as Giggs, and like his mate got a regular place in the following season. He was the first-choice right-back for United for 15 years, and the equal most-capped fullback, along with Samson (at time of retirement). A man who wore his heart on the crest of his jersey, Neville epitomizes what a club legend truly means.
Neville was an integral part of 'Fergie's Fledglings', and went on to be a crucial defensive cog in the team of stars such as Cole, Yorke, Giggs, Beckham, Cantona, etc. He had throughout his career the reputation of a great crosser of the ball, and it were indeed his crosses that were converted the most, for a United fullback. Neville was a great team character too, and a leader both on the field and off it. Appointed club captain after Keane's departure, Neville was a crowd favourite, and had the ability to thrive on the crowd's enthusiasm, and conversely get the crowd going with his on-field exploits.
It is no wonder then that some of Neville's best performances came in front of the Old Trafford faithful. A memorable performance of his that I saw was against the Arsenal 'invincibles' in 2004-05. Ferguson had lost the league to them the previous season, and his plans to rough up the opposition and get stuck in, and to play on the counter, was epitomized by Neville. He consistently tackled Henry and hackled Pires, and in Neville's words, "They acted as if disgusted about us not letting them play their game and were a bit shocked I think." United won the match 2-0, and Neville was awarded the man of the match.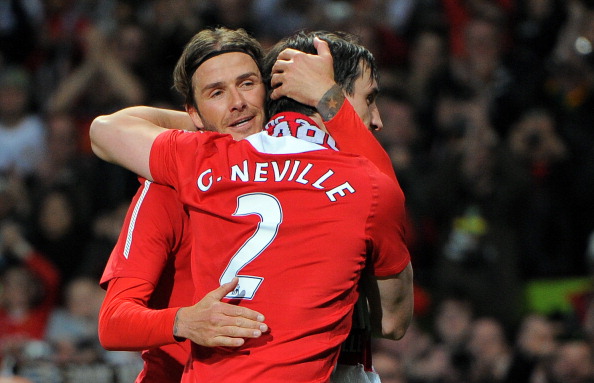 With Beckham in front of him on the right wing, United consistently heckled opposition defences with their wing-play. Beckham and Neville, being best mates, understood each other perfectly, and it was fascinating to see them at work. They had a seamless understanding, and often it was Neville who put him through for his marauding runs on the right flank. Neville was an enigma, and was titled the most hated player in England in 2006, with it being officially advised to Neville that he never wander into Liverpool because of his comments and celebrations over the years against United's fierce rivals.
He is also somewhat odd in the respect that he never retired for England, saying that the decision was not his to make. But vocal as ever, he blasted the English fans for their comments on Beckham after the '98 World Cup, and for the treatment of his brother Phil, in the 2000 Euros. Neville suffered injuries in the latter part of his career, and when announcing his club retirement in 2011, he said:
"I have been a Manchester United fan all my life and fulfilled every dream I've ever had. I am disappointed that my playing days are at an end. However, it comes to us all and it's knowing when that time is and for me that time is now."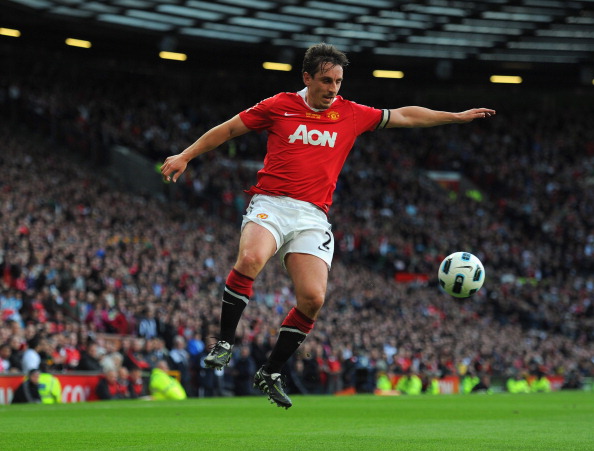 But this was not before he had won 8 Premier League titles, 2 Champions Leagues, 3 FA Cups and a Club World Cup with United. His testimonial match drew a full house at Old Trafford, with fans chanting their favourite son's name throughout the match. We have had many players who lasted out their careers at Old Trafford, but no one can be like Gary Neville. He was the people's player, their man, their champion. Because after all, he was but a fan who played for his club.