Could Barcelona countenance selling Lionel Messi?
8.93K //
15 Jan 2015, 15:00 IST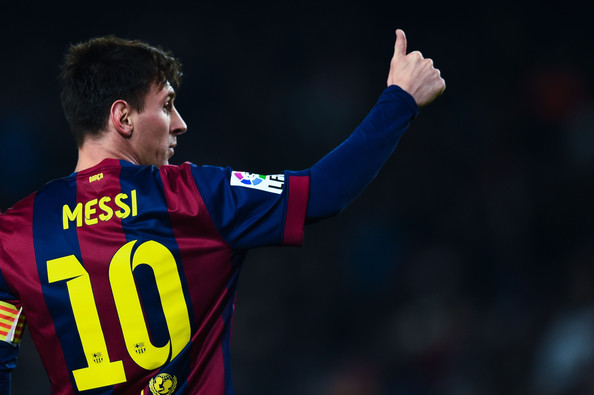 We all love a transfer story and which one could possibly be bigger than Barcelona selling an unhappy Lionel Messi?It seems incredulous to even consider it, so woven into the club's very fabric and identity but the tabloids are rife with stories that the player is unhappy and there is discord within the club.
What do we know?
Messi's relationship with certain individuals at the Camp Nou is strained. This comes against a backdrop where Barca's halo has at least been tilted over the Neymar transfer fee, their actions regarding recruiting young players (and subsequent transfer ban) and the fading of their all-conquering La Masia built side.
Now all of this has led to a phase of transition at Camp Nou, a period that most clubs would kill for with a forward line of Messi, Neymar and Luis Suarez, and a support cast including Ivan Rakitic, Sergio Busquets, Pedro et al. There does however appear to be trouble in paradise.
Messi has fanned the flames via 'the hugely important' platform of Instagram where he followed the official Chelsea account and a couple of their players. This has been taken in conjunction with his unhappiness with certain individuals as a clear sign that he is off. There is also his (serious) issues with the Spanish courts regarding tax evasion.
His relationship with Luis Enrique (who looks less than rock solid himself) is said to be poor, exacerbated by Messi's late return from holiday and benching for Barca's defeat away to Real Sociedad.
What is Barcelona's take?
Given the club elections this summer with Juan Laporta (who enjoys a good relationship with Messi) waiting in the wings and coupled with the certain furious reaction of the Barca fans and members, it would surely be a cold day in hell before the Catalan giants would consider selling one of the greatest players the world has even seen – one who is regarded entirely as one of their own.
Messi with his support cast of Xavi and Iniesta has been more responsible than anyone for the fantasy football that Barca have produced elevating them to a level of global reverence possibly never before seen. His end product on the pitch and the almost ludicrous statistics he has accumulated along the way mean that he is simply irreplaceable given that Ronaldo is 29 and plays for Real.
Nearly every side that sells their star player suffer a dip thereafter and Barcelona is not an institute where dips are tolerated nor encouraged. It would appear suicide for anyone sanctioning his sale.
However, his departure would allow Barca to reinvest heavily in younger players and replenish a squad that looks badly unbalanced and short of depth (in relative terms, of course). It may also allow Neymar to take the centre stage he so (quietly) craves and help him realise his full potential. Barca's finances are in less than rude health too; it is worth a discussion at least.
Who could and would buy him?
Given that Bayern Munich's prudence would probably rule them out, it leaves only four probable destinations. Messi would himself probably rule out PSG due to not wishing to play in Ligue 1 (just yet). Which leaves us with the EPL sides Manchester United, Manchester City and Chelsea – granted Arsenal would be a complete curve ball.
Messi is a phenomenon on the pitch, to some (not me) the greatest ever. He is now 27 and whilst not in decline, like so many players who have played a huge amount of games at a young age (nearly more than anyone) he has certainly plateaued. Granted, he has avoided serious injury, but it possible we have seen the best of him. He could however conceivably remain the best player (or thereabouts) in the world for the next 3-4 years. In footballing terms, any team would want him. But is it worth the cost?
Financial Fair Play is real, just ask PSG and Manchester City. Buying Messi would be a huge calculated gamble. Figures being knocked around are in the region of £300-400 million for the entire package over his contract including transfer fee. There is, of course, the commercial angle to look at for the clubs which played such a huge part in both David Beckham and Gareth Bale going to Real.
A look at shirt sales over the past five years show United are No.2 in shirt sales behind Real, but already ahead of Barca. Messi shirts are by far the most popular Barca shirt. So whilst he would undoubtedly add handsomely to United's cash factory, that would not be sufficient to consider the deal on those numbers alone. Chelsea are at No.4 in the list, so Messi would surely give them a fillip in terms of shirt sales and profile. City are not even in the top ten, so Messi would provide a real springboard for the Sky Blues.
For City and Chelsea who are both a level down in terms of size and profile, there must be a huge temptation should the opportunity arise. Roman Abramovich has shown in the past with Andriy Shevchenko and Fernando Torres that he has been unable to resist a glamour signing and this would be the biggest of them all. There is little to suggest that Abu Dhabi would see things any differently, it is a chance in a generation if not a lifetime.
Why would Messi leave?
If you are at Barca or Real, only Manchester United or Bayern Munich currently offer a current comparable platform when taking the whole package into consideration. City and Chelsea (and PSG) would offer wages, title challenges and Champions League participation. Add Messi to any of those teams and you have serious European contenders if they are not already.
It is however not Camp Nou and it is not Barcelona. London offers a unique lifestyle blend that Manchester does not and is an easier cultural transition from a Spanish speaking one. Chelsea however only get 40,000 fans at Stamford Bridge every week.
For Messi to leave Barca would be an enormous wrench (and would not make the tax case go away), so it probably safe to presume that this is merely posturing and manoeuvring from him to oust the people from Barca that he finds to his distaste. The Barca faithful would almost certainly side with him regardless of the rights and wrongs and both the Barca hierarchy and he are acutely aware of that.
Granted, some people simply want a new challenge. But the truth is that of the possible homes he could arrive at, probably only Manchester United offers the stage he would crave despite the continued links to Chelsea.
The reality is that come next August, we will almost certainly see Lionel Messi lining up in the No.10 shirt of Barca. But in the meantime, it is certainly fun to speculate and it will sell an awful lot of newspapers.
Has anyone suggested yet that Real Madrid might buy him?
---
This article has been contributed by a member of the SK Featured Bloggers Club. It was originally published on the 'Voomfootball?' blog here: Could Barca countenance selling Lionel Messi??