Cristiano Ronaldo achieved greatness, Lionel Messi was born with it
5.12K //
26 Mar 2015, 11:54 IST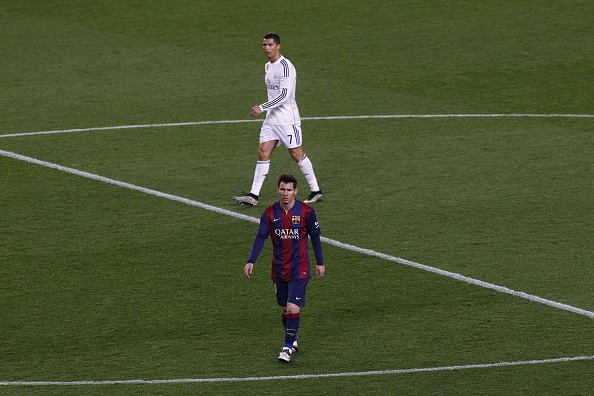 The rivalry between Messi and Ronaldo has gone on for as long as one can remember. While large sections of fans have taken sides in the argument, many former players and pundits have shrewdly decided not to compare them, stating that they were two players of different kinds, and that both of them were magnificent in their own right.
While that may be true, one has to ask, who among them is the greatest player of our generation? And to reach the answer to that particular million dollar question, one has to start at the very bottom of it.
No one can probably sum it up better than Felipe Scolari, who once said "The only bad thing about Cristiano Ronaldo's life is Lionel Messi. If it were not for him, Ronaldo would have won the Ballon d'Or five years in a row". Ronaldo might have tried and set that right by winning the coveted award for the last two years, yet there seems to be a common belief in the football community, that he is perhaps the lesser talented one among two of the greatest players the world has ever seen. The one word to be noticed here is "talent".
While Cristiano Ronaldo has achieved everything he has in football through hard work, many believe that Messi has been blessed with a gift for football, which perhaps no amount of hard work can surpass. One of the believers in this theory is former Barcelona scout Josep Maria Minguella, who had first approached Messi to come to Catalunya when he was just 13 years old.
"When he was a child, Messi stood out as a very skillful player," Minguella said in a recent interview. "He didn't have much physical strength but he had great ability. That's why he has to be considered a natural talent.
"He has now improved in all aspects. When he arrived to Barcelona he was very skilled but he has adapted very well to the style here, grown up and reached a superior level to anyone else playing today. He's now untouchable."
And it has not just been Minguella, but a host of other current and former players who have supported Messi when it comes to "talent". Atletico Madrid player Arda Turan had last year stated boldly "Ronaldo is the best in the world, but only because Messi is from another planet."
Similarly Bayern Munich's Frank RIbery, who admitted to being an admirer of Messi, stated: "There is Messi, and then the rest".
Why Messi gets the nod ahead of Ronaldo
While in terms of achievements no one can deny that Ronaldo is at least on par with the little magician, when it comes to that fated word "talent", Messi has been the one who has got the nod ahead of the Portuguese international.
The difference in their playing styles and indeed their development can be summed up in a single paragraph. Ronaldo has prioritized his finishing and pace over his dribbling abilities. Not that he is a pushover in that aspect. He still has the ability to turn circles around most defenders. But he has decided to be the best he possibly can by focusing on his magnificent striking ability, which has resulted in the production of the most complete attacker the world has ever seen.
Whether it is his blistering pace which few can match, his explosive riht foot or his heading ability with a Michael Jordan-esque hang time, Ronaldo has few players to match him in world football when it comes to scoring goals. Ronaldo has won 11 major club and personal honors since the 2009/10 season, which includes two European Golden Shoe awards and two Ballon D'Ors along with the two Copa Del Rey titles, one La Liga title, a Spanish Super Cup and of course last season's Champion's League trophy.
But in spite of those feats of athletic brilliance, Ronaldo has remained inferior in the eyes of many past footballers and fans, for whom Messi's magical touch, childlike delight in nutmegging opponents and a brilliant left foot has been the combination worth watching. Not Ronaldo's physical and athletic game. His brilliance is not just limited to scoring goals like Ronaldo, as he assists almost as much as he scores.
Messi has assisted 22 times in all competitions this season so far, 6 more than Ronaldo. While both players lie neck and neck in terms of goals this season (43 for Messi, 42 for Ronaldo), it has been Messi who has contributed more to his team's success with his all round passing, playmaking and contribution to his team's build up play, rather than Ronaldo, who in most cases has been the finisher to a move created by his teammates.
And the level of talent Messi possesses can easily be determined from the sheer number of awards and accolades he has received in the past five seasons. Messi's honours for the past five seasons include 3 European Golden Shoes, 4 Ballon D'Ors, three La Liga titles, 4 Spanish Super Cups and a Copa del Rey trophy. Add to that the Club Word Cup and UEFA Super Cup trophies, and the total number of awards for Messi since the 2009/10 season reaches a staggering value of 20, almost double the number of accolades Ronaldo has received in the same time period.
The difference between watching Ronaldo and Messi play
Ronaldo has evolved into a perfect athletic, footballing machine that churns out goals at a staggering rate, a machine which can score goals from almost anywhere. The current Ronaldo has almost no resemblance to the young 18-year-old Sporting Lisbon player who had amazed Sir Alex Ferguson to such an extent that he had decided to bring him to Manchester.
He even seems to be a different person from the emotional and talented young United player who had thrilled the Old Trafford faithful on many a memorable occasion. His goals scored per match ratio would be something many top strikers in the world would kill for. But at the end of the day, even the Real Madrid fans can see that the emotion has gone out of his game. He has turned into a perfect, uninspiring and arrogant goal scoring machine.
On the other hand, Messi has essentially remained the same player he was when he made his debut in 2004. He still loves the sheer joy of outsmarting defenders, that feeling of ecstasy as he dances past helpless defenders and calmly slots the ball past the goalkeeper. He is still that kid at heart, who just loves to play football.
It really seems unfair towards Ronaldo, a living personification of how far a man can go with hard work in life. And his disappointment in the fact that he is considered to be the second best simply because he represents the perspiration part of football and not inspiration, is easily understandable. But when it comes to pure footballing talent Cristiano, there will only be one Leo Messi.