Cristiano Ronaldo > Leo Messi. Period.
4.34K //
11 Nov 2012, 12:55 IST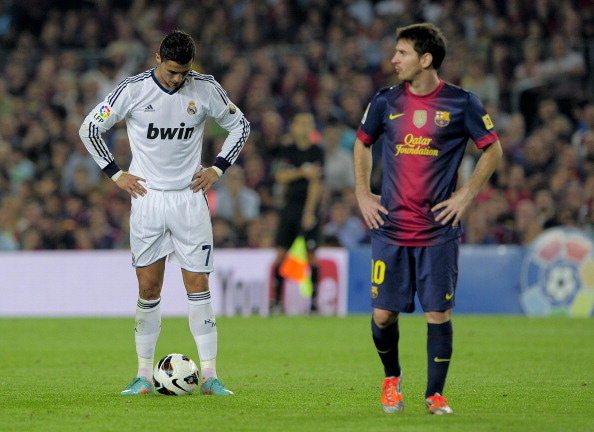 Before I start addressing the question at hand – although there shouldn't be one at all – let me remind you all, that, when a fighter is trained by a doting uncle who never made it to the top himself and took it upon himself to train his nephew, and is one of the two greatest fighters in the UFL, he will, no doubt, be considered better than the other contender, who is trained at an elite fighting academy from a very young age. La Masia (the Barcelona youth academy, if the club's plastic fans weren't aware of it. It's never too late to learn) is, by leaps and bounds, a far superior youth academy to Academia Sporting, the youth club of Sporting Lisbon. Sporting Lisbon is, of course, the club that Ronaldo played for joining Manchester United. Phew! It's a strenuous task talking to Barca fans, I tell you!
So, none of your statistics are going to help judge which of these players tops the other. It's football, for heaven's sake! Don't just copy-paste some stats from wherever possible and quietly sit back as the fans start to declare that one is better than the other. That just spoils the romance and the emotion that envelops the beautiful game. Like for example: 'Ronaldo fouls more than Messi'. Well Messi fans, being a fan of Cristiano, I don't think that it says Messi is more 'disciplined' than Ronaldo. It just says Ronaldo has more commitment towards his team. Stats never speak about the overall performances that the player puts in over the course of the game: The runs made forward, coming back to assist the defence, holding the ball up, and so on.
If you really need to keep drawing comparisons and putting down one to make the other look better, then you need to look at their backgrounds and how hard they had it breaking into the major leagues and clubs. Oh wait, Messi never had any trouble with that, as he was signed by Barcelona even before his first shave!
Ronaldo has seldom had it easy in his life. While Messi was whisked off to Spain just as he entered his teens, Ronaldo had to overcome competition from his clubmates, the responsibility of his family, an ill  father whose health was steadily deteriorating, and his own health problems, for which he was even hospitalized briefly when he was 15. But he braved all of this, came out with soaring colours, and managed to sign a contract with a top European club in the form of United, the club that was going to mould him into the greatest footballer of the modern era. Yeah, you heard it right. Sir Alex identified his grit and his mental toughness and gave him the most coveted No.7 jersey straight away. And he lived up to everyone's expectations from day one.
And, yes, Leo Messi may have good ball control and dribbling skills and everything, but he is a far cry from being called a 'complete player', whereas few can match the requirements of the tag as perfectly as Ronaldo does. He can do everything that you want an outfield player to do. Where Messi's height ends, that's where Ronaldo's height begins. If Messi ever attempts to imitate Ronaldo's step-overs,  he faces the risk of ending up in one of the funniest YouTube videos ever. But Ronaldo can do what Messi does, elegantly beating defenders, perfectly measuring lobs over the keepers' heads, and finish off movements with as much precision and accuracy as the diminutive Argentine. The way he led Portugal into the semis of the Euros and just missed the final berth, courtesy a penalty shoot-out in which he wasn't even allowed to take a shot because his team-mates lost the shoot-out even before Ronaldo could take his designated last shot. Again, an indication of his team-mates who rarely do him justice.
Messi's Argentina, meanwhile, crashed out of the Copa America in the quarter final stage. A team that boasts of such attacking talent like Higuain, Di Maria, Tevez, and Sergio Aguero.
So, there, Ronaldo is a better man than Leo Messi, a better footballer than Leo Messi and a better leader than Leo Messi.
Ronaldo > Messi. Period.