Dear Theo, 'The Legend' status awaits you!
969 //
26 Nov 2012, 22:34 IST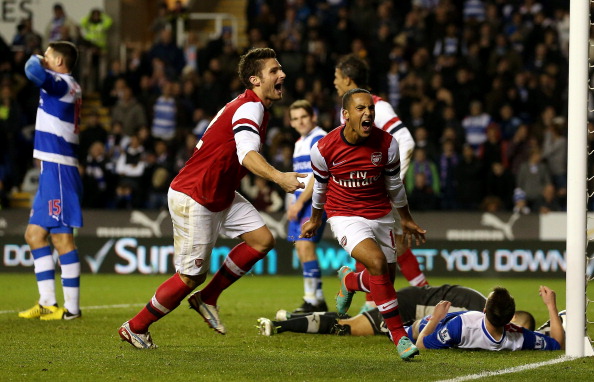 There has been much written about Theo Walcott and I am sure much more will be until such time as the England International puts pen to paper on a new contract with Arsenal. The sense I am getting on twitter, other social media and the media in general is one of pessimism and the majority feel resigned to him following van Persie, Song and other big name stars out of the Emirates. I sincerely hope this is not the case because I genuinely feel he has taken a step to a new level this season. There has been an increased maturity about him, a clinical coolness in his finishing and most significantly a greater awareness and accuracy about his final pass or cross. For all these reasons, and to make a statement, I am strongly of the opinion that the club need to do all in their power to convince Theo to extend his stay in North London.
As you might expect though, I have a slightly alternative perspective on the situation and ongoing contract talks. Different in that it does not involve the only two issues everyone else is concentrating on. So this blog is about Theo Walcott and the possibility of him signing a new deal, but I will not be assessing his supposed salary demands or his rumoured positional demands. Partly because we, or certainly not I, don't actually know if he has demanded £100k a week or insisted on playing through the middle. This is press talk and speculation and I would rather deal with facts and come at this from a different angle. So Ivan/Arsene if you are reading blogs, you may wish to listen to this boring statto for some assistance in your negotiations with young Theo and his agent.
Firstly however, let's hear what Theo said himself earlier this month:
"I am leaving it all to my agents and [the fans] will be the first to hear when something happens. It's important for me that something gets sorted out, because I enjoy playing for this club."
"I don't think you can put a time frame on when it will be resolved though. When both parties are sure, it will happen when it happens.

My last contract took six or seven months, so we have to be patient, myself as well. But I'm enjoying my football at the moment, so it's not affecting me at all on the pitch."
This does not sound like a player anxious to leave Arsenal but who knows in football. What we do know I think, is that Theo loves the club and owes Arsenal and Arsene a great deal, but then so did many who deserted us. So what is it I am alluding to, that is on offer to Theo, which is I feel attainable and tangible? Well, the title hints at it and I truly believe it. What is on offer for Theo is something quite real and which his former team mates have turned their back on. The offer has greater prize that you can place a monetary value on and that prize is 'legendary status' with ARSENAL FC.
So what are the factors or elements which combine to secure greatness at our club, or any club? Well, you won't go far wrong with loyalty, longevity, talent and of course being part of a trophy winning team. If I were Wenger, what I would be trying to demonstrate to and convince Theo of, is that he has the opportunity to do what so many before him since 2005, have failed to do. Alex Hleb, Cesc Fabregas, Alex Song and Robin van Persie – great footballers? Yes. Arsenal legends? NO. Theo Walcott could be the first young English player to break through at Arsenal and achieve legendary status since Ashley Cole. Many might indeed, and with some justification (I would be among them), argue that Cole gave up his right to that status at our club. So the only young English talent to achieve legendary status since the class of the 80?s Adams, Merson, Thomas and Rocastle, was Ray Parlour.
Am I being fanciful? Maybe, but I have done a fair amount of statistical research and you might be surprised just how far Theo has come and how many games he has played for our club.
Walcott is still only 23 and 6 months old and has played 230 times for Arsenal. Is this an achievement? Well, yes it is and Wenger might want a few of the following facts on his finger tips when he next sits down with his prodigy.
David O'Leary, the club's record appearance holder, ran out 772 times for the Arsenal and at 23 and 6 months, he had played 250 times, only 20 more than Theo.
Tony Adams, arguably one of the greatest players ever to pull on the red and white, holds the second highest career total and was a one club man. Tony played 668 times for Arsenal but at 23 and 6 months, he had appeared on 215 occasions, 15 less than Theo at the same age. Jack Wilshere has told us he wishes to emulate the achievements of Adams but Theo could easily get there first.
Now, I cannot see Walcott playing at the top level for as long as these defensive legends in his role, especially when he relies so much on his pace. But should he do so, he is on track to get right up there in the higher echelons of appearances as an Arsenal player. So let's bring his achievement at 23 into context with modern Arsenal in the Premiership era.
Ray Parlour, our last true homegrown legend, by Theo's present age, had managed only 99 first team outings. However, Ray went on to play 467 games for the mighty Arsenal and only 10 have played more. Perhaps more significant and the first target for Walcott should be Parlour's record of playing more games in the Premiership for us than anyone else. Parlour appeared 379 times in the EPL and Walcott currently has 159 games under his belt. Being conservative and suggesting he only plays 33 games in the league a season, Walcott would pass Parlour's total during the 2018/19 season when he would be 29. Parlour was 32 when he played his last game in the 'Invincibles' campaign. Playing an average of 45 games in all competitions each season, Theo would also put himself ahead of Peter Simpson at Number 10 in the Arsenal all time list by his 29th birthday.
How about more short term incentives? Well, in 2 more years, he will pass Ian Wright on 288, and within 4 years, Thierry Henry on 370. Stay until 2018 Theo, and you will go beyond Paul Davis, Dennis Bergkamp and Martin Keown, all in the 440s.
So let's bring it up to date. Theo, if he plays regularly until only the end of next season, will pass our last 2 bail outs, van Persie and Fabregas, who played 280 and 291 times for Arsenal respectively. So if we secure one piece of silverware between now and the end of next season, Walcott will have emulated the aforementioned in success and surpassed them in appearances. Anything Arsenal and Walcott achieve beyond the end of 2013/14 with 'Financial Fair Play' and new sponsorship deals will take Walcott into the ranks of Arsenal legends.
It is this carrot that I believe should be enough for Walcott. He obviously loves the club and has a true understanding of where he potentially could place himself in the folklore and history of Arsenal FC, should he stay. The reality is that Theo Walcott could be the first Arsenal legend since the great players of the 1998 – 2005 when we start winning again. He has the opportunity to emulate his hero, Henry. Because of course, the trophy winning is the final ingredient, others were not prepared to stay and fight for legendary status. There is no doubt that Fabregas is one of the most talented players to ever pull on the red and white, but for me he falls short of 'Club Legend' status and the same could be said for RVP.
To be a legend of Arsenal, and to attain greatness with the cannon on your chest, you have to have the talent, which Walcott has and this is increasing now with maturity. You have to show longevity and loyalty which Theo has the opportunity to do in the coming weeks. Finally, you need to be inspirational on the pitch and play a leading role in a team that wins silverware for Arsenal.
It is all there for Walcott if he believes in the Arsenal dream and vision for the next 3/4 years. He can be something that the likes of Robin van Persie and Samir Nasri cannot ever be. He can be a club legend at one club. Even if RVP wins silverware at Manchester United, he will never be a club legend at Old Trafford as he will only play 2/3 years there. It is the Charltons, Laws, Nevilles, Scholes and Giggs of this world whose names will be inextricably linked with the rich heritage of the Red Devils, not RVPs. Nasri spending 2/3 years at each club will make you rich, but will people from any one club look back upon you as a great? I sincerely doubt it mon ami.
So there you have it. Does Theo believe in the vision of the club and its coaching staff? Because if he does, surely the opportunity to write his name in the annals of AFC history and succeed where Fabregas, van Persie, Nasri, Adebayor and Song failed, has to override all other considerations. Theo, yours is the face on the stadium, yours is the image of Ken Friar's bridge, yours in the name spoken by Gooners in 20 years time and who knows, yours is the statue?
I want to say to my grandson that I was there when Theo Walcott scored his 100th goal. I was there when Theo broke down with emotion and cried lifting our first trophy in 8 years at Wembley in March 2013. I was there when Theo went beyond Ray Parlour's Premiership appearance record and I was there when Lionel Messi brought his Barcelona team over to play Arsenal at the Emirates in Theo's testimonial in 2016. In short, I would like to be able to say I witnessed the making of a GOONER LEGEND.
So here's hoping Theo sees it my way and I like to finish with a short 2 minutes of why we need this guy in our team in the coming years.
NB: WARNING – This film may contain some distressing images. Try and concentrate on Theo's assists and not who finishes them off.