Debatable Decision – Week 26
928 //
02 Mar 2012, 19:48 IST
For the second successive week we have very few decisions to discuss and in round 26 we only found two big incorrect decisions, no surprises that one of them involved Arsenal. Congratulations to the referees who took part in last week's round of games, some excellent work and a couple of very good decisions from them, so credit where it's due.
PS – Get well soon to resident judge Mike, who couldn't do his decisions this week due to suffering from Gorgeous Syndrome.
Man City – Blackburn
Pedersen Penalty Shout
Simon M – A great last ditch tackle from De Jong, I can't quite get my head round how he hasn't been a regular for City in recent months. This was a tough one for the referee to call, but he got it spot on, so well done to the officials there.
Ben – Tight margins but De Jong gets the ball, good tackle.
Ant – The referee was very well placed for this great tackle by de Jong, he took the ball perfectly.
Simon F – I can't believe I'm about to do this, but I'm siding with Nigel De Jong. I think much like Rio Ferdinand on Luis Suárez, he makes a good tackle and then momentum causes contact with the attacker, but not in a manner that would be considered a foul.
Overall Verdict – Correct Decision
West Brom – Sunderland
Campbell Goal Offside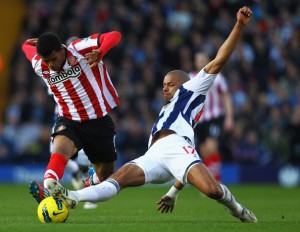 Simon M – This was really tight and as Ben says, Campbell is in an offside position just before the ball is played, but he does get back onside and the ball definitely crosses the line. A tough call for the linesman and referee to make, so whilst it's incorrect it's understandable.
Ben – It's extremely close and there is a second – just – before the ball is played that he looks off but by the time the ball is kicked, I think he's just got his foot back in time.
Ant – Very close but I think the defender is just playing him onside, like I said very close but Campbell was just onside.
Simon F – Ridgewell is playing Campbell onside and the ball definitely fully crosses the line, it should have been a goal
Overall Verdict – Incorrect Decision
Chelsea – Bolton
Pratley Penalty Shout
Simon M – It's a poor dive and he was correctly booked for his attempt to deceive the officials. There's no contact whatsoever, it's outside the area and he should be ashamed of himself for having the nerve to argue with the referee.
Ben – I think it's a dive but I can't be quite sure. I don't believe that Essien fouled him but there was part of me that thought Luiz did as he hung his leg out. The replay isn't conclusive but I think Luiz pulls his leg back in time and Pratley takes the tumble.
Ant – In my eyes Pratley took a bit of a dive here the contact was minimal and to be fair it was outside of the box anyway.
Simon F – I'm really struggling to see any sort of contact between Pratley and Essien here, I think the Bolton man has taken a tumble, and it was outside the penalty area anyway.
Overall Verdict – Correct Decision
QPR – Fulham
Diakite Red Card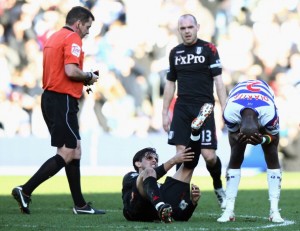 Simon M – The video I made for the other judges only included two yellow card incidents, but Diakite made half a dozen, possibly more, silly tackles before being sent off. The two offences weren't all that serious and certainly weren't dangerous, but the first yellow was his warning and he deserved the second yellow for repeatedly fouling the opposition despite that warning.
Ben – Diakite was perhaps guilty of trying too hard on his debut for QPR but it doesn't make the decision any less correct. There were no bad challenges to be fair to him but they did both deserve yellow. Live and learn.
Ant – Not the best view of these challenges, I think the first tackle was a yellow but the yellow for the second seemed very harsh.
Simon F – These were not the only two fouls that Diakite could have been booked for. An horrendous performance and a deserved red card.
Overall Verdict – Correct Decision
Wigan – Aston Villa
Handball Penalty Shout
Simon M – It definitely strikes Gardner on the hand, but there's no way on earth he knew anything about it or could have avoided it. The strike was from close range and took a pretty hefty deflection too, to give a penalty for that would have been incredibly harsh.
Ben – Totally accidental – there is no way he is intentionally handling the ball there and I don't think he knows much about it.
Ant – I hate trying to judge handballs, for this one I feel that the distance the ball travels does not give him time to move out of the way and I do not think he handballs it on purpose so no penalty.
Simon F – The ball bounces off Collins and into Gardner, whose arms were not in an unnatural position, from close distance and to give a penalty for that would have been beyond harsh.
Overall Verdict – Correct Decision
Arsenal – Spurs
Parker Red Card
Simon M – In my opinion the first was ott, he won the ball, but there was excessive force used to win it, so a yellow was justified. The second was a horrible tackle, could easily have broken Vermaelen's foot, late and studs showing, I actually would have given a straight red for that, so Parker's got off lightly.
Ben – Winning the ball doesn't always mean that there is no foul so I find this one a tough decision to make. I can certainly see why the yellow was given but I think I'd have given Parker the benefit of the doubt because his timing is pretty good – unlike his second yellow. I'm going to say the referee got this wrong because I'm not sure the first warrants a yellow. The second definitely does.
Ant – Parker won the ball for the first challenge so should not have been on a yellow card but he knew he had been booked and to go in like that when you are already on a yellow is stupid, deserved the second yellow and therefore deserved to be sent off.
Simon F – The first was reckless, the second was ridiculous. Both fully deserving of a yellow card and Parker can have no complaints.
Overall Verdict – Correct Decision
Bale Penalty
Simon M – I saw a stat earlier in the week that said Gareth Bale was the only player in the Premier League to have been booked twice this season for diving, should have been a third time with this one. In fairness to the referee though, from his position it would have looked like a penalty and it was a pretty good dive, but a dive nonetheless.
Ben – Bale is guilty of cheating here. He leaves his leg trailing with the hope of being touched aka 'The Pires' but still goes down even though that contact never comes.
Ant – clear dive by Bale, I read a stat the other day that said Bale is the only player to be booked for simulation (posh term for diving) more than once this season. There was no contact here and Bale cheated to con the referee in giving a penalty.
Simon F – At full speed I thought it was a penalty, but on replay it clearly wasn't. There was contact from Gibbs behind, but that didn't fell Bale, it was only when Szczesny slid in that he took his tumble and conned the referee.
Overall Verdict – Incorrect Decision
Norwich – Man Utd
Evra Penalty Shout
Simon M – We have these every week and every week it's the same response, no way he could have moved his arm in time and the ball struck at him from close range, no penalty.
Ben – I could have seen this one being given but I think it would have been the wrong call.
Ant – Would have been very harsh, he turns he body away and I don't think you can start giving penalties for that sort of thing.
Simon F – From such close range there was no chance for Evra to move his arm out of the way.
Overall Verdict – Correct Decision
***
You can follow all five judges on Twitter; Simon M – @Deb_Decisions, Ben – @0Neji, Ant – @Acidburn81, Mike – @Mike7077 and Simon F – @SFurnivall.