Diamonds in the rough - Arsenal's emerging stars
1.85K //
24 May 2013, 16:55 IST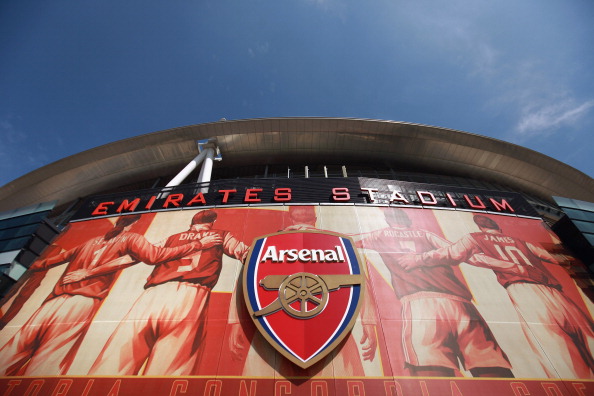 Every year, Arsenal's youth academy produces a few gems, capable of shining through the rough ends of the Premier League. The academy had always produced someone who have been capable of taking the League by storm. They nurtured Cesc Fabregas into a world-class talent, brought out Kieran Gibbs and more recently, introduced Jack Wilshere into the Premier League world.
This year, there are really good players coming through the ranks and the potential they hold is absolutely astonishing. Following are a few players who, I believe, could make it into the Arsenal squad and not disappoint.
Thomas Eisfeld
Recruited by Borussia Dortmund's youth academy, the German has developed into an exceptional player. He's already spent a year and a half wearing red and white and is tipped to directly join the first team rather than going out on loan first.
Touted as the next 'Mario Goetze', Eisfeld's growth at Dortmund stalled due to an ACL injury during which time Goetze was taking long strides in the Dortmund squad and the German team meaning Eisfeld had to move elsewhere for regular football. Arsene Wenger regards him highly and you won't be surprised why.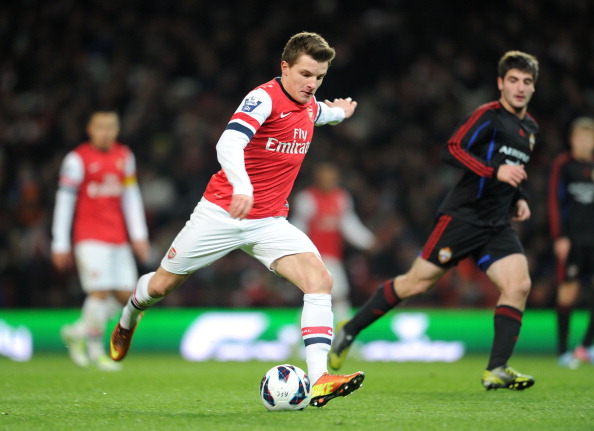 Eisfeld is a creative midfielder, his vision is what excites me the most, much like Cesc Fabregas, Eisfeld is capable of picking the pass not many notice and ever since the departure of the Spaniard, we've need someone to fill that role. Santi Cazorla is an exceptional creator but his vision, truth be told, is not as good as Fabregas'.
Eisfeld can come in to eventually replace the aging Tomas Rosicky. He can play behind the striker or in a deeper attacking role. He's got decent pace, enough for a midfielder and considering his build and his height, nearly perfect balance.
With the departure of Arshavin, Coquelin and Denilson, Eisfeld can surely seal a spot. He's amongst the best youngsters we have.
Serge Gnabry
Young, pacy and an eye for goal: Gnabry is soon going to be a fan's favourite with his rapid development. Signed from Stuttgart, the German is a winger by role and has some serious talent. He is able to breeze past players with ease, be it using his pace or his dribbling skills.
In the youth squad, he's usually deployed on the right flank and has impressed Neil Burton to no extent. He has contributed some exceptional goals throughout the season and has helped his team greatly.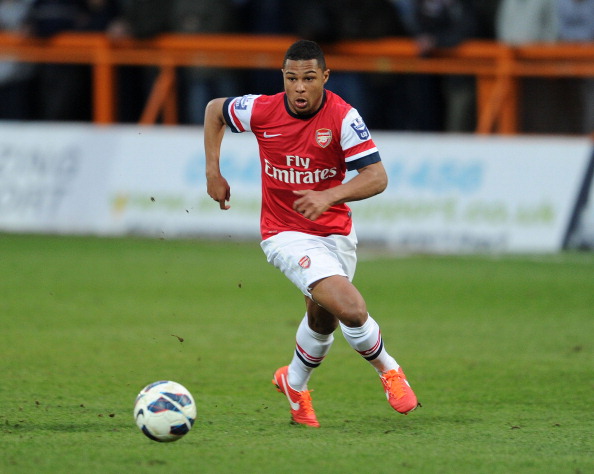 One thing about Gnabry I like most is his almost-telepathic understanding with Thomas Eisfeld. Both the Germans have been linking each other very well and they're creating quite a storm amongst the younger leagues.
Unlike Eisfeld though, I expect Gnabry to go out on loan. He could do with some experience and will surely come back a much stronger player for Arsenal.
Hector Bellerin
If Bacary Sagna were to leave the Emirates this season, I feel Bellerin could prove quite a deputy to Carl Jenkinson. Snapped up from La Masia, the Spaniard is a huge, huge talent. He's got great pace and can defend exceptionally well.
If there's one player whom I can compare Bellerin to, it's Everton's Leighton Baines. The Englishman contributed so many assists and lead the table of  'Most Chances Created' and Bellerin could soon follow the likes of Baines, except on the opposite flank.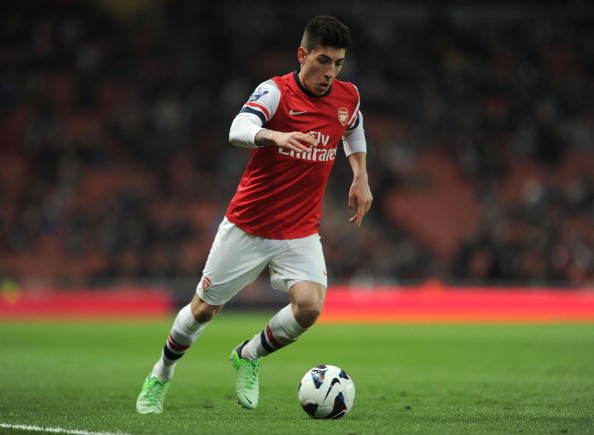 He has this technique of pulling back the ball and cutting in left instantaneously giving him so much more room wherein creating chances for the likes of Eisfeld and Gnabry is the next logical choice. He doubles back to defend well, too and has held some of the best attacking youngsters with ease.
I doubt the boss will want Bellerin to immediately come in to the squad, he'll send out the Spaniard on loan and then draft him in alongside Carl Jenkinson. The two of them are both incredible talents, if they remain injury-free and in the club, it'll be one of the hardest headaches Wenger will have to make.

Chuba Akpom
Everything that Arsenal are desperately looking for as a striker can be epitomised as Chuba Akpom. The incredibly gifted striker has scored many goals this season with his exceptional finishing and his blinding pace. The fact that he's just 17 years old means the amount of talent is unquestionable.
He's sure to go out on loan this summer but hopefully it'll be a short season loan meaning he can come back in January and get into the first team squad.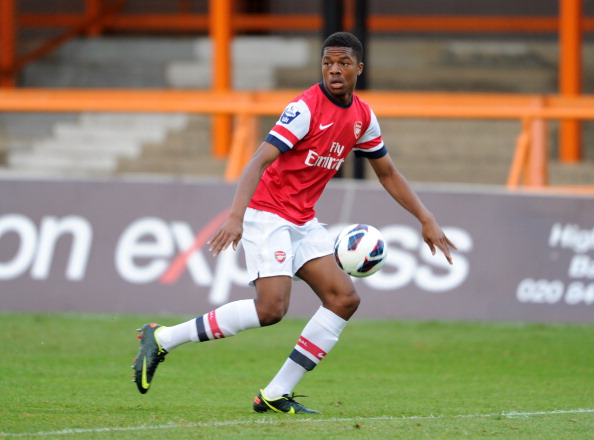 Akpom has made strides due to his height, his strength and his link up play. He links up especially well with Gnabry and Eisfeld and by reading this, you're getting the idea that the three of them are some sort of holy trinity, trust me, they are.
Akpom reads spaces well, he's also able to bring in players into the attack and spread the ball from the front. Beating defenders is easy considering his strength and pace. Give him a few more months and he'll develop into a truly brilliant centre-forward.

Jon Toral (One of the most exciting young players I've seen for a long time)
Barcelona president Sandro Rossell was heartbroken after he heard that Toral had agreed to sign for Arsenal. Toral is possibly the next best player to come out of our academy and he replicates a certain someone who graduated from our academy and went on to become captain.
Toral moved to the Emirates with his good friend, Bellerin. The two of them are 17 but have broken into the under-21 squad because they're just that special.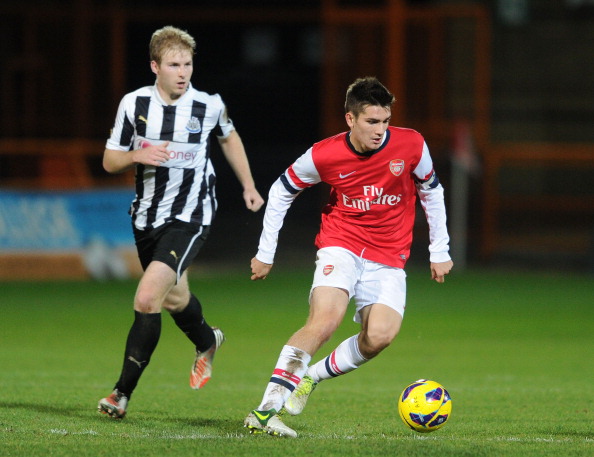 Toral plays a central midfield role, he can attack, he can defend and much like Eisfeld, he can control the game with exceptional through passes. His vision is way beyond anyone his age and it's no wonder why Wenger was desperate to land him.
Unlike Eisfeld though, Toral will go out on loan, maybe for a year, maybe for two but that's only because he needs it. His body isn't entirely suited to the Premier League, he isn't the strongest and with a few loan experiences under his belt, he could grow as a pivotal figure in the Arsenal spine.
Of all the players who are yet to walk out the Arsenal Academy doors, I believe these five are the ones who'll grab headlines. Wenger should tie them down on contracts as soon as possible. They're the future stars for the Gunners and you won't find too many people doubting otherwise.