Do Arsenal need another DM with Francis Coquelin at the club?
2.30K //
11 Mar 2015, 14:18 IST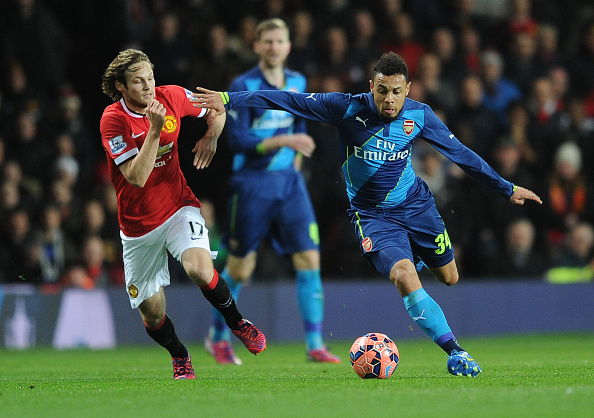 Since his return from his most recent loan-spell at Charlton, it seems that Francis Coquelin has set the world on fire with his performances, almost singlehandedly resurrecting an Arsenal season that looked like it might have otherwise ended in ignominious fashion. From Boxing Day forward, Coquelin has become a bedrock in the defensive midfield, so much so that Mikel Arteta and Mathieu Flamini have been all but forgotten.
Arsène Wenger felt confident enough in Coquelin to sign only 17-year-old Krystian Bielik to buttress the defensive midfield, refusing to dig any deeper than £2.7m or so to reinforce what has arguably been one of our weakest positions over the last few seasons. Now, with Coquelin's emergence, it seems as if all of our prayers have been answered. For one, he bests Chelsea's Nemanja Mati?. Actually, that should settle the debate right there. Right?
After all, Mati? is widely regarded as one of the better defensive midfielders in the EPL, and rightly so. When you see a graphic that shows that Coquelin surpasses Mati? in most categories, well, that proves something, doesn't it? Coquelin gets more blocks, clearances, tackles, aerial duels, and interceptions than Chelsea's man, so the debate is settled and we can sleep easy knowing that our back-four is finally shielded properly by a fiery, French DM with five syllables to his name. Patrick Vieira's heir, indeed.
However, before we go anointing Coquelin just yet, let's remind ourselves that his sample-size is minuscule, diminished even further by the fact that many of our opponents were hardly top-drawer (no offense, various opponents). For example, Hull and Stoke were abysmal by any standard. We might have steam-rolled Aston Villa with your correspondent as DM.
Let's not forget that Coquelin was involved in our debacles against Southampton, Tottenham, and Monaco. More impressively, he has played a key role in defeating both Manchester clubs – although City were without Yaya Toure. Of his 13 starts, he has certainly done well for himself, but it is far too early to crown him as our DM of the future. The sample size is too small and too pock-marked by asterisks and addendums to draw any broad, sweeping conclusions.
Then again, we have to know that Flamini's contract expires in June, and he's not getting any faster or more-technically astute. Arteta seems more likely to best Mertesacker and milk in a "who turns slowest" contest than he is to find any kind of fountain of youth. After they're put out to pasture, we have Santi Cazorla, Aaron Ramsey, and Jack Wilshere, who are better-known for getting forward than they are at defending deep.
That is to say, Coquelin stands alone, literally and figuratively, as a player who is willing to get down and dirty to disrupt our opponents. Even at their best, Flamini and Arteta are fingers in a leaky dam, and one or the other is on the pitch with Mertesacker, our defence gets slower than molasses in January.
Comparing Coquelin's stats with other DMs

| | Coquelin | Schneiderlin | Bender | Matic |
| --- | --- | --- | --- | --- |
| League Matches | 13 | 20 | 19 | 25 |
| Tackles/Game | 3.5 | 3.3 | 3.1 | 3.8 |
| Interceptions/Game | 3.2 | 2.4 | 2.8 | 1.7 |
| Aerial Duels Won/Game | 3.2 | 1.8 | 4.9 | 1.9 |
| Fouls Committed/Game | 1.2 | 2 | 1.3 | 2.3 |
| Clearances/Game | 4.2 | 1.6 | 2.4 | 2.8 |
| Blocks/Game | 0.5 | 0.2 | NA | 0.2 |
| Pass Completion | 83.6% | 89.3% | 68.7% | 89.9% |
| Transfer fee (est.) | £0 | £25m | £19m | £30m |
Stated more plainly, we're going to need reinforcements in the more defensive midfield area this summer. Who's it going to be? We've been heavily linked to Morgan Schneiderlin, William Carvalho, and Lars Bender, among others. Southampton and Sporting would likely demand princely sums for their players, and even if Bayer Leverkusen are more willing to haggle over Bender, we have to ask ourselves what makes the most sense.
Even with admitting the somewhat limited sample size we're working with, Coquelin does stack up well against the more-pedigreed players against whom he might be compared. In fact, according to the graphic above, he bests those players in more categories than not. Should Coquelin continue to play to the level we've seen over the last three or four months, we may settle at least one question regarding our defense.
This is not to say that we should stand pat in the summer, not by a long shot. Flamini and Arteta might have another season left in them, but I'd suggest that we've already seen their best, and their best hasn't been good enough for our ambitions.
Time will tell whether Coquelin surpasses that standard, in this season and beyond. As we weigh up those ambitions and attendant needs, whom should we target come summer? Is £25m for Schneiderlin, for example, commensurate with our needs, or could we take next steps with Coquelin in a holding role while Ramsey, Wilshere, and Cazorla get forward?
We do have to mind the fact that Coquelin will need competition if not relief, and so one question among many will be, how much are we willing to spend for that competition, that rotation, that relief? As always, answers to these and other questions will depend on how we fare on three fronts, the EPL, the FA Cup, and the Champions League. At the moment, we have to feel pretty good about the first two and a bit wobbly about the last one.
In any case, we're currently Coq of the walk, at least for a few more days until the next result. I hope it's not too much a wet blanket to suggest that Coquelin is not (yet) the saviour we clamour for. A few more performances like the one on Monday, though, might just be enough to sway me.
Before you go, weigh in: is Coquelin good enough to help us win the FA Cup, finish third (or higher) in the EPL, or advance in the Champions League? Should we target another DM in the summer window, and if so, who? For now, we have the luxury of debating such trifles. A penny for your thoughts.