Does Olivier Giroud deserve a new deal at Arsenal?
2.00K //
30 May 2014, 00:15 IST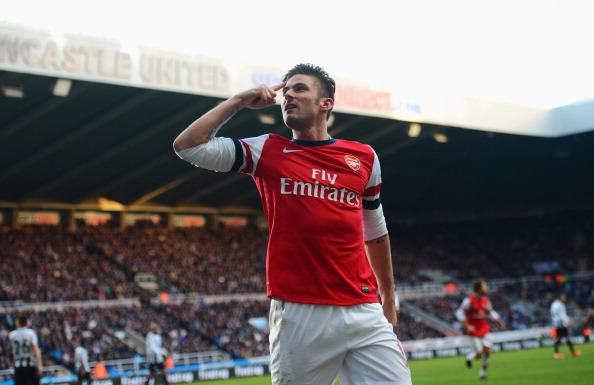 Arsenal are in contract talks with striker Olivier Giroud to extend his deal beyond 2016 and keep him at the club for the foreseeable future. The Frenchman was their main striker last season, scoring 16 goals in the Premier League.
He scored 22 goals in all competitions last season, adding to the 17 in his first season in London. The Frenchman started last season well but soon became extremely tired and his form dipped drastically.
He finished the season in decent form, scoring three goals in his last five appearances. With his manager Arsene Wenger set to sign a new striker this summer to bolster the squad, and with Giroud likely to become a back-up, does he actually deserve a new contract?
It was quite clear that Wenger was trying to sign a top class centre forward last summer when he missed out on Gonzalo Higuain and Luis Suarez, but turned to Mesut Ozil.
Once the season had started and the transfer window was closed, he was stuck with Giroud and Nicklas Bendtner until at least January. Wenger signed a young striker called Yaya Sanogo on a free contract but he was already injured and wouldn't return for quite some time.
Giroud did start the season in exceptional form, though, working in tandem with the attacking midfielders running off him. He also was in good goal-scoring form, grabbing four goals in the opening four games – scoring in each match. In his first 10 matches, Giroud grabbed five goals and created 17 chances. At that stage, only Ozil (22) had created more.
He'd also assisted four goals which is an excellent figure. His early-season form represents an excellent set of displays. His goals dried up after the first four games but he then made up for it with excellent creativity.
In the next eight matches, taking use into the New Year, Giroud scored three goals in eight games and created just five chances, assisting one goal. His chance creation had reduced, as had his goals. In that period, over Christmas, Bacary Sagna (6) created more chances than Giroud and Ozil made 23 key passes in that time. He looked tired and it was at this point that he started to struggle. His performances in big games against Manchester United, Everton, Chelsea and Man City were below-par and it didn't set a good example for the next few months of his season.
Into January and through to April, Giroud scored five goals in 13 appearances. That is simply just not good enough for a club trying to win the Premier League, or at the very least, offer a challenge to the top three. His chance creation was still low, falling to just eight in that period as key players behind him were injured.
The months of February, March and April are effectively the most important in a season and if you're only striker struggles in that period, the team's results are going to suffer too. In that time, Arsenal lost 5-1 to Liverpool, 1-0 to Stoke, 6-0 to Chelsea and 3-0 to Everton. In each of those matches, Giroud was terrible and virtually non-existent. It was in this period of the season that it was clear how badly Arsenal needed a new top class striker.
Giroud did improve when key players returned, going on a scoring run in the last few matches, but for the majority of the season, it was clear that he needed a rest. When fit, Giroud's statistics were quite good and the Frenchman would be a useful squad player if Wenger brings in a major striker this summer.
The French striker does deserve a new deal as he can used to effect at Arsenal, but he should only be kept on as back-up if Arsene Wenger has real targets of winning more trophies and challenging for the Premier League.