Double standards at Real Madrid - Gareth Bale and Cristiano Ronaldo
1.48K //
11 Feb 2015, 03:49 IST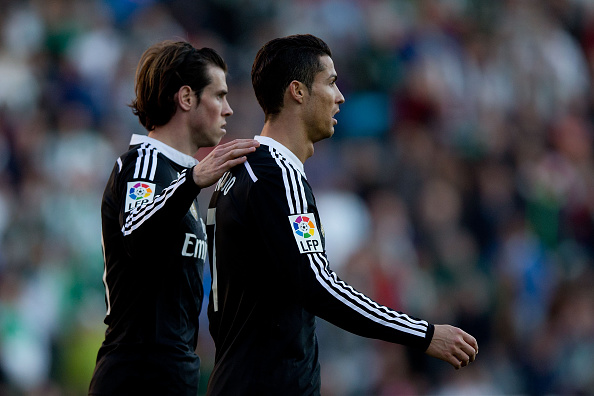 Gareth Bale's statistics are highly impressive for somebody who has to play second fiddle to another player. He already has ten league goals this season. The fact that he's rarely afforded opportunities to take free-kicks and penalties mean his goal tally is impeded. His defensive work rate also leads me to regard him in high esteem. Does Ronaldo ever track back?
The answer is no, yet nobody in Madrid seems to mind. Bale covers more blades of grass in one match than Ronaldo does in three, and the statistics reinforce this.
One could argue that Ronaldo's selfishness has cost Real Madrid several trophies in his tenure as a Madrid player. You have to remember that Messi at his peak under Pep, worked just as hard defensively as he did offensively. And the results speak for themselves: three consecutive league titles and three Champions Leagues in five years.
Ronaldo's petulance to blame for anti-Bale sentiments
You'd think the Real Madrid high brass would learn this lesson, however they clearly haven't as Ronaldo continues to play like a stubborn child, always seeking glory regardless of what is in the team's interests.
It is time somebody at Real Madrid sat down with Ronaldo and told him to stop acting with such petulance. Zidane would be ideal for this. Every time Bale misses a relatively simple opportunity, Ronaldo curses – hence igniting a anti-Bale sentiment among the ultras.
These 'fans' are about as fickle as they come, Bale's greatness was allowed to blossom in the Copa Del Rey final last season without Ronaldo. Even in the UCL final Bale outshone his famous contemporary, Ronaldo was lazy and quite frankly performed poorly all round. He only scored a penalty against an already dejected goalkeeper.
If the hate for Bale continues, he'll likely demand a transfer back home. Sources close to Bale lament the idea of a move but should he face constant boos then he will have little choice. Chelsea, Manchester City and Manchester United are all desperate for his signature and would be willing to offer the likes of Ramires, Yaya Toure and David de Gea in exchange, plus cash. Such a deal might even prove profitable with Madrid big wigs should the pressure mount.