The club from Douvres dreaming of FA Cup-magic inspired shock
1.72K //
03 Jan 2015, 16:50 IST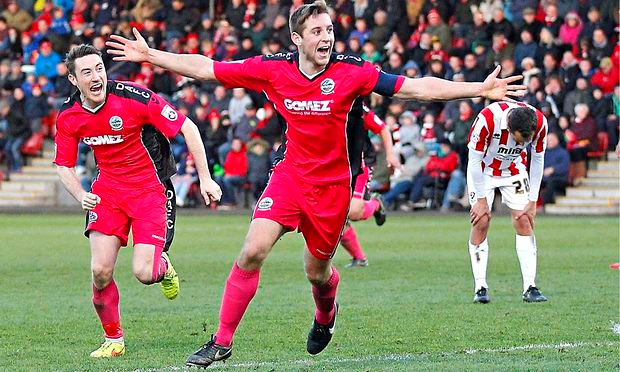 Chris Kinnear, Dover Athletic manager, says it with a conviction. There is no hint of hesitation in his booming voice, bellowed within the confines at the meagre media centre of the Crabble Athletic Ground. His words are delivered in a manner which will galvanise his players, embolden the semi-professional players responsible for other commitments to support their sporting exertions, that a magical Cup upset is a valid possibility.
He is talking about Dover's chances in the FA Cup and the probability of stunning Crystal Palace in the third round on Sunday. His confidence is palpable as he eulogises of his side's unbeaten record in all competitions of 16 matches, though going to great lengths to stress the adversities Palace, he believes, will inevitably incur. "Bring it on," he says.
But for Kinnear, though, perhaps there is reason to be upbeat. The 60-year-old fancies his chances against new Palace manager Alan Pardew, who he expects will not have made his 'mark' by the time the Premier League toilers grace the Crabble ground. The Dover manager expects Palace to cringe at the thought of enduring a slugfest on Sunday, underprepared with Pardew yet to impose his managerial touch. "A good time to play Palace," he said. Perhaps he has a point.
Huge gulf in both class and resources
But even then, even in the presence of Palace's managerial problems, it is a big ask. The gulf in quality, riches and prestige can hardly be overlooked and disregarded. Dover, a conference side, are four divisions below their London counterparts and lie 12th in the Vanarama conference table.
Yet it will take much more to dishearten them. "It is the biggest game in Kent for 30-odd years," Kinnear insists. "I don't think a Conference side has hosted a top-flight club in that time. It is massive for Dover and Kent as a whole."
"Of course they (Palace) should beat us – they play four leagues above us. But they have won just once in their past 14 games and have lost seven in the process. That cost the manager (Neil Warnock) his job.They might have a new manager by the time they arrive at Crabble but he won't have had much time to make his mark by then."
"It takes time for anyone new joining a club, whether it be a player or manager, to bed in. It's a great time for us to play them. We are enjoying a fantastic unbeaten run, the confidence is high and we are playing at home. Why wouldn't we feel we could win it?"
"You can be sure that they (Palace) won't be looking forward to making the trip – it's come at the wrong time for them. Besides, the FA Cup has a history of producing shock results and I see no reason why we can't create our own piece of it (history). We won't be holding back – that's not my style. We'll be going all out to win, something we do in every game regardless of who we are playing against."
From financial turmoil to being smartly run – A remarkable renaissance
Half of the team are professional players, with the rest semi-pro responsible for other commitments. Right-back Tom Wynter is an example, a part-time plumber. "It gives them an advantage, but I think, on the day, emotion will take us through it," he says. "I don't think we'll think about tiredness. It'll be a big game and I hope we match them, in every department hopefully."
Towering centre-back Richard Orlu grew up in the London borough of Lambeth, a corner away from Selhurst Park, and until a few weeks ago, was employed as a delivery man.
On Sunday, Dover will cherish their second third-round FA Cup appearance in four years, having overcome Cheltenham by a mere goal in the second-round. Having dispatched Morecambe in the inaugural round of this year's edition and relishing a 16 game unbeaten run in all competitions, confidence is high.
It is a highlight in the club's remarkable renaissance. It was ten years ago to this day when the club was gripped in financial turmoil, forcing former director Jim Parmenter to return to head up a consortium primed to assume control of the club.
Now a smartly run club, preparations for Sunday are meticulous. Club photographer Simon Harris speaks of his pride ahead of Palace's milestone visit, echoing the euphoria which gripped the club immediately after the third-round draw.
A club, Kinnear insists, will "not park the ferry" on Sunday as Dover hope to condemn dazed Palace with some Cup magic.