Dusseldorf stun Frankfurt 4-0 in German Bundesliga
604 //
01 Dec 2012, 18:34 IST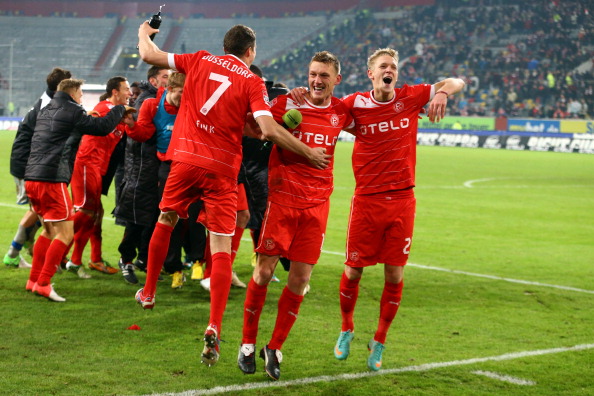 Berlin - Dusseldorf overcame Frankfurt for the first time since 1991 following their hammering 4-0 win to open the 15th round in Bundesliga.
Dusseldorf increased their gap to the relegation zone owing to their historic win Friday over Frankfurt on home soil at the newly promoted encounter, reports Xinhua.
The hosts started highly motivated against Frankfurt that lurked for counters. As the match progressed, the "Fortunen" were able to work out goal scoring opportunities by Oliver Fink and Andreas Lambertz.
Nonetheless both sides remained focused on their defence lines therefore promising chances were a rare occurrence.
Things changed at the 34th minute when Frankfurt's Karim Matmour ensured the first highlight of the match when he was sent off for his second bookable offence.
The 10-man Frankfurt defended deep in their half and consequently were punished for their passiveness in the 38th minute when Stefan Reisinger overcame the visitors bulwark with a right footed effort from 15 metres.
Three minutes before the break, Oliver Fink doubled the lead for Dusseldorf when he curled home from 20 metres.
After the restart, Stefan Aigner had the chance to reduce Dusseldorf's lead to 2-1 but his header went just wide.
Dusseldorf continued their courageous performance and they were rewarded in the 58th minute when Nando Rafael tapped in from the goal area to make it three on the scoreboard.
The third blow took the wind out of Frankfurt's sails whereas the hosts were not done with the scoring as Axel Bellinghausen capitalised on a blackout by Bastian Oczipka to seal the deal in the 85th minute.
Dusseldorf jumped to 13th position meanwhile Frankfurt stay on fifth place.