Editorial: Is the AIFF/I-League correct in its verdict to suspend Mohun Bagan AC?
777 //
30 Dec 2012, 20:13 IST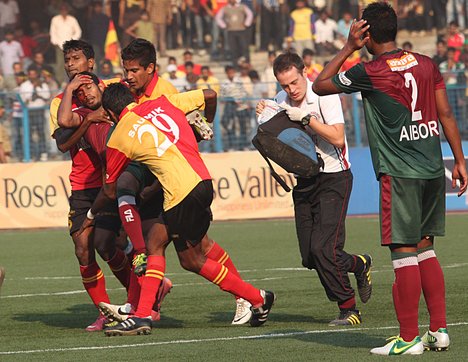 Here I will try to analyse the verdict and suspension of
Mohun Bagan
AC, following the incidents on December 9, 2012 in the Kolkata derby between East Bengal Club and Mohun Bagan AC at the Salt Lake Stadium. I try and use only facts – no emotions, pedigree and history in this analysis, but also get my personal views across on the issue. First of all, I have to say that a practical and clear-cut decision was needed from the AIFF and
I-League
after the match was called off halfway on December 9 as Mohun Bagan staged a walkout. Also, I know a lot of people might not like the reality, but Indian football's future is at stake. On that front, Indian football as such stands above any institution, club or person; and that was, and has to be, the biggest lesson from this tragic saga.And here I have to compliment the AIFF and I-League for going through the right process, and going by their own rules and regulations, which, in the past, have been bent and twisted as per the needs of certain clubs and institutions.
Now, coming to the events of December 9 and the verdict given by Justice A.K. Ganguly in the case, which was accepted by the AIFF and I-League.
I myself was on December 9 at the Salt Lake Stadium. I arrived late, and had to literary fight my way through both sets of fans, which is a disgrace in itself, due to the behaviour and foul language used by many, many people from both sides. And honestly, I was sensing that there could be trouble during the match depending on how things go, which I told friends, and sadly, it came true.
The events that afternoon were unfortunate and could have been avoided, but they took place, and unlike what some people have been saying, such chaos and turmoil have happened in other parts of the world too, and matches were completed in the interest of the safety of the crowds at the ground, a fact which no one so far has mentioned anywhere.
I am saying so because I have seen matches myself live in Europe, and have also seen footage of matches around the world where people were fighting battles with the police or the other set of fans, tear gas fired into the stands, people dying, but the matches were continued. The same I've seen with players hit and injured by missiles even here in Germany.
So with this knowledge, I said, after it became clear that Mohun Bagan would not return onto the field, that they are in serious trouble depending on what rules and regulations the I-League had written down. After the initial law-and-order problems, the police brought things under control, and there was little chance of such problems recurring, and if they had occurred, then the referee and match commissioner would have been in a position to call-off the match.
Plus, Mohun Bagan, after the Syed Rahim Nabi injury, weakened their case, or actually, had no case at all, as after the initial break, they came back to complete the first half, meaning that things were fine for the match to restart.
Now here comes another praise, this time for I-League CEO Sunando Dhar! I was also there at the press conference, in which Sunando read out the I-League regulations clause 22, and he repeatedly said that Mohun Bagan were informed about the clause and its consequences, besides also a request being placed to them to continue to play the match. Sunando was bombarded by the media with questions on clause 22 and the consequences, and he held his ground.
As said earlier, the AIFF and I-League have gone by the book, and according to their own rules and regulations, installed a one man committee in Justice A.K. Ganguly to look into the case, and then got a detailed verdict from him.
Therefore in itself the verdict stands, it is as per the regulations of the I-League, and I feel if Mohun Bagan had taken a more down to earth approach rather than fight the national parent body, the first verdict out now, could and would have been more lenient.
Now, if you ask me, is the punishment of expulsion from this season's I-League, and the disqualification from taking part in the next two editions – right or wrong? I feel, like many, the punishment on Mohun Bagan AC is too harsh, but the verdict of Mohun Bagan being punished for walking away from the match is correct.
If I had been involved in any way in deciding on what punishment would be perfect, I would have named two options. Either keep Mohun Bagan in the I-League, but East Bengal get a 3-0 win and the three points, while Mohun Bagan are deducted points, with anything from five to 15 points being fair, or suspend them from this season's I-League and they would have to play 2nd Division I-League.
One thing many forget is that Mohun Bagan, in 1996, did not qualify for the first edition of the eight team National Football League, and along with Churchill Brothers SC, were inducted in 1997 into the second edition of the NFL, without a proper promotion process, which did create a rather small stir then.
So lets now wait and see what happens in the coming days…