El Clasico: The wounded tiger takes on the flying dragon
1.24K //
01 Mar 2013, 16:47 IST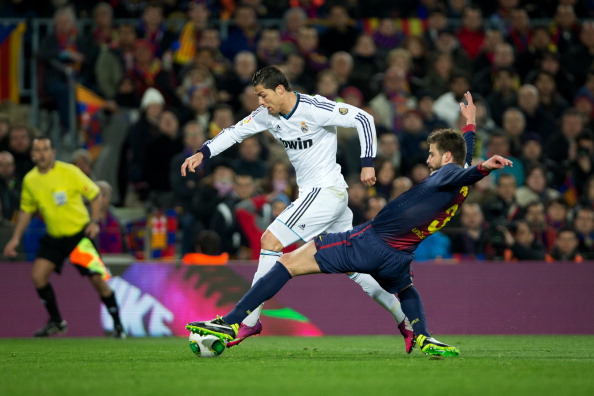 This seems a regular occurrence these days. Around January to March every season we have a string of Clasicos waiting for us, and this time around too it was three in a month, and while Madrid won one, Barcelona is yet to defeat the Real Madrid team this season. Barca though have a great record at the Bernabeu. Ofcourse, Madrid too can claim an equally good record at Camp Nou. But the battleground for the day is the Spanish capital where the Catalans will try to salvage some pride.
It is not everyday that a Barcelona team concedes three goals and come away with only a consolation. Even the most partisan supporter will have to agree that Barca looked way off the boil against Madrid on Wednesday. And it is no consolation that the league is theirs, Barcelona are a very proud team and the absence of Vilanova is now beginning to show.
I believe Barca need changes and quickly. Firstly, Iniesta needs to play in the number 10 position, Villa must start, the ineffectual Sanchez kept as far from the pitch as possible. Also, to counter Real on the break they must have two, yes, two holding midfielders, because Alves and Alba, though brilliant in attack, have contributed to Barca conceding more than 15 goals from crosses this season. Therefore, to not shackle them and to maintain parity it is imperative that Mascherano and Busquets shield Puyol and Pique. Xavi can dictate play with comfort from the top of this triangle with Iniesta, Messi and Villa all capable of interchanging positions in attack. It has to be a defensive 4-3-3, Barca fans may not like it but this is a good antidote to Madrid's midfield pressing and countering counter-attacks would get easier.
Barcelona (Man to watch) – Iniesta. While his team have sunk around him he continues to give man of the match performances. Perhaps it is a tactical misjudgement to play him on the wings; rather he and Messi, who share an excellent understanding, must be allowed to play behind Villa.
Madrid on the other hand is revelling in the brilliance of two Portugese men. Ronaldo won the match for Madrid, but Mourinho controlled it. He kept the game simple, and he is likely to continue on the same strategy. The personnel though may change, with Di Maria out, I'd expect Varane, Alonso, Higuain and Ozil to be rested, maybe even Ronaldo. I'd like to see Pepe, Callejon/Benzema, Modric and Kaka in the starting lineup. By his own admission, Mourinho has given up on La Liga and it is Monday's clash at Old Trafford that is all that matter now, even to Real fans. But whatever the state of the table, a Clasico is a classic, and we should expect some  fireworks and hope for a great game of football. I am expecting an understrength Madrid to be beaten or held to a draw. The fans would not want a defeat, Mourinho won't care.
Madrid – Man to watch – Ronaldo. He has been in divine form since the turn of the year, having scored 13 goals in 11 Clasicos. Ronaldo is on track to become a Real legend and the midweek brace against the same team is bound to put him on seventh heaven, if not higher.