In a largely pointless friendly game at Wembley tonight, England picked up a comfortable 3-0 win over the Republic of Ireland. The result gave England their first victory over Ireland since 1985.
Gareth Southgate named a somewhat experimental XI, but his side linked together well throughout the game. Captain Harry Maguire opened England's account with a header after 18 minutes, and the lead was doubled by a nice goal from Jadon Sancho on 31 minutes.
England continued to create chances until slowing down late in the game, but there was still time for a third goal. That strike came from the penalty spot, with Dominic Calvert-Lewin converting confidently following a foul on Bukayo Saka.
Here are five talking points from England's victory.
---
#1 England were far more dynamic with Mount in central midfield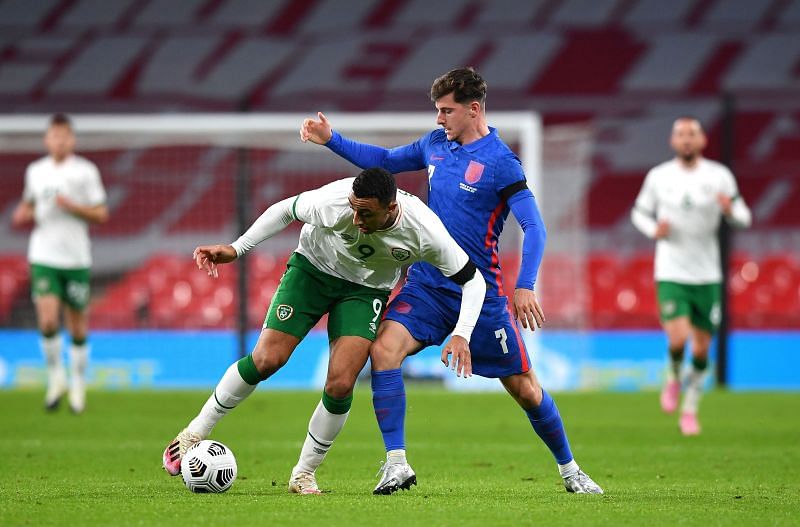 England fans have had to suffer through some dour games since Gareth Southgate switched to a 3-4-3 system back in September, but tonight's game finally bucked that trend. England looked dynamic, dangerous, and confident coming forward and created plenty of chances – taking a ridiculous 20 shots at goal.
So what made the difference? Essentially, it was the simple fact that Southgate chose to have England start with at least one creative midfielder in the center of the pitch. The man chosen for the role was Chelsea's Mason Mount, and he was excellent, linking up well with fellow attackers Jadon Sancho and Jack Grealish.
Meanwhile, fellow central midfielder Harry Winks simply did the dirty work and mopped up behind him – although he did provide an excellent cross for Maguire's goal.
Mount ended his game on 73 minutes and finished with a pass success rate of 91%, including three key passes. And while it was nice to see 17-year-old Jude Bellingham make his England debut, the team notably stopped creating proper chances once Mount was withdrawn in favor of the Borussia Dortmund youngster.
So will Southgate continue with this system and start Mount – or Phil Foden – in the same role against Belgium on Sunday? One would hope so, as it's clear that England are a far better team when they're not starting games with five defensive players.
---
#2 Ireland were desperately poor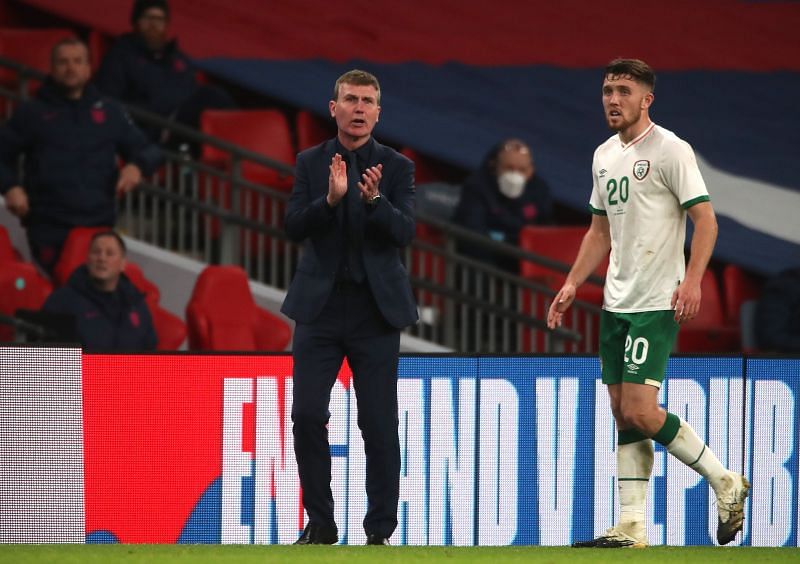 For as well as England played tonight, it must be noted that the Republic of Ireland were extremely poor. Gareth Southgate's men brushed aside another Home Nations team in the form of Wales last month. But it's fair to say that Ryan Giggs' side offered a far tougher test than Stephen Kenny's men did tonight.
Ireland have struggled for goals throughout Kenny's short reign – they'd only scored one in four games coming into tonight's match. And judging by the way they performed at Wembley, it's hardly a surprise.
Some of their build-up play tonight was excellent, but their final ball was largely non-existent, and they failed to test both Nick Pope and Dean Henderson in England's goal.
In the end, Kenny's side finished the game with just four shots on goal, two of which hit the target. Simply put, for any international side, that's not good enough. It's true that Ireland aren't a strong team on paper right now, but most fans must've expected them to test England a little more than this.
Judging by this performance, they may be waiting for some time yet for their next major international tournament.
#3 Should Grealish start in England's game against Belgium?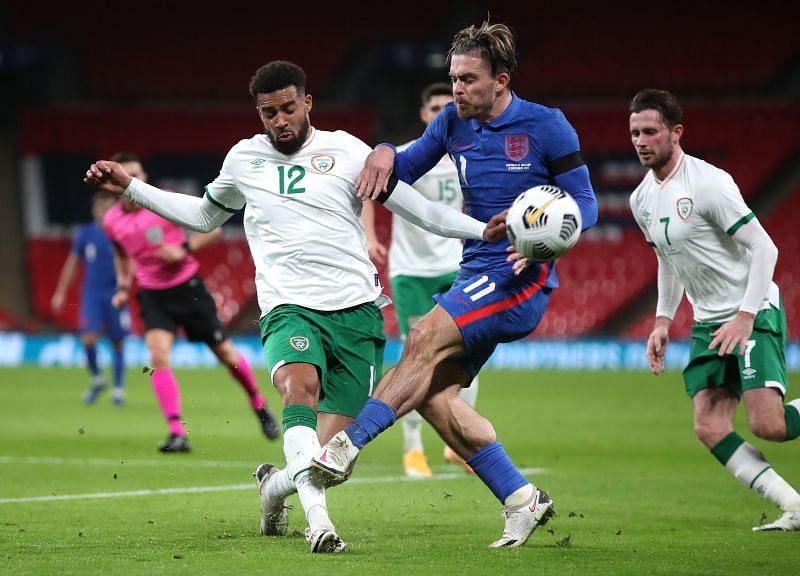 Most of the press coverage coming into this match surrounded Aston Villa star, Jack Grealish. The mercurial attacker made his first England start last month against Wales, but despite being named Man of the Match, he did not feature in the two competitive games against Belgium and Denmark.
Tonight saw Gareth Southgate hand Grealish another chance to impress, and he did just that. Ireland's defense looked nervous every time he got on the ball, and some of his passing sequences with Mason Mount, Jadon Sancho, and Bukayo Saka were fantastic.
Grealish didn't score in tonight's game, but his assist for Sancho's goal was excellent. And when he was withdrawn after 61 minutes, he exited the game with an impressive 90% pass success rate.
So has the Villa man finally done enough to be given his first competitive start for England? Judging by his club form and on tonight's performance, you'd like to think so.
With his languid dribbling style and ability to ghost past opponents, Grealish offers something that no other English player really does. He's the kind of maverick who could make a big difference against a top side like Belgium. And hopefully, Southgate understands that now too.
---
#4 Maguire gains some redemption with an excellent performance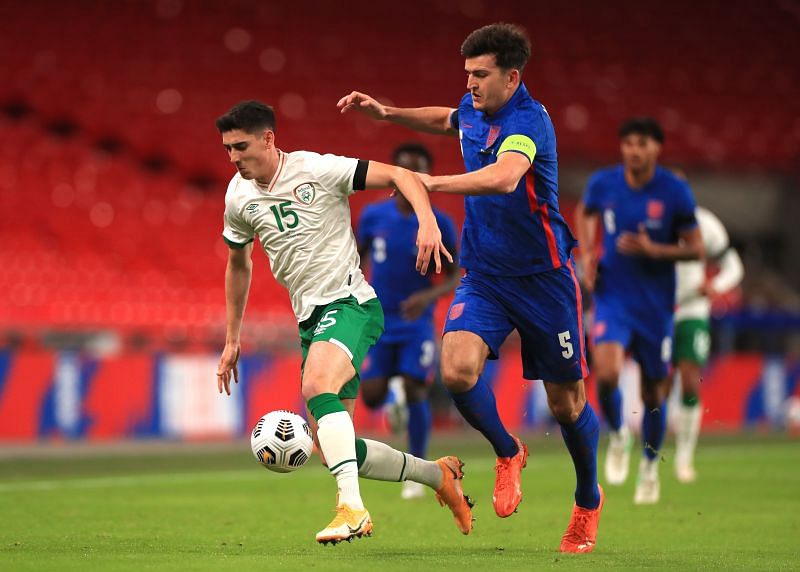 Following last month's UEFA Nations League loss to Denmark, no other England player came under more fire than Manchester United captain Harry Maguire. He came into last month's international break on poor form and made things even worse, being sent off for two bookable offenses early on in that loss to the Danes.
Gareth Southgate would've been forgiven for leaving him out of this month's squad altogether – particularly considering he's suspended for Sunday's game against Belgium. But instead, Maguire was handed the captaincy in tonight's game.
Thankfully for the United man, he enjoyed a fantastic match. Sure, Ireland offered very little in terms of attacking moves to test him, but this was definitely an improved showing from Maguire. He shut down the majority of Ireland's forward play, picked out some impressive passes, and of course, powered in a header for England's first goal.
Essentially, this was the Harry Maguire that England fans grew to love for his performances in the 2018 World Cup. Whether he can keep this form up against tougher sides remains to be seen. But for now, at least, he should be back in the good books of England fans.
---
#5 Should tonight's game have gone ahead at all?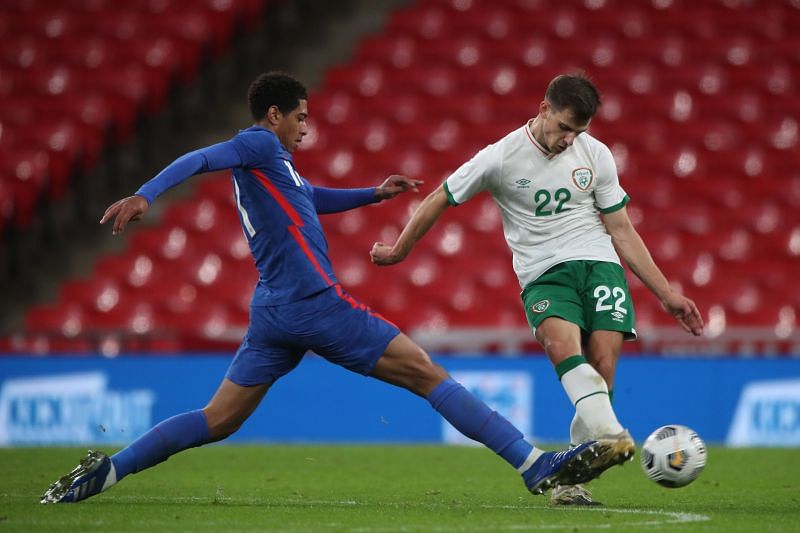 There were definitely some plus points from tonight's game from an England perspective. Harry Maguire appeared to have regained his confidence, Jack Grealish was impressive, and England proved that they can make a 3-4-3 system work if they have a creative man in midfield.
However, it's still worth asking the question of whether the match should've gone ahead in the first place.
The majority of the Premier League's managers are already concerned about the amount of football their players are having to deal with right now. And we're already seeing more soft tissue injuries than we would normally be seeing at this time of the season.
COVID-19 is to blame, of course. The late ending to the 2019-20 campaign meant that players didn't have a full pre-season prior to 2020-21 beginning, and they appear to be suffering for it now. So all of this bodes the question as to why the international breaks are still featuring friendly games.
To continue, the UEFA Nations League is understandable – it's a competitive tournament that brings in important revenue for the smaller countries. But what is there to gain from friendly games? For instance, in the case of tonight's match, England couldn't even pack Wembley out for it.
The truth is that for all the benefit that someone like Grealish or Mount will have gotten from tonight's match, they would've benefitted more from a rest prior to the Belgium match on Sunday. This just wasn't the time for an international friendly, however you look at it.