#2 - 1998 World Cup, Japan & South Korea: England 2-2 Argentina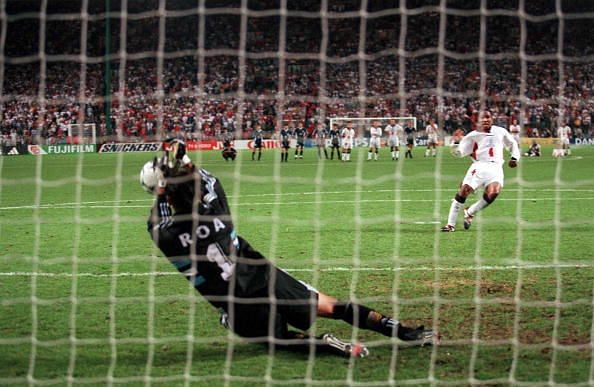 8 years on from that heartbreaking loss to Germany, England once again was dragged into their worst nightmare. Argentina came back to draw the match 2-2 after Gabriel Batistuta gave the Argentines he lead in 5th-minute, only to be equalized by Alan Shearer in the 9th-minute. Michael Owen then scored in the 16th-minute to give England a 2-1 lead only to be equalized at the stroke of halftime by Javier Zanetti. Though the second half did not produce any more goals England were reduced to 10 men after David Beckham was sent off in the 47th-minute.
As the extra time came to a close with the score still 2-2, the match moved on to the dreaded penalty shootout in search for a victor. It was Argentina who started off the proceedings as Sergio Berti scored from the spot to make it 1-0 for the Argentines only to be equalized by Alan Shearer making it 1-1. The next round of penalties saw both the teams failing to score the penalty. Veron, Merson, Gallardo and Owen scored the next 4 penalties respectively leaving both the teams on 3-3. Roberto Ayala then stepped up to make it 4-3, with the weight of a nation on the shoulders of David Batty, he failed to score the final penalty as once again England failed to win a penalty shootout.