#3 - 2006 World Cup, Germany: England vs Portugal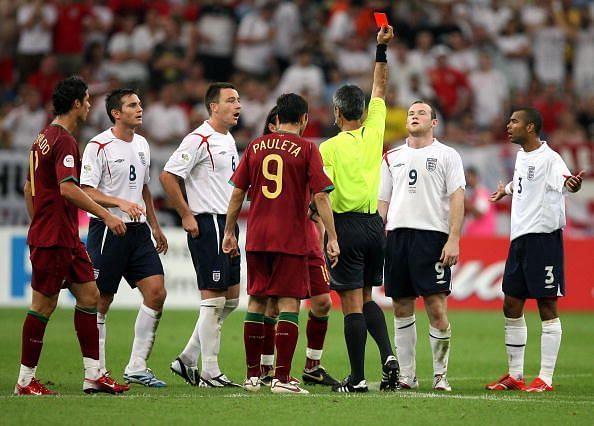 Another 8 years on from the last minute penalty loss against Argentina, England once again was dragged into the penalty shootout as they drew 0-0 against Portugal.
The match was marred by controversy and saw Cristiano Ronaldo winking after purposefully sending off club teammate Wayne Rooney. 10-man England held their nerve for almost 60 minutes after Wayne Rooney was sent off in the 62nd minute, to take the match into the penalty shootout.
In a repeat of 2004 Euro Cup quarterfinal, where Portugal knocked out England 6-5 on penalties which saw Ricardo saving the spot kick from Darius Vassell and then scoring winner himself for Portugal, it was Portugal who started off proceedings with Simao slotting home to take a 1-0 lead for Portugal. Frank Lampard then had his penalty saved by Ricardo, keeping the score 1-0 in favor of Portugal.
Owen Hargreaves then equalized for England as Hugo Vianna hit the post from the second penalty kick to make it 1-1. Petit then dragged his shot wide of the post to keep the scoreline 1-1 but Steven Gerrard failed to score from the spot as Ricardo yet again pulled off fantastic save to keep it 1-1. Helder Postiga then scored for the Portuguese taking the lead to 2-1 in favor of Portugal while Ricardo yet again saved the third England penalty of the match by blocking a Jaime Carragher spot-kick. Cristiano Ronaldo then slotted home the 5th penalty to give Portugal a 3-1 penalty win over England.
Can the English finally get over their "penalty curse"?