Is it too soon to judge Erik Lamela's impact in the Premier League for Tottenham?
3.30K //
03 May 2014, 20:23 IST
Introduction
Erik Lamela, known for his exceptional dribbling ability and pace joined Spurs in 2013 for a fee of 25.57 M pounds, plus up to 5 M pounds in bonus, becoming Spurs record signing.
Tipped to take the English Premier League by storm, Lamela was brought to help ease the blow of losing Gareth Bale to Real Madrid.
"Spurs sold Elvis to buy The Beatles,"  said former Spurs keeper Erik Thorstvedt.
Having scored just one goal against FC Sheriff in the UEFA Europa League, Erik Lamela's nightmare season at Tottenham is in danger of ending his World Cup dreams.
With his future at the White Hart Lane uncertain, and clubs like Inter Milan and Juventus rumoured to be interested, Lamela's days in London looks numbered.
There are still question marks, whether the 30 M pounds record signing will play again this season, despite Spurs hoping he might be fit for the final few games!
The forward has been out since Dec 29, 2013 and Tottenham are refusing to put a target date on his comeback!
30th Aug, 2013
Eric Lamela joins Tottenham Hotspurs from A.S. Roma for a whopping £25.57 M.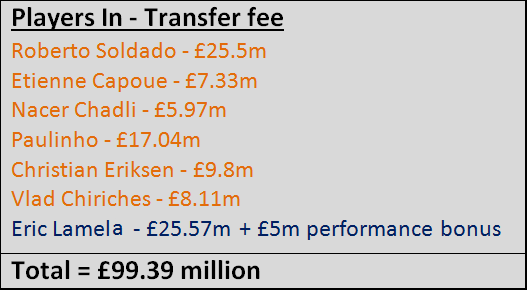 Spurs played their move so well. They sold Gareth Bale to Real Madrid for £84.39m, and replaced him with an emerging Argentine. With money in the bank, a Daniel Levy initiated program saw the club investing huge amounts to buy many aspiring stars.
 Lamela is the new Number 11. Spurs didn't sale Bale to Real Madrid until Lamela joined them from Roma. Madrid had to wait for Bale, as Spurs first made sure that they have done enough with the money generated by Gareth Bale's departure to Madrid.
Real Madrid wanted Bale, the best player in England. A carbon chain followed. Real Madrid backed it; whist Daniel Levy of Spurs had the jockey in his hand. Roma got their replacement and Arsenal after many years were finally happy with the outcome of transfer window.
Tottenham Hotspurs in 2013/14 transfer window got involved in two financially related football records.
Bale's transfer to Real Madrid from Spurs became the most expensive player transfer in history of club football.
Erik Lamela became Spurs club record signing.
The hype was intense. This wasn't Olivier Giroud replacing Robin van Persie at Emirates Stadium. Tottenham wanted the best fit for Gareth Bale and Lamela's reputation as a football player in Serie A with Roma was exceptional.
At mere age of 21, Lamela became an integral part of the Giallorossi's. In 2012/13 season, he scored a total of 15 goals for Roma. Tottenham knew finding a player to fill Gareth Bale's boot is not an easy task. Getting a readymade player was their quest.