Having discussed big names from different leagues like Arsene Wenger, Thomas Tuchel, Ronald Koeman and even Antonio Conte, all rumours were put to bed after Barcelona announced the arrival of Ernesto Valverde, who they believe is going turn the tides in their favour in the 2017-18 season.
There is no doubt that the pressure would be high on the former Athletic Bilbao boss as Barcelona begin the new season after witnessing Real Madrid become the first team in the modern era to retain the UEFA Champions League. That their rivals won the La Liga title after 4 seasons also only added to their wounds.
However, to add fuel to the fire, the first official game of the season would be a two-legged El Clasico for the Spanish Super Cup 2017. It is of utmost importance for Valverde to see it as an opportunity to win the trust instantly by making an impact.
He has taken Barcelona off to a great start in the pre-season friendlies with a hat-trick of wins against Juventus, Manchester United & the arch rivals Real Madrid themselves. But with all due respect, there are a majority of fans who haven't really seen Valverde fold his sleeves, walk on the sidelines, shouting instructions to his men.
So what exactly are those instructions he tends to pass on to his players?
Let us try and deep-dive into his work with Athletic Bilbao in the previous season to get an idea of what we can expect from Barcelona in the upcoming months:
---
Starting 11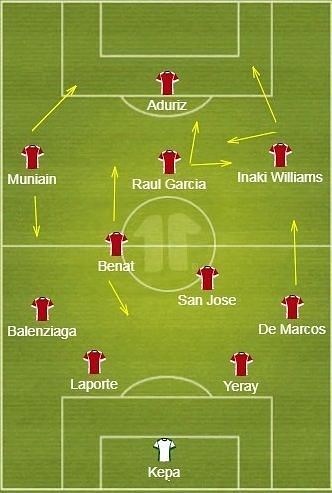 Player roles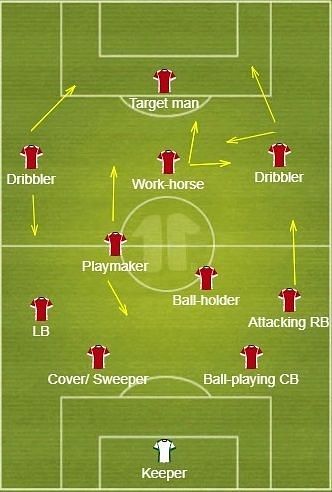 It is a traditional 4-2-3-1 and as you can see, this was his preferred choice 11 players during the 2016-17 campaign. Other alternatives were Susaeta who was comfortable playing on both the wings, Iturraspe was another choice to play as a holding-midfielder (San Jose's position).
Valverde also experimented playing Inaki Williams as a lone striker when Susaeta filled his spot on the right.
Attack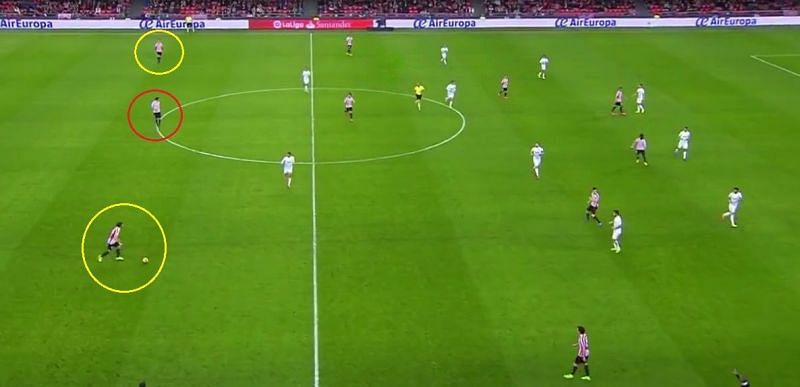 This was the shape they took while they enjoyed attacking spells and control over the game. Valverde is likely to face this situation more often with Barcelona than he did with Athletic Bilbao.
The centre backs (circled yellow) split wide, allowing the holding midfielder San Jose (circled red) to drop in and add another option to build play with. San Jose traditionally was a centre back a couple of seasons ago and hence this wasn't a real challenge for him.
Although the full backs look like they are pushing high, they were generally asymmetric as De Marcos (RB) pushed higher up while Balenziaga was a lesser attacking option.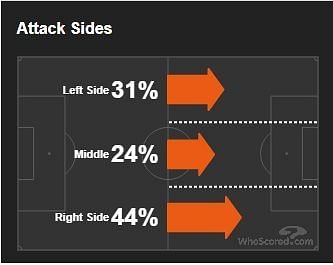 As San Jose dropped in between the CBs, Benat remained in the attacking half, in charge of the creative department. Benat's close control, dribbling and slick passing were the key to add creativity to the Bilbao attack.
On the other hand, Raul Garcia was the most hard-working player of the entire midfield with his pressing, tracking back and surprise runs into the box. His strength allowed Bilbao to play the ball to him as he'd hold it with the opponent's pressure to his back while the others make threatening movements.
He scored 10 goals in the La Liga, 2016/17 second only to Aduriz in terms of goals scored by a Bilbao player.
The most important trident which made things happen in the final third comprised of Muniain (LW), Inaki Williams (RW) & Aduriz (ST). Both the wingers were extremely dangerous in 1v1 situations as they could beat most of the defenders when they were on top-form.
Direct Play
Valverde preferred direct-play against a majority of his oppositions. The Bilbao wingers often started deep in midfield, thereby dragging the back four and creating space for them to run into.
They were able to create a lot of problems for the opposition defence as both wingers Muniain & Inaki Williams were blistering quick while the centre backs Yeray & Laporte were sublime with their long-passing.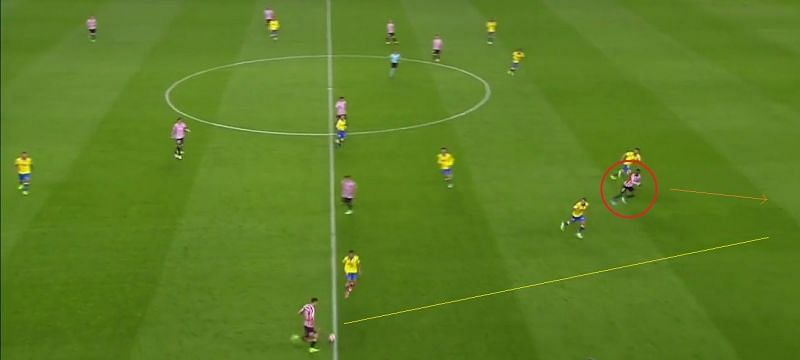 Another alternative route was width right from build-up play. In most cases, CB to play the ball to the near side full back and then use combination play with the near side central midfielder & winger. Thus the idea was to create a situation best suited for these wingers to beat their full backs and serve Aduriz, who arguably is one of the best strikers in Spain, especially with his aerial abilities.
Defence
Valverde has a track record of improving the team's defence immediately upon his arrival. Bilbao in their last season under Marco Bielsa, conceded 65 goals while after Valverde took over, the team conceded 39 goals and eventually finished fourth in the league. He has an effective defence mechanism which is a mix of both high pressing and maintaining a compact unit in their own half. It largely depended on where the opponents had the ball.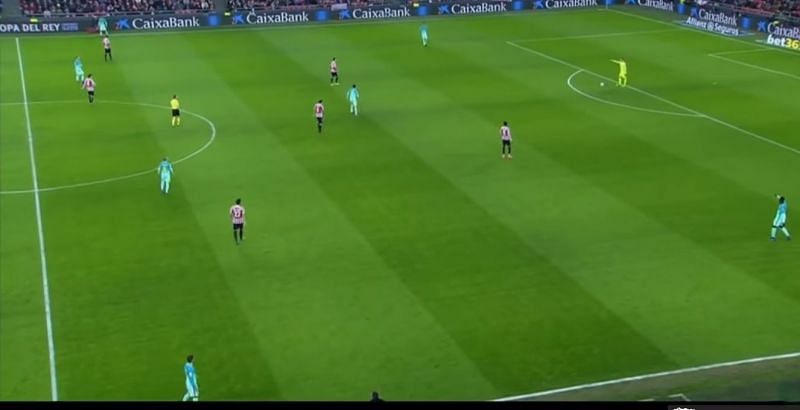 If the opponents had the ball in their own half then Bilbao resorted to high man-to-man pressing to ensure that the opponents don't play out from the back. Bilbao first tried to force the opponent to play the ball and then immediately crowd the near side with high-pressing.
This would force the opposition to play long balls as they won't have space near the sideline. This left the opposition with no option but to play long balls and in most cases, Bilbao, with the likes of San Jose, Raul Garcia & Aduriz succeeded in winning the aerial duels or the second ball.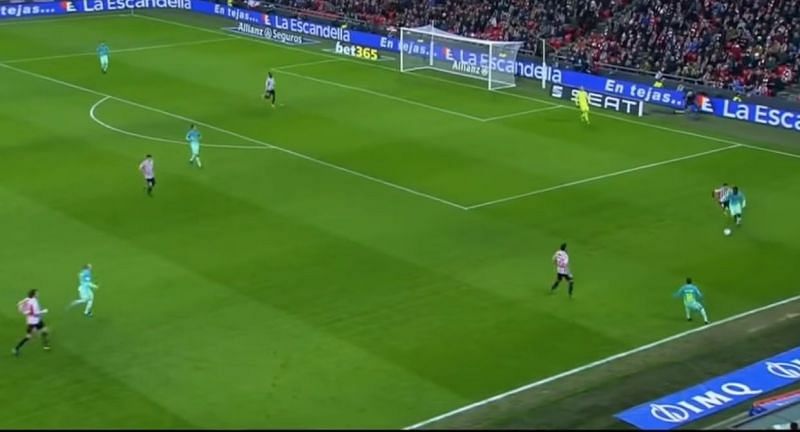 On the flip side, such high-pressing was practically possible only in spells as no team can do it for the entire 90 minutes as they'd be worn out easily. So there were situations when Bilbao had to allow the opponent to cross the first line of pressing and that's when Valverde's men shifted gears.
The team was so well tuned that every player knew exactly when to make this transition and sit back.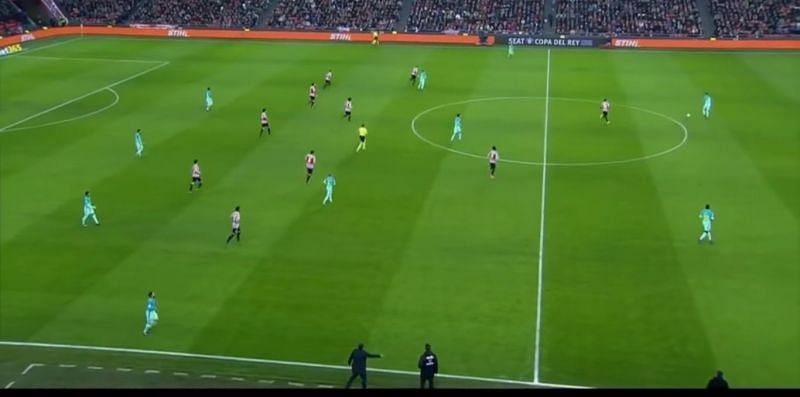 Bilbao formed two banks of four with Inaki Williams & Aduriz as the front two to cover the central area. Raul Garcia swapped positions with Inaki Williams and positioned himself on the right as Inaki's speed helped to press the centre-backs. They maintained a compact shape in order to avoid being played through the middle and force the opponent to be more creative and possibly risk losing possession.
This is not just a way to win the ball back with lesser risk but also a way in which they could regain their stamina to compensate for all the high-pressing spells during the game. This defensive system proved to be effective as Bilbao conceded 43 goals and ended up being the 5th best defence in the 2016-17 La Liga campaign.
Set pieces
The boys from Basque were brilliant in both attacking and defending set-pieces. As mentioned earlier, with the likes of Yeray, San Jose, Raul Garcia & Aduriz, they are a real threat in the air.
In 2016-17 La Liga, Bilbao scored 53 goals in total, out of which 13 goals came out of set-pieces (excluding penalties), which is no doubt a commendable number.
Adding brain to the brawn was Valverde's innovative set-piece planning as many a time they involved surprise elements that caught the opposition off-guard.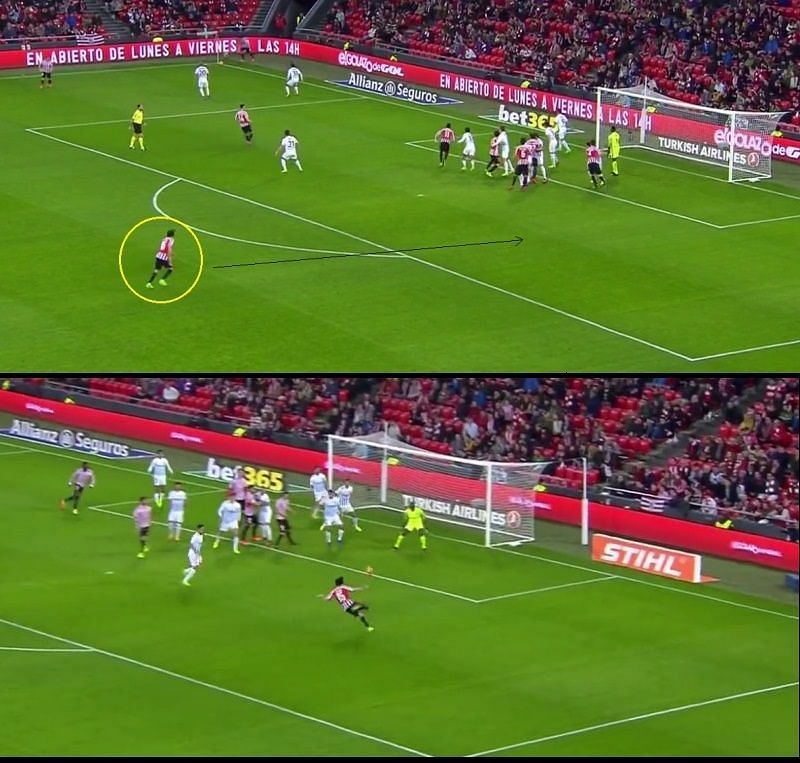 A prime example would be a set-piece move they used against Malaga (picture above). All of their aerial threats had occupied the space in the 6-yard box while right-back Lekue made a blind-side run from outside the box to the far post.
He was completely free to go for goal but his poor finishing let him down on this occasion.
Goal Kicks
This is an often overlooked factor but of course, teams have reasons they do it in a certain way depending on the situation. Kepa Arrizabalaga was the first choice goal-keeper for Valverde and they generally preferred long goal-kicks.
Kepa is not the modern day sweeper-keeper and he was a lot more accurate with his long-passing. He held the record for the most accurate long-passes per game amongst all goalkeepers in 2016-17 La Liga. He attempted merely 7-8 short passes per game out of the total 31 passes.
The possible reason for this could again be their aerial strength as Bilbao were the 2nd most successful team in winning aerial duels in La Liga with 56 %.
It would be interesting to watch how Valverde changes this with Barcelona as he has the most accurate short-passing goal keeper in Ter Stegen, a complete opposite.
Conclusion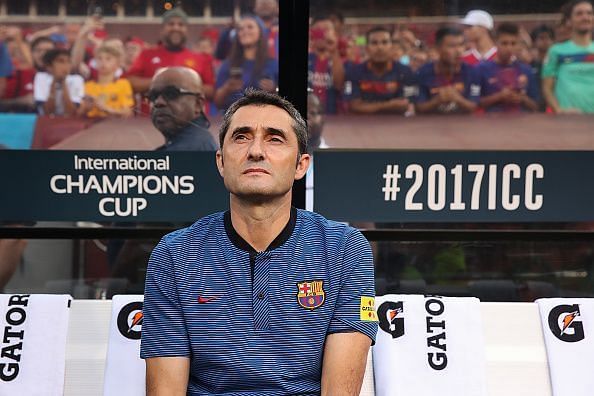 Currently, there is a whole lot of drama surrounding the Camp Nou and it'd be interesting to see what weapons are available in Valverde's armoury for him to execute his plans. With the Basque side, Valverde focused on direct-play, aerial strength, intelligent set-pieces and a mixture of high-pressing and containing.
These are the traits which aren't really familiar to the Catalan giants. Is he going to instil these missing elements to keep his opponents guessing or is he going to adopt to the Barcelona way of playing football?
We saw Barcelona tweak a few of their principles under Luis Enrique for its betterment. Would Valverde be given that space and time to instil his style into the side?
These are the questions that would decide all of the tactical aspects in the Valverde Era.
Edited by Sankalp Srivastava