Eto'o goal drought not worrying: Anzhi coach
651 //
08 Nov 2012, 15:46 IST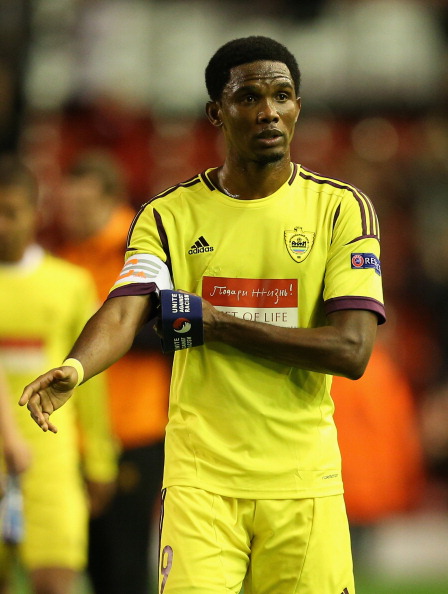 Moscow, Nov 8 (IANS/RIA Novosti): Anzhi assistant coach Zeljko Petrovic is confident that goal machine Samuel Eto'o will click back into gear for Thursday's Europa League clash with Liverpool.
Eto'o has not scored since a 2-0 league win over Dynamo Moscow Oct 7, a break from the prolific form that has seen him score seven goals in nine Europa League games for Anzhi this season.
Despite the dry run, the Cameroonian could stun Liverpool in the Europa League Thursday, Petrovic said.
"If he doesn't score in the last few games, maybe he scores tomorrow," Petrovic said.
"He's the most important player for Anzhi."
Eto'o's barren spell belies his creative skills, as shown by crucial passes in the build-up to goals in a 3-1 win over Terek Grozny Sunday, Petrovic said.
"If Eto'o plays, it's very important for us because for us it's important not just to score the goals, because Eto'o gave two fantastic balls last game."
The three-time Champions League winner is "a leader in the field, a captain, very positive man, stimulates all other players," the coach added.
Petrovic said that he and head coach Guus Hiddink, absent from the news conference due to a bereavement, had yet to decide whether to partner Eto'o with tall Ivorian Lacina Traore or youngster Fyodor Smolov.
On-loan Smolov is usually a substitute but was a surprise starter when Anzhi lost 1-0 at Anfield last month.
"We have two options. We will decide tonight who will play tomorrow," he said.
The match will be played at Moscow's Lokomotiv stadium after UEFA security concerns meant Anzhi's home ground was banned from hosting European games.
Anzhi have put in place tight security ahead of the match to keep away Lokomotiv Moscow hooligans angry at Anzhi using the ground. Anzhi fans are required to make an appointment with club staff or fan club leaders to buy a ticket.