Everton 2-1 Spurs: Toffees bring on late fireworks to sink AVB and Co.
613 //
10 Dec 2012, 11:38 IST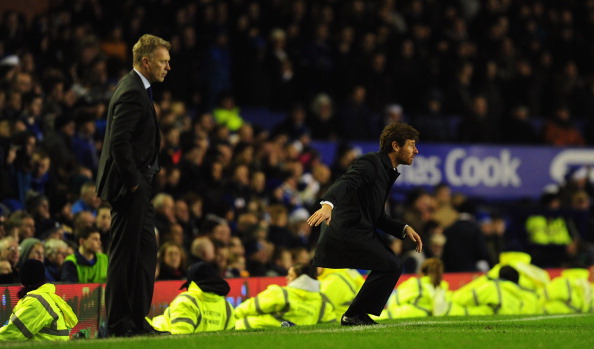 On a day with thrilling score lines in England and elsewhere, Spurs and Everton probably produced one of those tight games when both teams look equally good on paper and on pitch. Though both defenses had a solid day, it was David Moyes and Nikica Jelavic who had the last laugh as Everton ran away with the most unlikely of wins. Well, anything can happen after that final day antics last season, right? AVB's tactics later on in the game, fell right into the hands of his opponents and a 4 match winning run of Spurs came to an end.
First Half
Gareth Bale was unavailable due to injury, so Adebayor started as No.10 behind Jermaine Defoe. Hugo Lloris retained his spot between the sticks and Vertonghen continued to play as a left-back. Darren Gibson started in the Everton midfield alongside Leon Osman. Steven Pienaar and Kevin Mirallas were given the wide roles, Fellaini and Jelavic played in the attacking third. Both teams were having almost similar shape of a 4-2-3-1, but were frequently shifting to a 4-4-1-1 when not in possession. Sandro was given the job of marking Fellaini and he didn't disappoint. It seemed as if Dembele and Sandro were taking rounds in marking the tall Belgian. When Dembele had the ball, Fellaini made sure his compatriot had a tough time in finding his teammates.
It was a battle of triangles in the midfield as Leon Osman and Gibson looked the better duo on the ball than Sandro and Dembele. Adebayor was having a very poor first half. He lost the ball in good positions quite often, 7 times in the whole match. So, it was becoming much easier for Osman to find his teammates as he was left unmarked. Elsewhere on the flanks, Coleman was on a rampage on the right wing as he and Mirallas pinned Vertonghen and Dempsey back with his runs. Dempsey was playing narrow and close to the center, this left a lot of space for Coleman to exploit and Vertonghen was often caught high up. On the other flank, Pienaar was making the noise with his cut-ins and was found in the center of the pitch alongside Fellaini. This pulled Walker out of position and lot of space for Jelavic to work in.
Jelavic worked the channels well with his runs behind the high Spurs defense. The high line didn't work out well on few occasions, so AVB scrapped it and went for a normal one. Aaron Lennon was not seeing the ball much, as the play was inclined much more to the other flank where Dempsey and Dembele were operating. Defoe ended up on the left flank many times due to lack of service. On the whole, it was an even contest, player to player and strength to strength. Both the defenses were excellent in putting out any sort of attempt on goal and an exciting second half was on the cards. Coleman was the best player of the first 45 minutes.
Second Half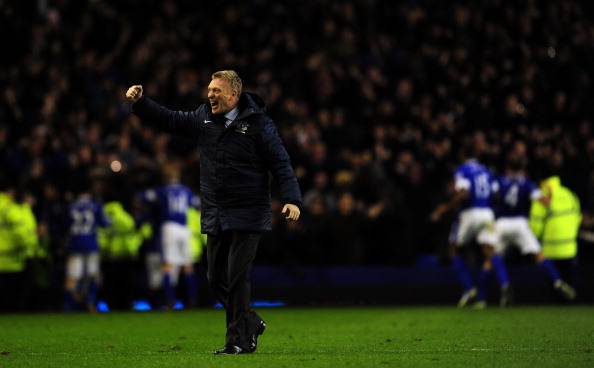 Mirallas was subbed off for Everton at half time and Steven Naismith took his place. There was no significant change in the play as both teams were creating chances and were resolute at the back in eliminating those chances. But, Spurs were seeing more of the ball as Adebayor got involved much more and his touches were positive. The wide men were seeing more of the ball but their display in the attacking third was relatively poor. Dembele came to life as he dribbled past players, being his usual self. But, that zing in his play was still lacking. This was surely due to Dempsey playing in a wide position rather than in the center, the absence of Bale was being felt clearly.
Dempsey and Dembele have built a good partnership from their Fulham days and they produce some good football when played in their preferred positions. Dembele was now playing with less freedom and made it easy for Everton players to contain his threat as Adebayor was not offering the same skill set as Dempsey. Meanwhile Sandro opted to stay deep and off of Fellaini. The unmarked Belgian was much happier this way as he marched on serving as the link between defense and attack, holding the ball and spreading the play. This resulted in double-ups on the flanks, crosses and good goal chances, Osman being on the end of 3 best chances for Everton. Both teams made numerous tackles around the box, but Everton were more successful.
AVB took off Lennon and introduced Huddlestone. This was an attacking change, in search for a goal. He was rewarded with one after 5 minutes as Dempsey's deflected shot made it into the back of the net, beating Tim Howard very cruelly. As a result of that substitution, Dempsey moved to the right wing, Adebayor to the left and Dembele into the no.10 position. There was a sudden sense of panic among Moyes's players as they saw a dangerous creative force taking shape. Dempsey took up a narrow role, rather than going wide and crowded the area guarded by Osman. This drew fouls and resulted in freekicks.
After the goal, Sigurrdson came on for Dembele to play in his natural position of no.10. This change proved to be pivotal, as Gylfi is not the same player defensively as Dembele. Also, with Huddlestone and Sandro in the mid, there was a lack of mobility. This resulted in increased possession for Everton and an attacking change by Moyes, bringing on Vellios for Osman made things worse for Spurs. Fellaini dropped off a bit from that no.10 position but not too deep. This pegged Spurs on the back foot and they were back to their deep defensive lines. The back four were so narrow that, there was almost a 7 man backline at one point of time. The piling pressure resulted in a well-deserved goal for Everton as Pienaar headed in a pin point cross from Coleman.
AVB must have seen it coming. The goal lifted the fans at Goodison Park, and moments later Lloris was picking the ball out of his net, twice in 88 seconds. A long ball from Jagielka, getting a flick from a failed Vellios overhead kick, fell kindly for Jelavic to get an unbelievable winner in the dying minutes. A stunned Spurs team had neither the resources nor the feet to make a comeback from such a situation and Everton picked up 3 unlikely points on a relatively drab night with a blockbuster ending.
Statistics:
Everton

Tottenham

20

Total Shots

12

4

Shots on Target

5

77%

Pass Success rate

80%

57%

Aerial Success rate

43%

3

Dribbles

7

22

Tackles

22

50

Possession

50
Verdict:
AVB will be criticized for his substitutions. The absence of Bale is proving to be costly as we enter the busiest phase of the footballing calendar, The Christmas. Everton held on despite going a goal down and came up top in an even encounter. Full marks for David Moyes and also for Seamus Coleman, who is our Man of the Match.