Fan Fantasy : Barcelona's Nemesis
1.86K //
24 Jul 2011, 12:05 IST
Author's Note: What would have happened if Il Grande Torino hadn't crashed into Superga? What if Ajax circa 1969-73 took on present day Barcelona? What if Roy Keane had signed for Blackburn under Kenny Dalglish? What if Sir Alex Ferguson had been fired from his post at Man Utd after three trophyless years? What if Cesc Fabregas had stayed back at Barcelona? What if Darron Gibson were an Ajax product of the 80s? Ok, the last one is taking it too far, but you get the idea. I look to take on hypothetical situations, and turn them into a realistic discussion(or somewhere close to it). If you have a fantasy that you want us to research on, send in your scenarios or post them in the comments section. Your fantasy, our research, and a peek into the vaults of football. I hope to make this a regular feature, if successful.
PS:  Since it is my very first post at SportsKeeda, please be generous with your criticism and praise. Especially praise. 
Off-season is the time of the year when every footballing mind in the world wonders when the next competitive fixture would take place. The really lucky ones turn to Cricket, Tennis or Snakes & Ladders. The ones left behind, like yours truly turn their minds into Devil's workshops. What comes out of those minds could fill barns full of books. Having been part of hundreds of incomplete online football drafts(official figures may vary), I am trying to put together a team to take on the mighty Barcelona, whom pundits already consider to be one of the best sides ever. The opinions are mine and mine alone, and you are welcome to point out a thing or two.
Barcelona, the mighty Catalan unit, has outclassed and outplayed every single team that has been put in front of them. Having won all but one trophy they contested for last year, they are a mighty force to contend with. A team that takes them on, must not only manage to nullify their world class midfield and the magical Lionel Messi, but also resist their hard pressing and high line of defense. So without much ado, let me get into the selection, which I must add, was not an easy task by any means.
Goalkeeper: Iker Casillas
It is hard to ignore a World Cup winning captain, even more so when he happens to captain the only side which troubled Barcelona even remotely last season. A fantastic shot stopper with good positioning and distribution skills, he is any forward's nightmare. His aerial abilities and set piece skills are often underrated. As someone who can keep his concentration for full 90 minutes, he will be a vital piece in the jigsaw. He gets the nod ahead of Buffon and Jose Manuel Reina because of his international performances and his inspirational captaincy.
Left Back: Ashley Cole
One of a kind, or lack of competition? You decide. Either ways, can't really think of a better left back to take on Barcelona's famed line up. Defensively good, and offensively even better, Ashley Cole adds a new dimension to the defense of any team. His overlapping runs are enough to cause any modern day winger headaches as to whether he should cut in or stay wide to provide cover. He will be key to keeping Pedro quiet and also to pinning Dani Alves back to his own half. Cole gets the nod ahead of Patrice Evra and Marcelo due to the former's form of late, and the latter's lack of experience.
Centre Backs: Thiago Silva and Nemanja Vidic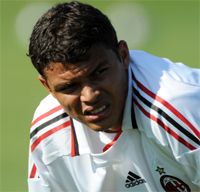 Nemanja Vidic was one of the two Man Utd players who deserved to walk out of Wembley with their heads held high. He suffered from the lack of cover from the midfield, and Patrice Evra's horror show, but the Serbian did all that he could to prevent Barcelona from breaking the doors down. A handful in air and a hard tackler, Vidic would walk into any side in the world. His threat from set pieces is merely an added bonus.
Providing cover for Vidic is the 26 year old Milan and Brazilian centre half Thiago Silva. He makes up for Vidic's lack of pace and covers up for any defensive errors with his superior reading of the game. He is also very good with the ball at his feet, a trait that is so essential against a team that plays possession football. Can also play the libero role, stepping into the midfield and creating chances, if needed. In all, the pairing has the potential to be the meanest CB partnership that could be created today.
Right Back: Philipp Lahm

Easily the best ambidextrous full back after Zambrotta in the new millenium, and possibly the best right back in the world today. The fact that he was given the German NT captain's armband speaks volumes of his leadership skills. Someone who could run up and down the flanks for 90 minutes, he is the answer to Barca's Dani Alves. Fit as a fiddle, he has hardly missed a game for Bayern Munich in the past 3 seasons. Picked over Maicon because of the latter's tremendous drop in form last season.
Defensive Midfielder: Yaya Toure
Ok, Yaya Toure isn't a genuine Defensive Mid, but neither is Sergi Busquets. Than an out and out DM, what is required against Barcelona is someone who can smother their moves, as well as hold them off physically before moving into space or making the pass forward, as Barca press like mad dogs on losing the ball. Yaya Toure who has also played for Les Cules before fits the bill perfectly. The fact that he is more mobile than most of the available DMs also plays a part in his selection.
Centre Midfield: Cesc Fabregas and Bastian Schweinsteiger
At the heart of the team plays the dream midfield pairing of arguably the world's best playmaker outside La Liga and the rightful successor of Michael Ballack. Cesc Fabregas, after leaving the sunny beaches of Spain for the cold London evenings, has improved so much that the Cules come wooing him back home. Seen as the successor to Xavi in the Barcelona and Spanish midfield, Cesc Fabregas is a complete midfielder. His attacking prowess is complemented by his off the ball skills. Never shy of a tackle, though not someone you'd call a defensively good player, he will give the Barca midfield a torrid time.
Bastian Schweinsteiger will play the role that he so effortlessly essays for the national team – that of a box to box midfielder. Physically strong with an eye for a pass and a fierce long shot in him, he is any manager's fantasy. With Yaya Toure and Cesc Fabregas alongside him, he will have the freedom to play his natural role.
Alter: Luka Modric in place of Bastian Schweinsteiger
The Croatian midfield maestro could be played instead of Bastian Schweinsteiger, in which case, he will play as a deep lying playmaker, while Cesc shifts into a more advanced role. This formation can particularly be useful in case Barca midfield cannot be stifled, as Modric offers a more direct option of spreading play to the wings or to the targetman.
Left Wing Forward: Wayne Rooney

Remember the talk about Nemanja Vidic being one of the two Man Utd players who deserved to leave Wembley with their heads held high? Well, Wayne Rooney is the other. He is played out of his natural position at LWF, though he has played there, and I might add, with much success. The main reason for playing Rooney on left is to keep the marauding runs of Dani Alves in check. With his pressing and threat from counters, he will keep Alves occupied, therefore taking out one of Barcelona's most effective weapons of attack. He also gets the nod ahead of the likes of Frank Ribery and Arjen Robben due to the aforementioned trait. In addition to this, he can also play an AM/SS who can hold the ball on the ground and make space for others in a 4-3-1-2.
Right Wing Forward: Cristiano Ronaldo
It is difficult, rather impossible, to keep the best player outside Barcelona from this team, even more so when he is the top goalscorer in the league, and the highest paid transfer ever. With his complete skill set, he will look to beat Barcelona's defense and trouble them with his direct running. He has a mean cross in him, even if it isn't used on a regular basis. Also a great set piece taker, and a set piece target, he offers more threat than any other player on the field. The fact that he can play anywhere across the front 3 also allows a change in formation, if necessary.
Centre Forward: Didier Drogba

Barcelona can't be outplayed, or so is the common notion. If you can't beat them by passing the ball around, beat them by holding them off physically and getting the ball forward. And who better than the Ivorian who almost took the game away from the Cules on that night at Stamford Bridge? He can act as a target to aerial balls from deep, and also to crosses from the wings. In addition, he can hold up the ball and pass it to one of Rooney/Ronaldo. Picked ahead of Samuel Eto'o as he is a genuine targetman, and is also physically stronger, and suits the formation and tactics more.
So there, you have my team. Will they beat Barcelona(on a cold winter night at Brittania, I might add)? Still unsure. Will they put up a good fight? Hell yeah!