Real Madrid fans are wrong to boo Casillas, and so is Carlo Ancelotti for playing him
11.49K //
13 May 2015, 17:23 IST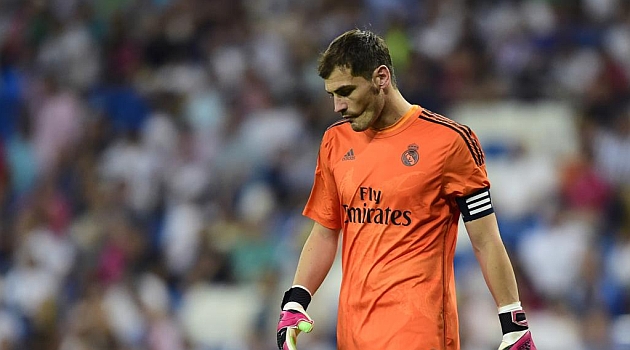 Time, indeed, is the root of everything. Every change – from minute to large-scale – occurs with the flow of time. Like the flow of Nile, time never stops. It never waits for anyone. It is the one that creates and manifests.
We say that wasting time isn't something one should do. However, time is never really ours to waste. It is the opposite: time wastes us. We don't have the capability to waste time for it is merely an illusion – the realest illusion that we think we own.
Don't believe? Just ask Iker Casillas.
There was once a time when Iker Casillas was the unprecedented king at Madrid. Nothing, one thought, could have stopped him from retiring at the club. The players supported him as their captain, the fans loved him as their own and the staff treated him with the utmost respect for the model professional that he is.
Now, however, everything has changed.
What once was never thought of is happening: the Real Madrid legend is being booed by his own fans. He is being jeered by fans who once worshipped him as their saint and saviour.
This is not the first time that he has been the subject of disgruntlement from the boo boys. Earlier this season, the Bernabeu whistled him for his less-than-satisfactory performance. It seemed unfathomable to them that Diego Lopez was allowed to leave the club when he had been the better goalkeeper in terms of form.
Since then, it has been somewhat of a sine curve for Casillas. His performances improved, only to slowly decline again. And on Saturday, after dropping points to Valencia to all but end their La Liga hopes, the fans went rampant on their captain – who was at fault for Javi Fuego's goal and didn't look as comfortable as a confident 'keeper should have.
But even though the World Cup winning captain's performances haven't been worthy of a starting goalkeeper at Real Madrid, he should be treated with more respect than he is being now. He is the club's longest-serving player at this point and oozes Madridismo like no one else.
In a career that has spanned over a decade, Casillas has won it all with Real Madrid. There is not a single club title that hasn't touched his palms. From the Club World Championship to the Champions League – he has had a career many would kill to have. And all of it with one club.
Real Madrid's defense has never been consistent and there have been many games where this man saved the team from the blushes. So it seems immoral of the fans to boo him – someone who is the greatest goalkeeper this club has ever had.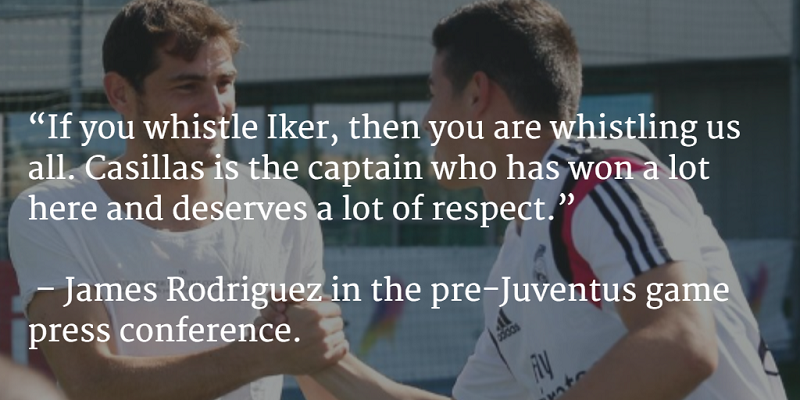 It is like abandoning one's parents after growing up – the same parents who served you since childhood – only because they aren't as strong as before.
This reveals one of the greatest hypocrisies in football. When a player leaves a club because of the latter not winning trophies suited to the ambition of the former, the player is branded with terms like "Judas," and "mercenary" by the fans. The said player chose to join an already established team rather than helping his current team become a winning one and risking his career in the process, thus committing the ultimate sin.
But when a player isn't performing to the level expected from the club's point of view, that player is booed in an attempt to force him out by the very fans itself. Such is the frailty of this world.
As the Joker said to Batman in The Dark Knight: "They [the people of Gotham] need you right now. But when they don't, they'll cast you out like a leper. See, their morals, their code…it's a bad joke. Dropped at the first sign of trouble. They are only as good as the world allows them to be. I'll show you, when the chips are down, these.. these civilized people? They'll eat each other."
This quote couldn't be any truer in this case. When things were merry, Casillas was like a second coming of Christ to the fans. But now, he is a Lucifer whose dark shadow is something they want to get rid of.
However, this is not to say that Casillas deserves a place in the team. He simply does not. Casillas' reflexes have taken a huge hit and so has his positioning, something his supposed backup excels at.
After a terrific season with Levante, Keylor Navas was bought by Madrid and it seemed that the Spain captain would face stiff competition from the Costa Rican. Almost a year later and the former Levante player must be regretting his decision to join the club.
With just 3 games in the season remaining – four at the most – it would be wise of Ancelotti to play Navas in goal. Lack of match practice works against Navas, but he couldn't possibly be worse than Casillas. The latter's lack of confidence and inability to figure out what to do when the ball arrives anywhere near him have harmed Madrid more than even he would admit.
A shaky keeper behind an unstable defense is a recipe for disaster, and that is what the last few weeks have been for the capital club. Navas at least guarantees quicker decision-making than the number 1, and should have been played more often.
The fans showed shameful disloyalty the moment they whistled a legend like Casillas; they were wrong to do so. But so is the Italian by not thinking of the club's fortunes and refusing to play Navas.